AceBreakingNews – UPDATE – A suicide bomber has detonated an explosive device near Türkiye's interior affairs minister's office while a second assailant has been killed in a shootout with police.
Ace Press News From Cutting Room Floor: Published: Oct.01: 2023: AP News Agency & Reuters News Agency: TELEGRAM Ace Daily News Link https://t.me/+PuI36tlDsM7GpOJe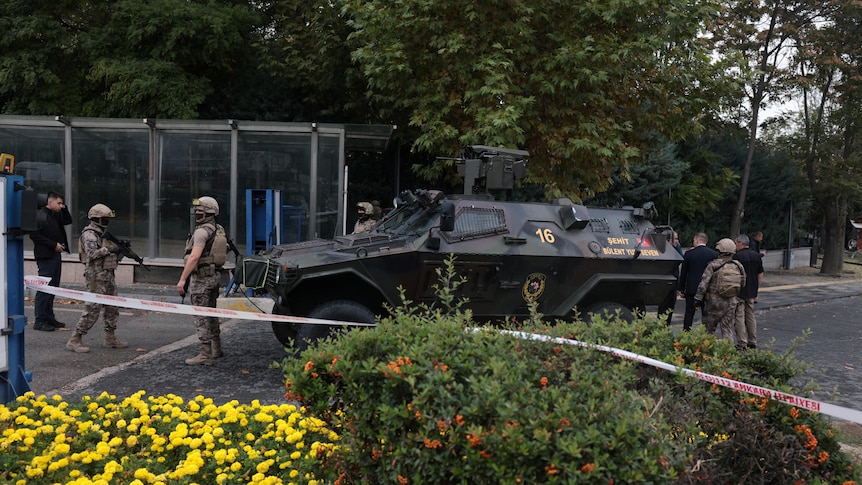 Minister Ali Yerlikaya said two police officers were slightly injured during the attack in the Turkish capital, Ankara, at 9:30am on Sunday.
Ankara's chief prosecutor's office has launched an investigation into what it called a terrorist attack.
Authorities did not identify any specific militant group and no information was immediately available about the assailants.
Police also announced they would carry out controlled explosions for "suspicious package incidents" in other parts of Ankara.
The two police officers were being treated in a hospital and were not in serious condition, media reports said.
Mr Yerlikaya said the assailants arrived at the scene inside a light commercial vehicle. "Our struggle will continue until the last terrorist is neutralised," he said.
Television footage showed bomb squads working near a parked vehicle in the area.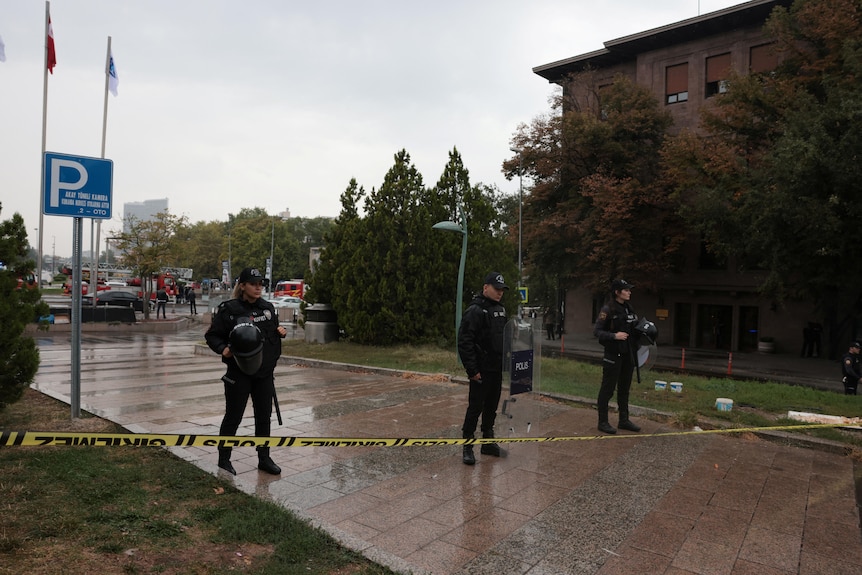 Reuters footage after the blast showed a Renault cargo vehicle parked, windows shattered and doors open, amid debris scattered on the street surrounded by soldiers, police, ambulances, fire trucks and armoured vehicles.
The bomb on Ataturk Boulevard was the first in Ankara since 2016, and came on the day that President Tayyip Erdogan was set to attend the opening session of parliament, about one kilometre away.
A senior Turkish official told Reuters the attackers had hijacked the vehicle and killed its driver in Kayseri, a city 260 kilometres south-east of Ankara, before carrying out the attack. One of the injured officers suffered shrapnel injuries, he added.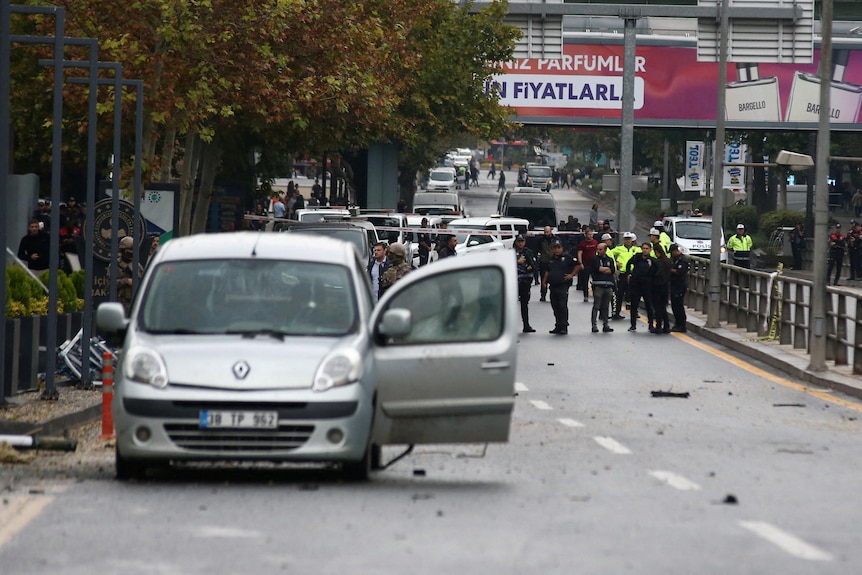 The blast came almost a year after six people were killed and 81 wounded in an explosion in a busy pedestrian street in central Istanbul. Türkiye blamed Kurdish militants for that attack.
During a spate of violence in 2015 and 2016, Kurdish militants, Islamic State and other groups either claimed or were blamed for several attacks in major Turkish cities.
In March 2016, 37 people were killed in Ankara when a bomb-laden car exploded at a crowded central transport hub.
Mr Erdoğan was at 7:30pm set to attend the opening of parliament, which in the coming weeks is expected to consider ratifying Sweden's bid to join NATO after Türkiye had raised initial objections.
Turkish media reported that authorities were carrying out checks of the parliament after the blast at the ministry. A source told Reuters that the entrance was open but no cars were allowed through as part of the precautions.