This is our daily post that is shared across Twitter & Telegram and published first on here with Kindness & Love XX on peace-truth.com/
#AceNewsRoom in Kindness & Wisdom provides News & Views @acebreakingnews
#AceBreakingNews – Turner was one of the biggest recording artists of all time, known for hits such as What's Love Got to Do with It, and (Simply) The Best.
She died peacefully after a long illness in her home in Küsnacht near Zurich, Switzerland, her publicist Bernard Doherty said in a statement.
"With her, the world loses a music legend and a role model," he said.
The American-born singer left a hard-scrabble farming community and abusive relationship to become one of the top recording artists of all time.
Mick Jagger of the Rolling Stones said he was saddened by Turner's death, calling her "enormously talented".
"She was inspiring, warm, funny and generous," Jagger wrote on Twitter. "She helped me so much when I was young and I will never forget her."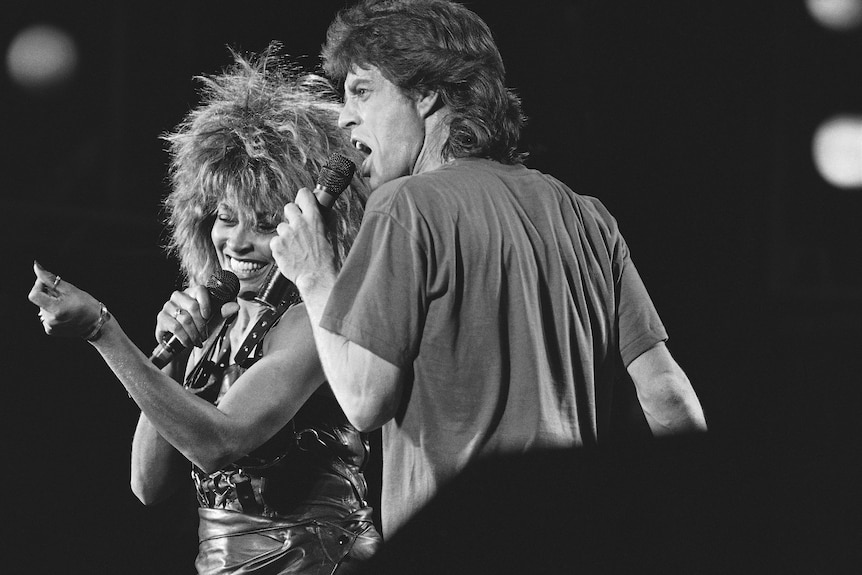 Actor Angela Bassett, who played Turner in a 1993 movie, asked: "How do we say farewell to a woman who owned her pain and trauma and used it as a means to help change the world?
"Through her courage in telling her story, her commitment to stay the course in her life, no matter the sacrifice, and her determination to carve out a space in rock'n'roll for herself and for others who look like her, Tina Turner showed others who lived in fear what a beautiful future filled with love, compassion, and freedom should look like.
"While we mourn the loss of this iconic voice and presence, she gave us more than we could have ever asked. She gave us her whole self. And Tina Turner is a gift that will always be 'simply the best'."
Canadian singer Bryan Adams, who paired with Turner on the 1985 single, It's Only Love, said, "the world just lost one hell of a powerhouse of a woman".
"Thank you for being the inspiration to millions of people around the world, for speaking your truth and giving us the gift of your voice," Adams said on Twitter.
Mariah Carey called Turner an "inspiration to women everywhere" who would "continue to inspire generations to come".
Singer and actor Bette Midler called Turner "an absolutely brilliant performer and inspiration to us all".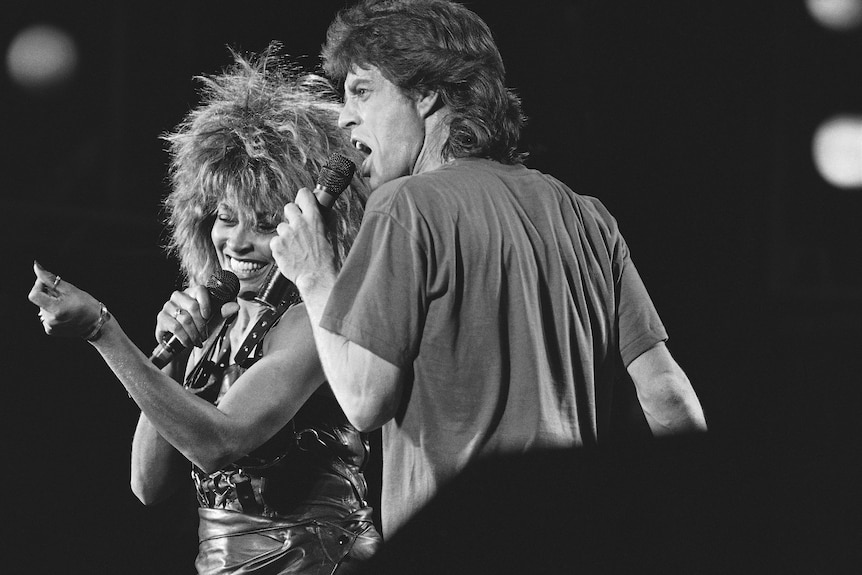 " May flights of angels sing her to her rest, but if I know Tina, she is singing lead," Midler said.
John Fogerty of Creedence Clearwater Revival, who wrote Proud Mary, said he was "so deeply sad" at the news.
"I loved her version of Proud Mary! It was different and fantastic. I was also so happy because she chose my song and it was her breakthrough record."
At the White House, spokesperson Karine Jean-Pierre called Turner's death: "A massive loss to the communities that loved her and certainly the music industry. Her music will continue to live on."
An icon of the 80s
Turner began her career in the 1950s during the early years of rock'n'roll and evolved into an MTV phenomenon.Tina Turner, performing in New York in 1985, epitomised the 1980s with her spiky blonde hair.(AP: Ray Stubblebine/File)none
In the video for her chart-topping song What's Love Got to Do with It, in which she called love a "second-hand emotion," Turner epitomised 1980s style as she strutted through New York City streets with her spiky blond hair, wearing a cropped jean jacket, mini skirt and stiletto heels.
With her taste for musical experimentation and bluntly-worded ballads, Turner gelled perfectly with a 1980s pop landscape in which music fans valued electronically-produced sounds and scorned hippie-era idealism.
Sometimes nicknamed the "Queen of Rock'n'Roll," Turner won six of her eight Grammy Awards in the 1980s.
The decade saw her land a dozen songs on the Top 40, including Typical Male, The Best, Private Dancer and Better Be Good to Me.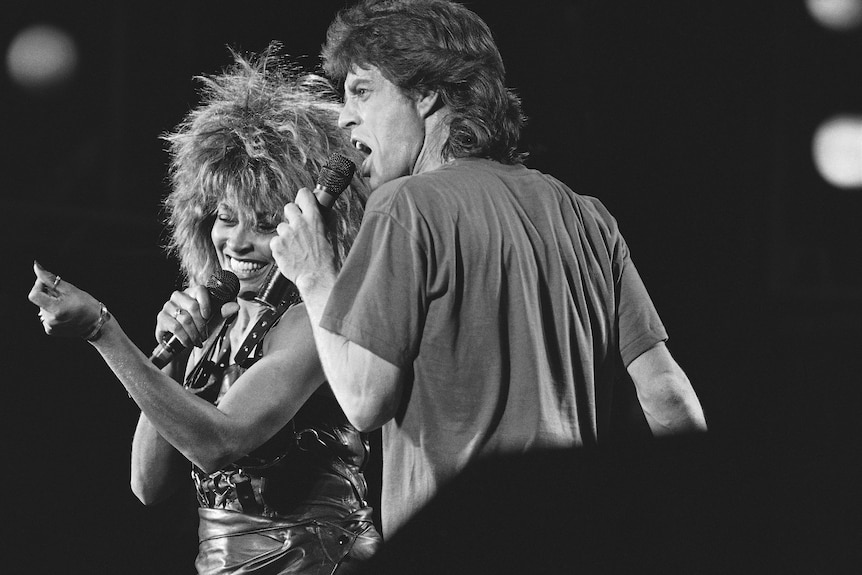 Her 1988 show in Rio de Janeiro drew 180,000 people, which remains one of the largest concert audiences for any single performer.
By then, Turner had been free from her marriage to guitarist Ike Turner for a decade.Tina Turner performed for decades.(Reuters: Stefan Wermuth)none
The superstar was forthcoming about the abuse she suffered from her former husband during their marital and musical partnership in the 1960s and 1970s.
She described bruised eyes, busted lips, a broken jaw and other injuries that repeatedly sent her to the emergency room.
"Tina's story is not one of victimhood but one of incredible triumph," singer Janet Jackson wrote about Turner, in a Rolling Stone issue that placed Turner at number 63 on a list of the top 100 artists of all time.
"She's transformed herself into an international sensation — an elegant powerhouse," Jackson said.
In 1985, Turner gave a fictional turn to her reputation as a survivor. She played the ruthless leader of an outpost in a nuclear wasteland, acting opposite Mel Gibson in the third instalment in the Mad Max franchise, Mad Max Beyond Thunderdome.
Most of Turner's hit songs were written by others, but she enlivened them with a voice that New York Times music critic Jon Pareles called "one of the more peculiar instruments in pop".
"It's three-tiered, with a nasal low register, a yowling, cutting middle range and a high register so startlingly clear it sounds like a falsetto," Pareles wrote in a 1987 concert review.
From Nutbush to stardom
Turner was born Anna Mae Bullock on November 26, 1939, in the rural Tennessee community of Nutbush, which she described in her 1973 song Nutbush City Limits as a "quiet little old community, a one-horse town".
Her father worked as an overseer on a farm and her mother left the family when the singer was 11 years old, according to the singer's 2018 memoir My Love Story.
As a teenager, Turner moved to St Louis to rejoin her mother.Tina Turner left an abusive relationship.(Reuters: Rose Prouser)none
Ike Turner, whose 1951 song Rocket 88 has often been called the first rock'n'roll record, discovered her at age 17 when she grabbed the microphone to sing at his club show in St Louis in 1957.
The band leader later recorded a hit song, A Fool In Love, with his protege and gave her the stage name Tina Turner, before the two married in Tijuana, Mexico.
Turner employed her strong voice and strenuously rehearsed dance routines as lead vocalist in an ensemble called the Ike and Tina Turner Revue.
She collaborated with members of rock royalty, including The Who and Phil Spector, in the 1960s and 1970s and appeared on the cover of issue two of Rolling Stone magazine in 1967.A man lights a candle outside Turner's house in Küsnacht, Switzerland. (AP: Michael Buholzer/Keystone)none
Ike and Tina Turner bounced between record labels, owing much of their commercial success to a relentless touring schedule. Their biggest hit was a cover of Creedence Clearwater Revival's Proud Mary.
Turner left her husband one night in 1976 on a tour stop in Dallas, after he attacked her during a car ride and she struck back, according to her memoir. Their divorce was finalised in 1978.
The Rock & Roll Hall of Fame inducted Ike and Tina Turner in 1991, calling them "one of the most formidable live acts in history". Ike Turner died in 2007.
Becoming a solo superstar
After leaving her husband, Turner spent years struggling to regain the limelight, releasing solo albums and singles that flopped and gigging at corporate conferences.Tina Turner was best known for her songs What's Love Got to Do with It, and (Simply) The Best.(Reuters: Stefano Rellandini, file)none
In 1980, she met new manager Roger Davies, an Australian music executive who went on to manage her for three decades.
That led to a solo number one — What's Love Got to Do With It — and then in 1984 her album Private Dancer landed her at the top of the charts.Loading…
Private Dancer went on to become Turner's biggest album, the capstone of a career that saw her sell more than 200 million records.
In 1985 Turner met German music executive Erwin Bach who became her long-term partner, and in 1988 she moved to London, beginning a decades-long residency in Europe.
She released two studio albums in the 1990s that sold well, especially in Europe, recorded the theme song for 1995 Bond movie GoldenEye, and staged a successful world tour in 2008 and 2009.
After that, she retired from show business. She married Bach, relinquishing her US citizenship and becoming a citizen of Switzerland.
She battled a number of health problems after retiring and in 2018 she faced a family tragedy, when her oldest son, Craig, took his life at age 59 in Los Angeles. Her younger son Ronnie died in December 2022.
Her name continues to draw audiences years after her retirement. Musical stage show TINA: The Tina Turner Musical, with Adrienne Warren initially acting and singing the star's life story, was a hit first in London's West End in 2018, and later on Broadway, and is still running. The musical is currently showing in Sydney.
In 2021 HBO released a documentary about her life.
She is survived by Bach and two sons of Ike's that she adopted.
REUTERS NEWS AGENCY REPORT
Editor says …Sterling Publishing & Media Service Agency is not responsible for the content of external site or from any reports, posts or links, and can also be found here on Telegram: https://t.me/acenewsdaily  and thanks for following as always appreciate every like, reblog or retweet and comment thank you