#AceNewsReport – Jan.19: At least three people have been killed and more injured after a 50ft tsunami triggered by an underwater volcano exploding slammed into Tonga, the government has said in its first update since the 'unprecedented disaster'.
#AceDailyNews says according to MailOnline News Report: Tonga Eruption: 50ft tsunami destroyed entire village as death toll rises : An entire village on Mango Island has been swept away by the tsunami, the government said today, with just two buildings left standing on Fonoifua Island. Namuka Island also has 'extensive damage'.
The dead include a 65-year-old woman on Mango Island, a 49-year-old man on Nomuka Island, and 50-year-old Briton Angela Glover who was found dead on Tongatapu Island on Monday.
Rescue operations including evacuations of Mango, Fonoifua and Atata islands are underway, with 'a number of' injuries also reported – though government officials could not say how many.
Communications from Tonga, a remote set of Pacific islands with a population of 105,000, have been sparse since disaster struck late Saturday when the Hunga-Tonga volcano dramatically exploded – sparking a tsunami, covering nearby islands in ash, and severing an undersea internet cable connecting the country with the outside world.
While early reports from the islands were encouraging, as the days have gone on the picture has darkened. Aid workers on the main island of Tongatapu say the death toll there is likely to be limited, but fears are growing for hundreds of people who live on smaller outlying islands and have not been heard from since the eruption.
Reconnaissance planes from the Australian and New Zealand air forces circled some of the islands on Monday, giving a glimpse of the conditions being faced by survivors – moon-like landscapes covered in thick ash, buildings flattened, and people living under tarpaulins.
Aid efforts are being hampered by damage to the islands' main port and airport, but also by the country's strict zero-Covid policy which could see aid shipments and workers quarantined to stop a 'tsunami of Covid'.
Tonga has recorded just one official case in a traveller from New Zealand who tested positive in isolation in October last year, and is determined to keep it that way. Ministers have already warned their counterparts in New Zealand and Australia, which are coordinating aid efforts, that virus protocols will be applied to rescuers.
Tonga Volcano: Why was it so big, and are there others we need to watch out for? ABC News Report: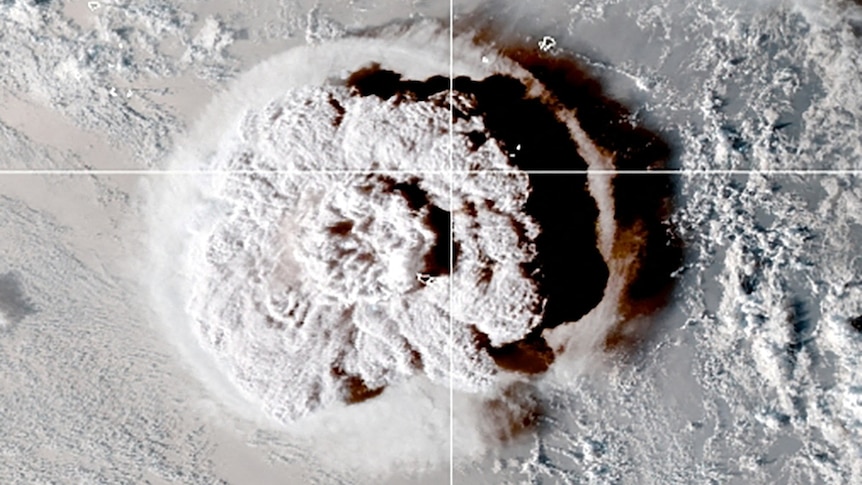 When the Hunga Tonga Hunga Ha'apai volcano erupted in Tonga on Saturday, it sent a huge plume 30 kilometres into the sky and a literal shockwave around the world.
Every week there are around 20 volcanoes "showing some signs of unrest" across the globe, but most are fairly mild, says Scott Bryan, a volcano researcher at the Queensland University of Technology.
So what made this volcano so explosive, was the eruption predicted, will it erupt again soon, and are there other volcanoes we should be watching out for?
Why was it so explosive?
The Hunga Tonga-Hunga Ha'apai volcano is what is known as a subduction volcano.
Subduction zone volcanoes occur along tectonic plate boundaries where one plate is being forced down under another.
Subduction volcanoes tend to have dual personalities, according to Professor Bryan.
On the one hand, they have slow, passive eruptions that build the classic conical shape of volcanoes like Mt Fuji, and on the other they're violently explosive, as we've seen in Tonga.
There are two factors that can lead to a highly explosive eruption, and although it's still too early to say definitively, it appears both factors may have been at play on Saturday.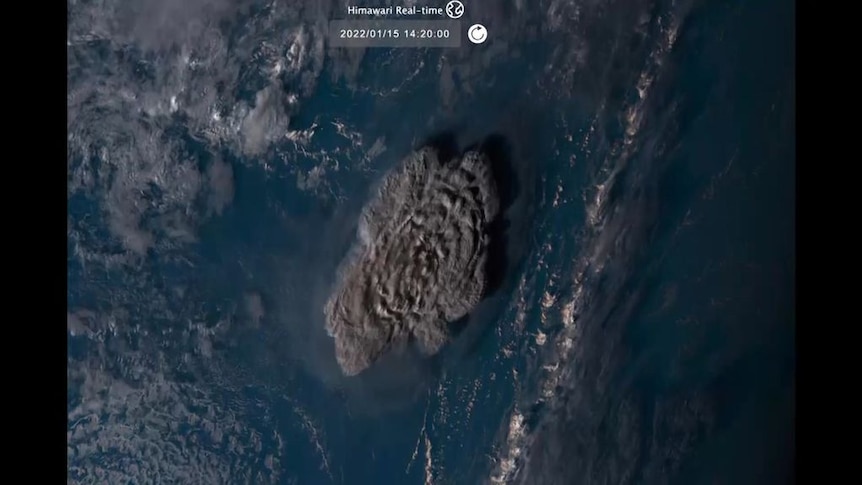 The first is a high concentration of pressurised water vapour and gases in the magma.
When that magma hits the surface from deep underground, there's a sudden release of pressure "like opening a champagne bottle", which causes the gases to explosively expand, blasting apart the magma or lava in the process.
In the case of Hunga Tonga-Hunga Ha'apai, researchers had previously looked at the chemical composition of the volcano's lava sediment from an eruption in 2009.
They found the lava had ingredients for a powerful explosion, according to Heather Handley, a volcanologist from Monash University who was involved with that research.
"We could see from the chemistry of the rocks that the magma of that eruption was moving to the surface quickly and keeping hold of its gas as well," Dr Handley said.
Loading
The second factor that made the Tongan volcano so explosive was that it was a sub-surface volcano — its lava vent was under the ocean.
When magma hits water, it causes an explosive interaction between the two as the water rapidly flashes to steam, Professor Bryan said.
"It's the external addition of the water and the heat of the magma coming into contact with it," he said.
"That flashes steam and that's driven the explosion."
The volcano's vent was above water before disappearing below sea level just a few days (or hours) prior to Saturday's catastrophic eruption, according to Dr Handley.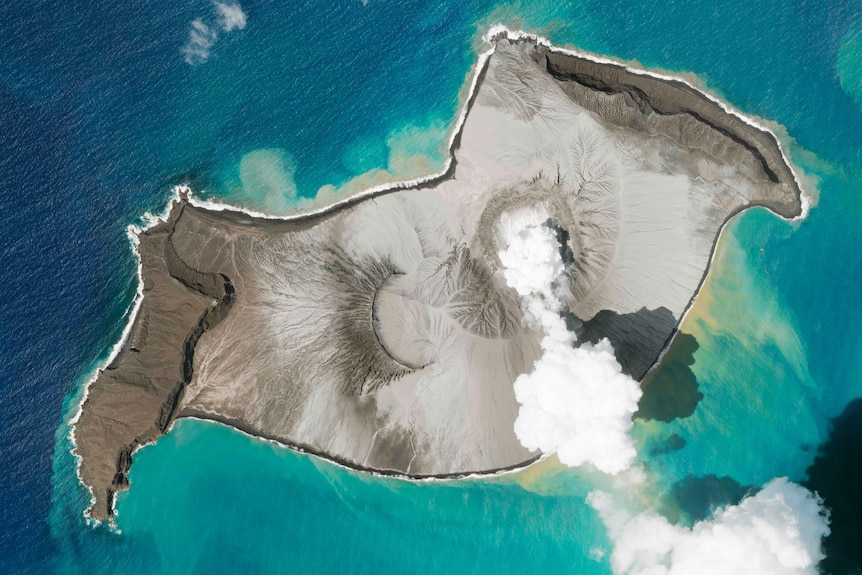 "The satellite images, if you compare from the 6th of January to two hours before the eruption, somewhere in that time frame the middle cone had gone," she said.
A smaller eruption may have blown apart the cone, allowing the incursion of seawater into the vent, which then catalysed the larger eruption.
But Professor Bryan suspects an underwater slip or collapse may have magnified the eruption and caused the tsunami that went with it.
"You need to displace ocean water to make tsunamis," he said.
"It's more than just the eruption. Something else has happened underwater that's triggered this explosion."
Was the eruption predicted?
The Hunga Tonga-Hunga Ha'apai volcano was on a roughly 1,000-year eruption cycle, according to high-temperature geochemist Oliver Nebel of Monash University.
But that doesn't mean we could have pinpointed with any real accuracy when it was going to erupt.
"We know … it's due [to erupt], but that could mean yesterday or it could be in 100 years," Dr Nebel said.
But there were some signs Hunga Tonga-Hunga Ha'apai was becoming more active, he said.
"The volcano had erupted in recent days in the lead-up to the massive eruption."
Dr Handley said the volcano entered a phase of increased activity sometime around December 19-20.
"In the past few weeks, you've been seeing what we call phreatomagmatic eruptions, where water and magma are coming into contact," she said.
"You get these dark feathered plumes that come out."
According to the database of the Global Volcanism Program, gas steam and ash plumes had risen at least 12.2 kilometres into the air by late December, but activity had "significantly decreased" by early January.
The difficulty in evacuating people when volcanoes enter more active phases is that often they may settle down again without a catastrophic eruption, Dr Nebel said.
Evacuating people any time a volcano showed signs of activity would not only be costly, but it would lead to an erosion of public trust in scientists, he added.
Will it erupt again soon?
When a volcano like this erupts, it often happens as a series of eruptions, rather than a one-off.
Records from the Global Volcanism Program show that the last period of activity at Hunga Tonga-Hunga Ha'apai, which began in December 2014, lasted just over a year.
During that period a new island was formed, about 120 metres high and about 2 kilometres long.
Dr Nebel said he suspected there would likely be more eruptions in the near future.
"I think it will likely erupt again in the coming days, weeks, months," he said.
"It's really hard, slash impossible, to predict whether it will be the same severity."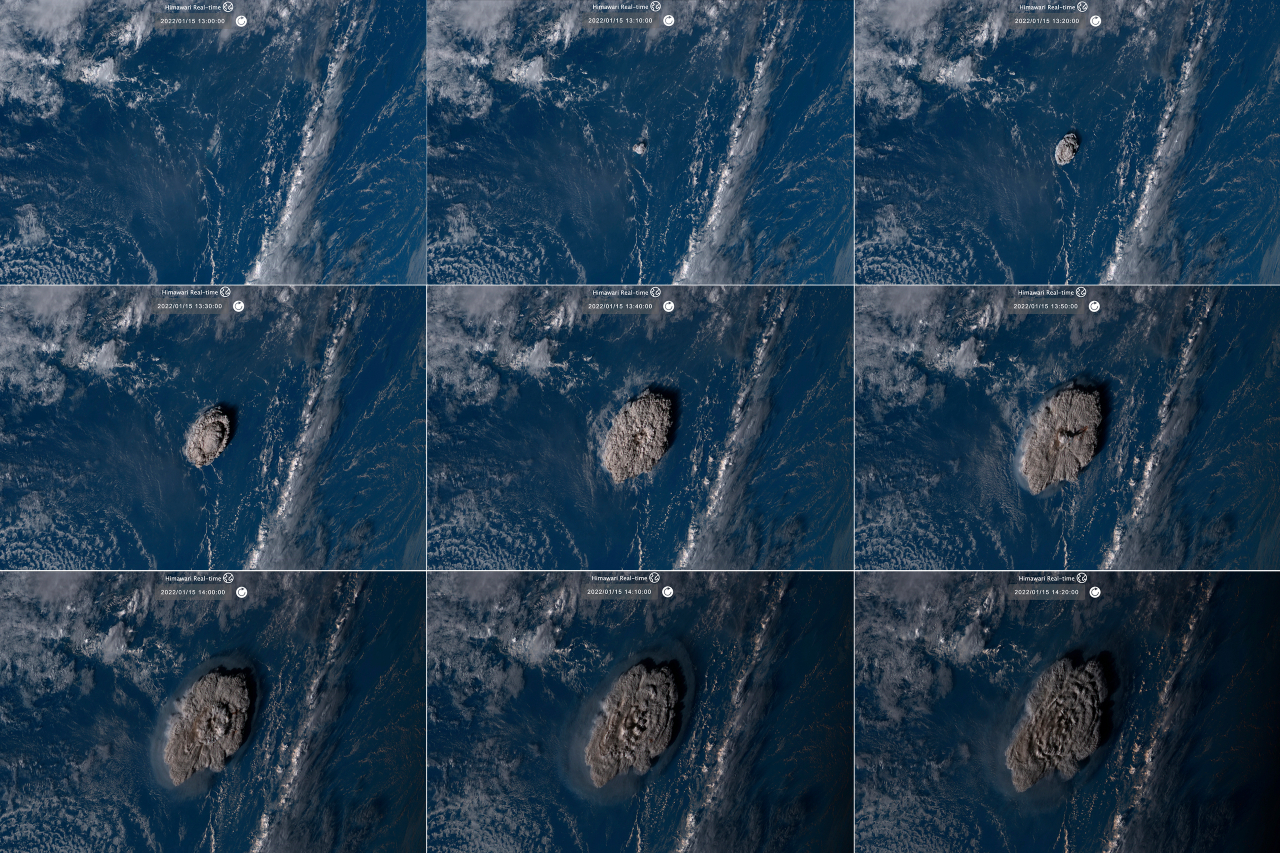 A huge eruption like this one may mean that any following eruptions will be less intense; however, again, there are no guarantees.
The problem is that the magma chamber can be tens of kilometres deep, and there's no way of knowing how much more magma is still in the chamber.
"The only thing we can say is that it has erupted now, so the likelihood of there being much more underneath is low, but we have seen [multiple large eruptions] before in the past," Dr Nebel said.
Similarly, Dr Handley said it was "impossible to tell" at this point whether we had seen the biggest eruption, or if there were more to come.
Professor Bryan said if there was an underwater landslide that precipitated the eruption, that may actually be good news in terms of future eruptions.
"Hopefully if there was a landslide or whatever happened on Saturday, it's stabilised the slopes to some extent," he said.
"[In that case] we may have some explosions or tall columns, but we're not going to get the tsunamis."
Though the fallout and potential death toll is still unknown, Professor Bryan said the earlier eruptions at least gave the people of Tonga some forewarning of what may have been coming.
He also said the fact it happened in daylight was a small positive.
"By the sounds of it, most people saw the early signs. Obviously there was a sonic boom and they'd seen the columns from the weeks before.
"If this happened like three hours later in the middle of the night [when] people are asleep, it could have been a lot worse."
Are there other volcanoes like this to watch out for?
Volcanoes like Hunga Tonga-Hunga Ha'apai are part of the Pacific Ring of Fire — a roughly 40,000km line around the Pacific Ocean tracing the edge of tectonic plates, where a large share of the world's volcanoes are found.
However, these have what is referred to as an "independent magmatic plumbing system", Dr Nebel said.
What that means is that their magma chambers and any conduits and vents are in no way connected to other volcanoes, and the eruption of one doesn't precipitate the eruption of any others.
Across the world there are more than 1,300 active volcanoes, but active doesn't mean erupting now, according to Dr Handley.
"To be active, we say they erupted in the last 10,000 years," she said.
Want more science — plus health, environment, tech and more? Subscribe to our channel.
In any week there are around 20 volcanoes showing signs of activity, according to Professor Bryan.
The Global Volcanism Program listed 46 volcanoes as "in continuing eruptions status" as of December 9, 2021.
A number of these are in Australia's Pacific neighbours, including Papua New Guinea, Solomon Islands and Tonga.
As we've seen, predicting which volcanoes may be an imminent threat to life can prove extremely difficult, but volcano experts say more monitoring and tsunami early warning systems can help.
"All of these volcanoes need monitoring, because our ability to predict these eruptions sometimes is in the order of hours," Dr Nebel said.
Satellite images reveal how Kanokupolu, a village on the hard-hit western side of Tonga's main island of Tongatapu, has been almost wiped out as ash turns the landscape grey
Satellite images reveal how the village of Kanokupolu, on the main island of Tongatapu, was completely washed away in a tsunami which struck after a volcanic eruption late Saturday
Satellite images reveal damage caused by the eruption and tsunami at Tonga's main port in the capital Nuku'alofa, which is now blanketed in ash with many buildings damaged or destroyed
Satellite images of Niutoua, a village on Tonga's main island of Tongatapu, show how it has been completely destroyed with all buildings washed away during a tsunami triggered by the eruption
Satellite images taken before and after the eruption reveal how a village on one of Tonga's islands has been badly damaged, with the surrounding landscape blanketed in ash
'Tsunami of Covid' fears hamper Tonga rescue efforts
Rescue efforts for disaster-stricken Tonga are being hampered because of the Pacific islands' strict zero-Covid policy.
The country has confirmed just one case so far – a traveller who was in isolation at the time – and despite 60 per cent of people being fully vaccinated, is determined to stop any more from arriving.
Tonga has not spelled out the reasons for its policy, though rates of obesity on the islands are among the highest in the world – almost 60 per cent for men and 45 per cent for women – with obesity being a major comorbidity for Covid.
A study by the World Obesity Federation published in March last year found that Covid death rates are ten times higher in countries where more than half of adults are overweight or obese, such as the UK, US, and Italy.
Researchers even suggested that obese people be given priority for vaccination, along with elderly or clinically vulnerable people.
Curtis Tu'ihalangingie, head of Tonga's mission in Australia, said Monday that any aid sent to the islands could have to undergo quarantine due to the risk of it being contaminated by Covid – despite the risk of transmission from packaging being very low.
Humanitarian workers sent to the islands will also be expected to undergo 21-day mandatory quarantine on arrival, the government has warned New Zealand and Australia which are helping rescue efforts.
Quarantine may be waived for emergency aid workers.
It comes despite the government warning today that water supplies on all of Tonga's islands are badly contaminated with ash from the volcano.
Mr Tuihalangingie told Australia's national broadcaster ABC that keeping the country virus-free remains a priority, warning of a second 'tsunami of Covid'.
Tsunami waves reaching up to 50ft hit the Ha'apia island group and the west coast of Tonga's main island, Tongatapu, the prime minister's office said.
On the western coast of the main island, 56 houses were completely or seriously damaged and residents moved to evacuation centres.
Mango is about 43 miles from the Hunga Tonga volcano, which sent tsunami waves across the Pacific Ocean when it erupted with a blast heard 1,430 miles away in New Zealand.
A search and rescue operation began on Sunday for Atata island, which has a population of about 100 people.
'Challenges to sea and air transportation remain due to damage sustained by the wharves and the ash that is covering the runways,' it said. Some limited communications had been made with satellite phones, but other areas remain cut off.
The Tongan navy had deployed with health teams and water, food and tents to the Ha'apai islands, with more aid sent on Tuesday due to the severity of the damage observed on Mango, Fonoifua and Namuka islands, it said.
Australia's Minister for the Pacific Zed Seselja said Tongan officials were hoping to evacuate people from the isolated, low-lying Ha'apai islands group and other outer islands where conditions were 'very tough, we understand, with many houses being destroyed in the tsunami.'
The United Nations had earlier reported a distress signal was detected in Ha'apai, where Mango is located. The Tongan navy reported the area was hit by waves estimated to be 5-10 metres (15-30 feet) high, said the U.N. Office for the Coordination of Humanitarian Affairs (OCHA).
Atata and Mango are between between 30 and 40 miles from the Hunga Tonga-Hunga Ha'apai volcano, which exploded on Saturday evening in a blast that was heard 1,400 miles away in New Zealand, threw a plume of ash into the atmosphere, and sent tsunami waves rippling across the Pacific.
Atata has a population of about 100 people and Mango around 50 people. 'It is very alarming to see the wave possibly went through Atata from one end to the other,' said Tu'ihalangingie.
The NZDF images, which were posted unofficially on a Facebook site and confirmed by Tu'ihalangingie, also showed tarpaulins being used as shelter on Mango island.
A thick layer of ash blankets the islands, the New Zealand High Commission said, adding it was working to establish communications with smaller islands 'as a matter of priority'.
Satellite images show a district of the Tongan capital Nuku'alofa before and after the eruption, with the buildings and trees turning grey after being blanketed in volcanic ash
Satellite images taken of the peak of the Hunga-Tonga volcano show how it was all-but destroyed in the explosive eruption late on Saturday, with only one piece left visible above the ocean
Nomuka Island, Tonga, is seen before and after the eruption which caused widespread damage to villages and blanketed the island in ash, turning it a dark grey colour
The peak of the Hunga-Tonga volcano is seen before and after the eruption, which destroyed most of the cone
The archipelago's main airport, Fua'amotu International Airport, was not damaged in Saturday's eruption and tsunami but heavy ashfall is preventing full operations, hampering international relief efforts.
The U.N. humanitarian office said Tongan officials had said that clearing the runway would take days as it was being done manually, by Wednesday at the earliest.
People on the western coast of the main island of Tongatapu had been evacuated because of 'significant damage', OCHA added in an update, while government ministers had broadcast warnings on radio against price gouging amid worries of supply shortages.
The Tongan government is expected to formally request aid from countries including Australia and New Zealand tomorrow. Both antipodean nations have C-130 military aircraft on standby, packed with emergency supplies.
'The priority now will to be get supplies to Tonga and the biggest constraint on that at the moment … is the airport. There is still a significant amount of ash,' Seselja said.
Tonga is a kingdom of 176 islands, of which 36 are inhabited, with a population of 104,494 people.
The archipelago has remained largely cut off from the world since the eruption which cut its main undersea communications cable.
Subcom, a U.S. based private company contracted to repair various subsea cables in the Asia-Pacific, said it was working with Tonga Cable Ltd to repair the cable that runs from Tonga to Fiji.
Samiuela Fonua, the chair of Tonga Cable, said there were two cuts in the undersea cable that would not be fixed until volcanic activity ceased, allowing repair crews access.
'The condition of the site is still pretty messy at the moment,' Fonua told the Australian Broadcasting Corp.
The island of Hunga Tonga-Hunga Ha'apai, which sits on the seismically active Pacific Ring of Fire, all but disappeared following the blast, according to satellite images taken about 12 hours later, making it difficult for volcanologists to monitor activity.
#AceNewsDesk report ………..Published: Jan.19: 2022:
Editor says …Sterling Publishing & Media Service Agency is not responsible for the content of external site or from any reports, posts or links, and can also be found here on Telegram: https://t.me/acenewsdaily all of our posts fromTwitter can be found here: https://acetwitternews.wordpress.com/ and all wordpress and live posts and links here: https://acenewsroom.wordpress.com/and thanks for following as always appreciate every like, reblog or retweet and free help and guidance tips on your PC software or need help & guidance from our experts AcePCHelp.WordPress.Com