AceWeatherDesk – UPDATE – Tropical Cyclone Jasper remains a category four system but is expected to drop to a category three this evening and further weaken to category two by late Sunday or Monday.
Ace Press News From Cutting Room Floor: Published: Dec.09: 2023: BOM & ABC Live Moment News: TELEGRAM Ace Daily News Link https://t.me/+PuI36tlDsM7GpOJe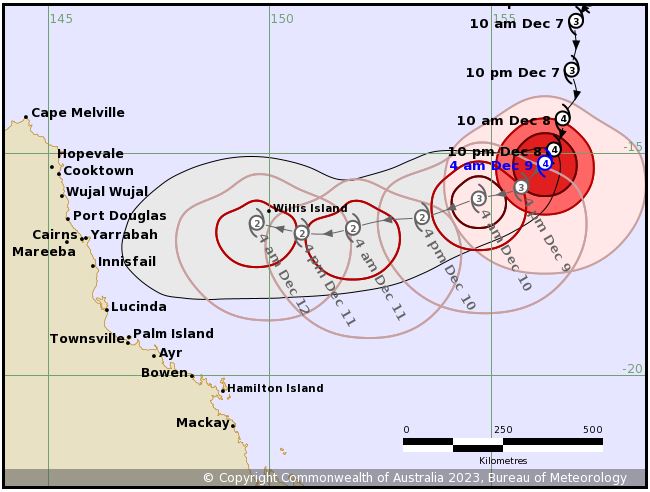 Its crossing is now expected on Wednesday or Thursday, anywhere from Cape Melville to Townsville.
"It's unusually slow movement so far. It's generally been moving around about the 5-6 kilometres an hour rate at this stage," BOM meteorologist Shane Kennedy said.
"But tropical cyclones can even stall in place for hours or days at a time.
"Certainly it's giving us a lot of notice to prepare."Cyclone Jasper is tipped to make landfall early next week.(Supplied: BoM)
BOM is confident Jasper will begin to move west towards the Queensland coast over the coming days, he said.
"It's likely to weaken over the next 24 or 48 hours," he said.
"There is the potential it could re-intensify back into a severe cyclone, which is category three or higher, before it crosses the coast. That could happen early on Wednesday next week."
Severe weather conditions statewide
BOM meteorologist Dave Grant said Jasper would bring heavy rainfall totals, increasing flood risks in some areas of Queensland, while cooling other regions.
"Heavy showers should develop along the central and northern Queensland coast from Monday," he said.
"As a result of that, we will closely monitor the need for a flood watch for coastal catchments in the area around north Queensland.
"We also do have severe heatwave conditions that continue across areas of Far North Queensland and also through areas of western and southern Queensland over the next few days.
"Those conditions will probably start to abate as we move into next week."
Look back at how ABC readers and other Australians responded to this live moment.
Wondering what this is? Join us next time we're live and be part of the discussion.
Mr Grant said the Queensland summer outlook remains predominantly dry, but other rain and storm events remain a possibility.
"Despite the fact we do have an El Niño, and generally a warm and dry outlook, we can still get high-impact rainfall events, so the potential repeat of rainfall incidences like that can definitely not be discounted."