#AceWeatherDesk says a Mop-up continues as rain, strong winds in NSW hamper efforts Emergency services crews had been searching all day for the missing woman after her silver hatchback submerged just before 9am on Wednesday.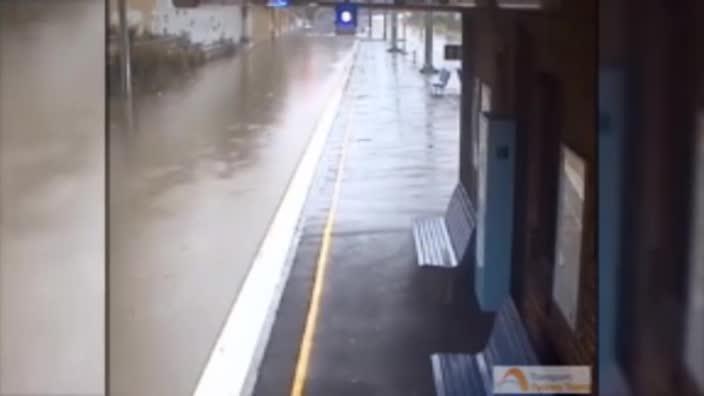 • Body of an elderly woman whose car was swept away in flood has been found.
• Three elderly people died due to floodwaters on Tuesday in Dungog
• 200,000 homes were without power in the Sydney, Central Coast and Hunter Region.
• Recovery effort "expected to take several days".
• Almost 20,000 insurance claims lodged, with losses estimated at $129 million.
• Milperra residents told to evacuate after Georges River burst its banks.
• NSW SES received 11,003 jobs across the state since Monday; Most for fallen trees and roof damage.
• Twelve disaster zones declared across NSW.
• Sydney has experienced its biggest rainfall over 48 hours since 1998, with 225mm in the city.
• Worst of the weather is over and conditions will improve slowly improve.
• Damaging winds gusts of 100km/h are still possible for the coastal fringe.
• Motorists were urged to stay off the roads.
• Newcastle and Hunter Region were the worst hit.
The 86-year-old woman, from Gillieston Heights, was travelling from her home town into Maitland as part of a convoy when tragedy struck.
It is understood she was following a four-wheel-drive across Wallis Creek on Cessnock Road when she tried to go around a red Falcon, which stalled in front of her while travelling across the flooded part of the road.
Frantic bystanders tried to rescue the woman before the car was swept away, but were unable to free them from the sinking vehicle.
Earlier, police had received reports that two women were missing, but it's now believed the driver was the only person in the car.
"At this stage we don't have any evidence that a second person was in the vehicle," a NSW Police spokeswoman told news.com.au.
Divers found the silver hatchback, and another vehicle, just after 6.15pm and it is understood specialist sonar equipment brought in to help with search efforts, is believed to have helped locate the missing cars several hundreds of metres from where it was washed away.
Police said they recovered the woman's body at around 6.45pm.
The woman's 66-year-old son is believed to have been at the scene throughout the day and one of the men who was travelling in the car that stalled is understood to have dived in after the woman as well as three other men on the other side of the flooded crossing, Fairfax media reports.
The development comes as residents in Milperra in Sydney's south-west were being evacuated after the Georges River burst its banks.
Two drivers also died in a head-on collision on the drenched New England Highway near Singleton on Wednesday afternoon.
It comes after three elderly people died due to floodwaters on Tuesday in Dungog.
The woman and two men reportedly died in their homes as water surged through the small town after more than 300mm of rain fell in 24 hours.
NSW SES workers searching for two people swept from the causeway on Cessnock Road, Maitland today.
Meanwhile, residents in Milperra, in Sydney's south-west, were evacuated after the Georges River burst its banks.
River levels peaked at 2.84m just after 4.30pm but have since subsided.
However residents from the 200 homes are unable to return to their homes as minor flood warning remains in place and a number of roads are still closed.
While most of the fierce weather is expected to subside, residents throughout New South Wales have been told to still expected periods of heavy rain and strong winds this evening.
A low pressure system still remains off the Hunter coast and a trough extends south towards the NSW South Coast.
The Bureau of Meterology while the most severe conditions have peaked, and will continue to ease as the low weakens, rain and squally winds are possible through the Illawarra and Sydney Metropolitan areas this evening.
Rain and winds are also expected to increase on the South Coast.
Over the past two days NSW has been battered by what has been described as the worst storm in a decade.
The Hunter Region has been the hardest hit and has already claimed three lives when they were trapped in their homes by floodwaters.
While the worst of the weather is expected to pass later today, conditions are still too rough for recovery to start in the worst affected areas — and a second storm cell again threatens to bring rain and wind to communities devastated by the rare storm.
NSW Premier Mike Baird said today there had been more than 100 flood rescues and more than 9000 calls for help since the crisis began.
He declared the storm a 'natural disaster', and said a declaration would help in the recovery process that will begin once the storm clears and the full extent of the disaster can be assessed.
"The state of emergency really gives you additional powers in terms of asking people to be removed from particular areas (and provides) powers for our emergency workers to move and act very quickly in response to very severe situations."
An SES spokeswoman said "hundreds" more calls were coming in each hour.
The three people killed in Dungong have been identified by local residents as Robyn McDonald, aged about 70, and Brian Wilson, 72, and Colin Webb, 79.
Mr Wilson and Mr Webb are believed to have been trapped in their retirement village homes, while Ms McDonald is believed to have refused to leave her pets, The Australian reported.
Last night the Dungog Chronicle reported the female victim died while trying to save her dog.
However a NSW police spokeswoman could not confirm how the woman died, saying it will form part of the coronial inquiry.
Resident Sally Fitzpatrick, who is a former neighbour of the dead woman, told the paper that she heard the woman didn't want to abandon her dog.
More than 200,000 homes and businesses are still without power with Ausgrid warning reconnection could still take a few more days.
"Customers in some locations affected by extensive storm damage could be without power until well into the weekend," a company statement said.
The Insurance Council of Australia said by 7am Wednesday morning insurance companies had received almost 20,000 insurance claims, with losses estimated at $129 million.
These claims were for low-level property damage, mainly from water and wind damage to homes and damage to cars, insurers are also receiving claims for severe damage to houses and roofs.
Spokesman Campbell Fuller told news.com.au that he expected the number of claims to rise "sharply" over the next few days adding tens of thousands of people were still without power and those affected were trying to ensure their properties were safe.
"We would expect the number of claims in rise sharply over the next couple of days," he said.
Ferries from Manly to Circular Quay have been replaced by buses and the Parramatta ferry is only going as far as Rydalmere, due to flooding at Parramatta weir.
All metro Sydney trains are operating this morning, although there were some delays, while the Central Coast and Newcastle and South Coast lines are closed.
The weather also affected Sydney Airprot with some internationl flights being diverted this morning and domestic flights delayed by an hour, however the airport remains open.
Authorities warned some low-lying parts of Narrabeen and North Narrabeen, near Narrabeen Lagoon, could also be at risk, with an evacuation centre opened at Pittwater RSL and Mona Vale.
Two more evacuations centres were opened up in Dungog as the flooding continued to ravage the town.
Residents in Manly, in Sydney's northern beaches, were on standby to evacuate after fears Manly Dam would overflow.
No evacuation orders were issued but residents have been told to be ready to move quickly, as low level flooding —fuelled in part by a high tide— swept through several streets today.
SES Deputy Commissioner Steven Pearce confirmed the dam "had started to spill" but insisted there was "no danger to Manly Dam collapsing".
There have also been incredible scenes in Sydney's eastern suburbs, but not due to the flooding.
Huge winds have caused sand to blanket much of the famous Bondi promenade.
Footage from the Westpac Rescue Helicopter Service captures flooding around the Hunter area. Courtesy Facebook/NSW Incident Alerts/West[ac Rescue Service….
EARLIER
Residents who have escaped their flooded country NSW homes described their ordeals in terrifying detail, as homes and animals were washed away.
One resident in the town of East Gresford, just 20 minutes away from Dungog, where earlier an escapee described the town as a "mess", sent news.com.au this image of a dramatic horse rescue.
The horse is barely seen afloat as it struggles to stay above water, as the resident in a "tinnie" bravely attempts to save it from rising floods.
According to Louise Oliver, the sister of rescuer Sean Oliver, the horse was one of three rescued from a neighbouring paddock after a local raised the alarm that there were a number of unaccounted horses on the property.
Sean and girlfriend Leah Van Ewijk, who were in the tinnie at the time of the rescue, "left their property to help neighbours," Louise recounted.
"People and livestock were their priority. The rescuers towed the three horses to dry land, the weight of it would have flooded the tinnie. They used a lasso (lariat), cowboy style.
"It was absolutely incredible horsemanship by the two."
Last night the SES sent out emergency texts to around 100,000 residents in the Newcastle region warning them of imminent flash flooding and intense rainfall.
It was reported that some employers in the region heeded Mr Baird's advice by letting their staff go home early, with department store David Jones taking the lead.
The severe weather has been battering the Newcastle coastline for most of Tuesday with winds reportedly reached 135kph.
These pictures of Ross Street, Belmont near the Belmont Sixteens Sailing Club show a boat crashing into the rocks outside a house.
A boat smashes against a house at Belmont near the Belmont Sixteens Sailing club on Ross St Belmont. Picture: Owen hammond.Source:Diimex
A boat crashes into a suburban street in Belmont. Picture: Owen Hammond.Source:Diimex
And while most of us were taking trying to avoid the wild weather, two teenage thrillseekers ignored the emergency storm warnings by taking the plunge at Bronte Beach.
The pair jumped into the crashing waves and are pictured below clinging on to the railing.
Two teenagers ignore the storm warnings, by risking their lives at Bronte Beach, Sydney, Australia. Picture: Bill MorrisSource:Diimex
At Bondi, most of the famous beach ended up on the sidewalk while the skatepark resembled sand dunes after the strong winds blew a blanket of beach sand on to the surface.
In some parts the sand was a metre deep.
Two evacuation centres were set up in Dungog region in response to the ongoing severe weather conditions.
Emergency services advised those affected in the area to find alternative accommodation or use the centre set up at the local high school.
That has now been closed with the Senior Citizens Centre and the Shamrock Multipurpose Centre being used to house affected residents.
All that remains of Rankin Park house after falling tree split it in half. All the occupants escaped safely. Picture: Neil KeeneSource:Supplied
Roofs were lifted from buildings and homes, while in central Sydney a large glass window shattered and fell onto Market St.
Schools throughout NSW were closed for the day as has the University of Newcastle.
There rainfall has been breaking records in some parts of NSW.
From 9am until 5pm Maitland recorded 274mm, Seaham recorded 152mm, Tocal received 137mm.
Dungog, in the upper Hunter, has reportedly been drenched with 309mm in less than 24 hours, the highest since records began in 1897.
Sydney totals were impressive also: Wahroonga had 171mm, Homebush 134mm, City 115mm, Nth Parra 140mm, Hornsby 169mm.
The Bureau of Meterology said the Paterson River in the Hunter and Mid North Coast region reached 16.1m at 2pm causing major flooding in the area.
A severe storm still lashing Sydney has caused major damage. Collapsed scaffolding is seen here at Edgecliff, Sydney.Source:News Corp Australia
Wild winds sweep heavy rain through the streets as Sydney cops a beating….
Overnight wind gusts were recorded up to 135km/h at Norah Head, north of Gosford, which is the equivalent of a category two cyclone.
In Sydney, winds reached 93km/h at the airport and 80km/h on the harbour.
Forecasters say the wild weather is set to continue with 60mm of rainfall forecast today and expected wind gusts of up to 120km/h.
Hundreds-of-thousands of Sydneysiders faced a miserable commute to work yesterday morning just as they did last night when the storm first began to pack a punch.
Many Sydney ferry services were cancelled because of the danger posed by the weather, including the Manly Ferry to Circular Quay. The fast ferry is still operating but at reduced speeds.
Parramatta River ferries are in service but are stopping at Rydalmere due to overflowing at Parramatta Weir, while the Cronulla to Bundeena Ferry has been cancelled and replaced by buses.
Authorities warned of the possibility live power lines could be hidden by debris and floodwaters and urged extreme caution if people did have to travel.
Darling Harbour's Sydney Exhibition Centre bore the brunt of the bad weather as one side collapsed under the pressure.
"The weather [was] very windy at the time, as you can see we were still quite a distance away but the noise of the collapse was so loud," said witness Timothy Hardwick.
#AceWeatherDesk report …..Published: July.29: 2021:
Editor says …Sterling Publishing & Media Service Agency is not responsible for the content of external site or from any reports, posts or links, and can also be found here on Telegram: https://t.me/acenewsdaily all of our posts fromTwitter can be found here: https://acetwitternews.wordpress.com/ and all wordpress and live posts and links here: https://acenewsroom.wordpress.com/and thanks for following as always appreciate every like, reblog or retweet and free help and guidance tips on your PC software or need help & guidance from our experts AcePCHelp.WordPress.Com