This is our daily post that is shared across Twitter & Telegram and published first on here with Kindness & Love XX on peace-truth.com/
#AceNewsRoom in Kindness & Wisdom provides News & Views @acenewsservices
#AceNewsDesk – For the second time this year, former US president Donald Trump has been indicted on criminal charges.
The US Department of Justice (DOJ) took the momentous step of lodging federal criminal charges over his handling of classified documents.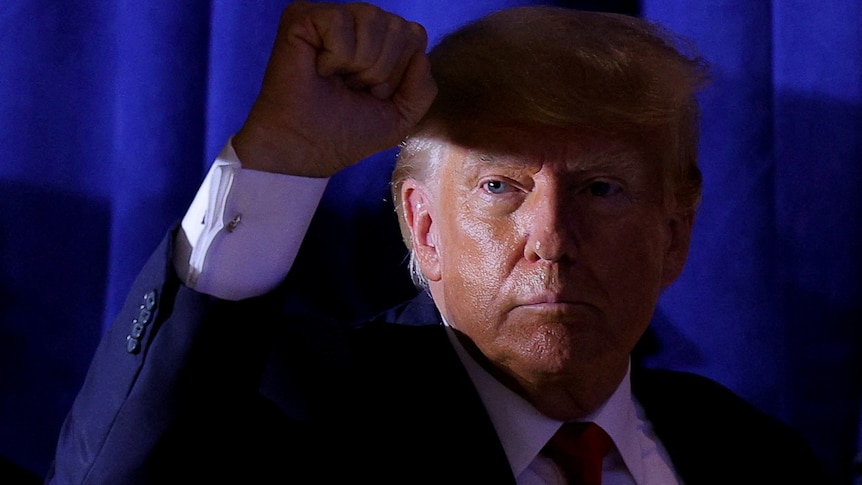 This is the first time in American history that a former president has faced federal charges.
The case, which will be heard in his home town of Miami, is totally separate to the charges he faces in New York.
Trump's legal woes are unfolding as he runs to be the Republican presidential nominee next year.
The announcement will likely overshadow any news of the presidential campaign, landing in the same week that three Republican rivals declared their candidacy for 2024.
The indictment sets up a dramatic election campaign in which a presidential frontrunner is fighting legal battles on multiple fronts.
So what happens now?
Here's everything we know.
Trump is accused of taking some documents
The specific list of charges have not been made public but several media outlets are reporting the indictment against Trump is on seven counts relating to his handling of documents and obstruction of justice.
The long-running investigation dates back to the end of Trump's presidential term and centres on his handling of classified documents, which he took with him after leaving office in 2021.Included in the Department of Justice court filing on August 30 last year was an FBI photo of documents that were seized during a search of Mar-a-Lago.(AP Photo: Jon Elswick)none
Trump was advised by the National Archives and Records Administration some months later that they were aware documents had been taken and that some of them may include government records.
He has been accused of obstructing the government's efforts to reclaim them.
Investigators eventually seized about 13,000 documents from Trump's Mar-a-Lago estate, his sprawling private residence and resort in Florida, last year. One hundred of those documents were marked as classified.
It is against the law in the US to take classified documents home. In some circumstances, classified information can be taken off the premises, but it must be in the course of official duties.
The law states documents must be handled in a way that protects the integrity and confidentiality of the information they contain.
Jim Trusty, a lawyer for Trump, said on CNN the charges against the former president include conspiracy, false statements, obstruction of justice, and illegally retaining classified documents under the Espionage Act
Trump reportedly learned of his indictment while at his club in Bedminster, New Jersey. His team has been anticipating the news for weeks.
"I'm an innocent man. I'm an innocent person," he said, confirming news of the indictment in a four-minute video on Truth Social.
Details of the charges against him are expected to be revealed after his arraignment.
Wait, so this is separate to the New York case?
Yes, this is a completely separate investigation and case.
Trump is facing at least three serious legal cases this year, and today's indictment is only one of them.Donald Trump will be arraigned in Miami.(AP Photo: Pablo Martinez Monsivais)none
In April, he pleaded not guilty in a New York court to 34 felony counts over an alleged hush-money scheme.
The Manhattan district attorney claimed that he and his lawyer Michael Cohen paid off three people with potentially damaging stories about Trump ahead of the 2016 election.
Paying for someone's silence is not a crime, but prosecutors say he falsified business records to cover up the payments.
Trump is scheduled to go to trial in Manhattan in late March of next year, which will be right in the middle of the 2024 presidential campaign.
If found guilty by a jury, Trump could face up to four years in jail for each count
But the charges do not carry a mandatory prison sentence and as a first-time offender he might be handed a fine or community service instead.
What happens to Trump now?
He is reportedly set to be arraigned in federal court in Miami on Tuesday at 3pm (5am Wednesday AEST).
Trump is currently in New Jersey so he will need to make his way to Florida in the next few days to be there in time for his hearing.
In the meantime, it appears the former president has already started using the indictment as part of fundraising efforts for his campaign.
"We are watching our Republic DIE before our very eyes," an appeal for Trump read shortly after news of the announcement was made public.
You might be wondering if all of this imperils Trump's electoral fortunes.
But there is nothing in the US constitution that bars him from running for the presidency in 2024 if he's in jail or caught up in a criminal trial.
This may not be Trump's last indictment
The Mar-A-Lago documents case is far from the end of Trump's legal issues.
Prosecutors in Georgia are investigating Trump and some of his allies over their alleged efforts to overturn the state's 2020 election results.
Trump is accused of calling Georgia's secretary of state, Brad Raffensperger, and demanding he "find 11,780 votes".
This was the exact number of votes that gave President Joe Biden his lead over Trump in the state.
Some legal experts say the Georgia case is by far the most serious legal quagmire that Trump faces.
He or his associates could be criminally liable for making false statements, improperly influencing government officials, forgery in the first degree, and criminal solicitation.
The prospect of racketeering — a charge usually reserved for the mafia and criminal street gangs — has also been floated.
Georgia's prosecutor recently indicated that they would be announcing indictments in the case as soon as August.
Donald Trump told he could face charges over classified documents: By George Bowden: BBC News, Washington DC
Donald Trump has been told he is a target of a criminal investigation over the potential mishandling of classified files after he left the White House.
A move by federal prosecutors to notify the ex-president of a criminal probe suggests he could soon faces charges.
If that happened, it would be the second indictment of Mr Trump, who is campaigning once again to be president.
Prosecutors have been looking into the transfer of files to Mr Trump's Mar-a-Lago Florida estate since last year.
The beachside property was searched last August and 11,000 documents were seized, including around 100 marked as classified. Some of these were labelled top secret.
On Wednesday, three sources familiar with the matter told the BBC's US partner CBS News that Mr Trump had been informed he was being investigated.
Mr Trump has repeatedly denied wrongdoing and has described the investigation as politically motivated.
When asked by the New York Times if he had been told he is a target of a federal investigation on Wednesday, he said "you have to understand" that he was not in direct touch with prosecutors.
CNN, ABC News, and Politico all reported on Wednesday night that Mr Trump had been notified by letter that he was the subject of a criminal investigation.
All the outlets said the move signalled charges could happen soon, but that it was possible a person would not go on to be charged.
The New York Times cited two people familiar with the matter as saying the notification came from the office of Jack Smith, a former war crimes attorney turned special prosecutor who is considering evidence.
It comes after prosecutors obtained an audio recording of Mr Trump in which he acknowledges keeping a classified document after leaving the White House.
The details of documents that may have been in Mr Trump's possession remain unclear. Classified material usually contains information that officials feel could damage national security if made public.
It is against US law for federal officials, up to and including a president, to remove or retain classified documents at an unauthorised location.
Grand juries, set up by a prosecutor to determine whether there is enough evidence to pursue a prosecution, are believed to have met in both Miami and Washington to hear evidence.
On Wednesday, the jury in Miami heard evidence from Taylor Budowich, a former aide and spokesman to Mr Trump.
It raises the possibility that any criminal charges could be filed in Florida for procedural reasons, CBS reported.
Earlier this week, members of Mr Trump's legal team met with investigators at the Department of Justice in Washington.
Mr Trump, who is leading in opinion polls to be the Republican Party's 2024 candidate for president, has consistently denied wrongdoing and has criticised the justice department's investigation as "politically motivated" and a "witch-hunt".
Any indictment over his handling of classified documents would come after Mr Trump became the first former president to be charged with a crime, after he pleaded not guilty to 34 counts of falsifying business records over a hush-money payment to a porn star.
He faces a trial in that case in New York next year.
Editor says …Sterling Publishing & Media Service Agency is not responsible for the content of external site or from any reports, posts or links, and can also be found here on Telegram: https://t.me/acenewsdaily  and thanks for following as always appreciate every like, reblog or retweet and comment thank you