This is our daily post that is shared across Twitter & Telegram and published first on here with Kindness & Love XX on peace-truth.com/
#AceNewsRoom in Kindness & Wisdom provides News & Views @acenewsservices
#AceNewsDesk – Boris Johnson grilled by parliamentary committee over misleading House on partygate according to ABC News report
And Today this just in ……..
Former UK prime minister Boris Johnson has remained defiant in the face of questioning as a parliamentary committee investigates whether he knowingly misled the House of Commons over parties held by his office during COVID-19 lockdowns.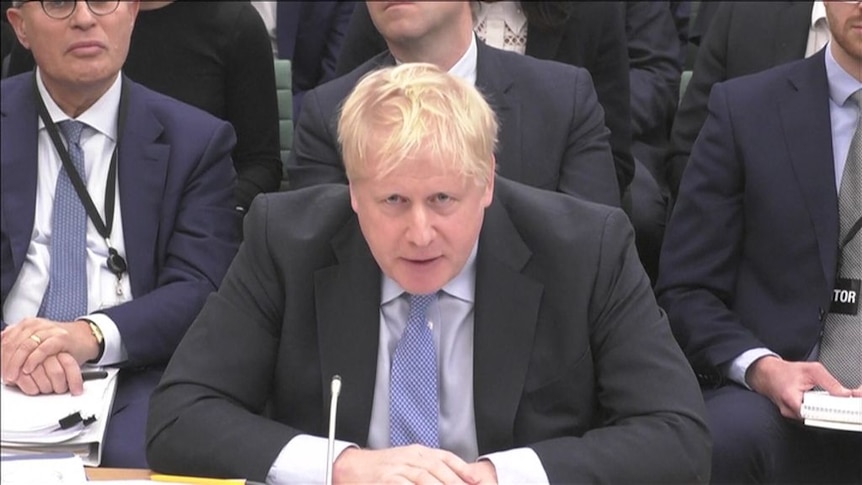 The meeting began with Mr Johnson swearing an oath of truth on the Bible, followed by his statement of defence in which he said he "bitterly regrets" the events leading to the hearing.
"Hand on heart, I did not lie to the House," he told the committee of MPs from across the political spectrum.
Mr Johnson steadfastly maintained that the statements he gave to the House that the gatherings were within the workplace conduct rules reflected his knowledge at the time.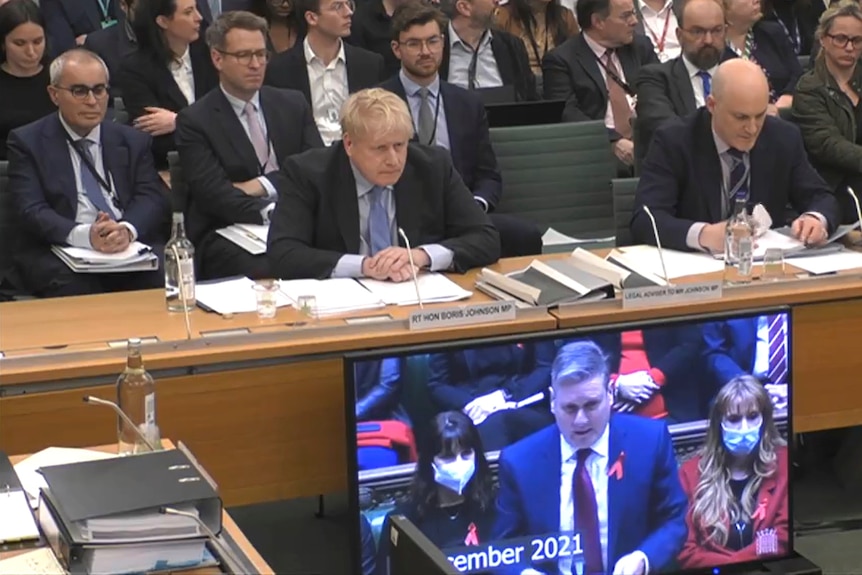 He said misleading the House was inadvertent, rather than deliberate.
The conundrum that therefore faced the committee was how to prove intent.
Mr Johnson defended his assurances to the House that no rules had been broken, which were later proven false, as accurate to the advice he was given by his advisers at the time.
The committee pointed to several examples of correspondence between Downing Street advisers in which they shared concerns about the gatherings.
Advisers concerned over garden event
One email raised that a "200-odd person invitation for drinks in the garden of No. 10 is somewhat of a comms risk in the current environment".
Mr Johnson denied having knowledge of the invitation or subsequent email.
"You have found nothing to show that I was warned in advance that events in Number 10 were illegal, in fact nothing to show that anyone raised anxieties with me about any event, whether before or after it had taken place."The evidence released by the Committee ahead of Mr Johnson's appearance included redacted emails, text messages and photographs.(Supplied: UK Parliamentary Committee)none
He said his understanding of the event was that it was "not a party", but a thank you event for staff for their hard work through the pandemic "in a ventilated area – the garden".
Asked for his interpretation of the email evidence, Mr Johnson said the concern was over the optics, not the rules.
"I think he was concerned the impression people might gain if they looked over the garden wall coming from the media room and thought we were doing something other people weren't allowed to do," he said.
The committee put it to Mr Johnson that it should be obvious to him that the gatherings were not essential.
He "strongly disagreed" with that point.
Johnson says events were work, not social in nature
Several of the gatherings Mr Johnson attended have been described as thank yous and send-offs for departing staff. He said "not for one second" did he doubt that addressing staff in person, the implied alternative being by digital means, was inappropriate at the time.
"Hindsight's a wonderful thing," Mr Johnson said. "But no, at the time I thought we were working."
Mr Johnson and the committee engaged in a lengthy back-and-forth over interpretations of the social distancing rules in place at the time of the Number 10 gatherings, as photo evidence of several of the indoor gatherings showed attendees standing close together.Mr Johnson maintained this gathering was a farewell for a departing member of staff and was essential on the basis of staff morale.(Supplied: UK Parliamentary Committee)none
He asserted social distancing was observed as well as possible in the 'higgledy-piggledy' corridors of Number 10.
The committee put it to Mr Johnson that, under the guidelines, workplace activities had to be undertaken with space for people to stay 2 metres apart, or 1 metre with mitigations. If that was impossible, the activity should have been "redesigned or potentially stopped".
Mr Johnson said the photos did not capture the vigorous testing standards or hand sanitiser stands that he considered mitigations, and that the guidelines specified social distancing was required to be observed "wherever possible".
"I accept perfect social distancing is not being observed … but that does not mean the guidelines are not being observed" he said.
"You can't expect human beings in Number 10 to have an electrified invisible fence around them – they will occasionally drift into each other's orbit."
Committee suggests Johnson relied on improper advice
A total of 126 fines were issued to Number 10 staff for breaking COVID-19 rules during the pandemic.
The committee asked Mr Johnson whether he therefore leant on unreliable advisers providing "flimsy" advice, given the amount of rule breaking that was penalised.
Mr Johnson was visibly angered by the accusation he did not take proper advice, raising his voice, stammering over his words and accusing the committee of spouting "utter nonsense".
He said the number of penalties issued showed it wasn't "obvious" to him or to his advisers that rules were being broken at Downing Street.
Mr Johnson said he was "amazed by the number of FPNs (fixed penalty notices)" handed out to staff and was "shocked" to receive his own.
Asked whether that pointed to a degree of recklessness, Mr Johnson disagreed and repeated that it was his understanding that the events were within the rules.Mr Johnson at times became visibly irritated by the lines of questioning being put to him.(UK Parliamentary Committee)none
It was also put to Mr Johnson that, given the matter was over compliance with the law, he should have sought legal advice before he gave a statement to parliament.
In reply, Mr Johnson assured the committee he had sought the advice of senior members of staff.
Mr Johnson told the committee in the final minutes of the meeting that it would be "utterly insane" to find him in contempt of parliament.
The committee will continue its investigation, with an outcome not expected until mid-year.
Editor says …Sterling Publishing & Media Service Agency is not responsible for the content of external site or from any reports, posts or links, and can also be found here on Telegram: https://t.me/acenewsdaily and thanks for following as always appreciate every like, reblog or retweet and comment thank you
Yesterday's hearing confirmed that Johnson's suspension from the Commons would be an act of politics – not justice Paul Goodman March 23, 2023
Ali Kemal was a liberal politician during the collapse of the Ottoman empire whose life came to a grisly end when he was lynched by a mob. There is no shortage of people willing to deal the same fate, metaphorically at least, to the British politician who is Kemal's great-grandson: Boris Johnson.
The aftermath of yesterday's evidence session before the Select Committee on Privileges will see their number swell still further. For the core of the former Prime Minister's defence is that the Covid rules and guidance urged so inflexibly on others should have been applied flexibly to him – or at least to those responsible for drawing them up and presiding over them.
From those who suffered family death or personal loss during the pandemic, and those with a cynical eye for how the political process works at any time, the familiar cry is going up: one law for them, another one for us. That it is also being taken up by those who simply hate Johnson or want revenge for Brexit or both doesn't invalidate the truth of it.
Let the realisation sink in that, had he not been forced out of Downing Street by his party, Johnson would be in place today – and we would thus be facing the prospect of a Prime Minister felled by a recall petition and a by-election. Who would have succeeded him – and how, with no time for the Conservative leadership election that the party's constitution requires?
Nonetheless, the question that MPs may have to vote on, sooner rather than later, will not be whether Johnson should be Prime Minister – now or in the future. It won't even be whether he and others in Number Ten were right to act during Covid as they did. It will be what penalty should be exacted if the committee decides that he committed a contempt in misleading the Commons.
Now, Johnson himself concedes that he misled the House. But he disputes that he did so "intentionally" or "recklessly" or both – the words in quotes are the committees, and constitute the heart of its inquiry. And to cut a long story short, he yesterday deployed the three wise monkeys defence, so to speak: hear no parties, see no parties, speak no parties.
In sum, the events he attended that the inquiry is probing were, in his view and with one exception, events organised to thank Downing Street staff which he was therefore obliged to attend. He says they were within the rules and the guidelines, because Number Ten's layout made social distancing hard if not impossible.
By implication, they were therefore what Sue Gray in her report called "social gatherings" (and, by the way, it's worth pointing out in passing that the committee's inquiry is not, contrary to the claims of some of the former Prime Minister's supporters, invalidated by her Labour sympathies: it has collected its own evidence).
It has to said that, however unpopular it may be to admit it, Johnson has a case here – at least if the actions of the police were anything to go by. For it's significant that he was fined by them only once: for the sole event which he couldn't reasonably be claimed to have been thanking staff – the impromptu birthday event at which he was "ambushed by cake".
The Met may not be the gold standard for anything much, but their decision suggests that Johnson's take on the parties, or whatever you want to call them, isn't held only by him. Furthermore, he argues, the pictures we've seen of them don't usually come from surreptitiously-held staff mobiles, but from Downing Street's official photographer.
In one case, as he pointed out, photos of an event were published in the Times: no-one said at the time that it was against the rules, and Number Ten wouldn't have publicised it had it believed this to be the case. Indeed, his apology to the Commons last year strikes a contradictory note, since the thrust of his argument is that he's nothing to be sorry for.
Johnson said last year that "with hindsight" he should have behaved differently – but, please note, that was with reference to an event in Downing Street's garden on May 20 2020 (not to be confused with the gathering of May 15 of that year which may have been covertly photographed from Number 11).
This takes us to the nub of the case that the committee seems to be building against the former Prime Minister. "If I was going 100 mph and I saw the speedometer saying 100 miles an hour, it would be a bit odd, wouldn't it, if I said somebody assured me that I was not?" Harriet Harman asked him.
In other words, Johnson should have known (and by implication knew perfectly well) that at least some of the events he attended were, loosely speaking, parties – and thus with the rules and the guidelines, in the committee's view at least. What on earth did he think he was walking in to, when he saw tables laden with bottles and glasses?
The committee's chair appeared to be establishing, to her satisfaction, that since Johnson saw what was happening, he went on to intentionallymislead the House. Alberto Costa's line of questioning suggested that, by not seeking assurances from lawyers, the former Prime Minister acted recklessly.
All this may take the committee towards recommending a suspension of over ten days – leading probably to a recall petition and a by-election. My objection to the proceedings against Owen Paterson, rightly or wrongly, was based on the unfairness of the recall procedure, a wretched product of the worst of the Coalition Government.
Constituents ought not to require MPs' permission for recall (so in one sense, the present arrangements are too restrictive). But the threshold for a by-election petition ought to be higher than ten per cent (so in another, they are too lax). Either way, Johnson now faces the distinct possibility of such a poll.
Which is a reminder that the proceedings to which Johnson is subject are political, not judicial. I hope that in saying so I'm not committing some hideous contempt of Parliament, or casting aspertions on the impartialty of Harman, her colleagues and their inquisitorial procedure.
For the committee itself makes the point that its inquiry was established by a vote in the Commons and that its recommendations will be put to a vote in the Commons. In other words, the story of this inquiry is fundamentally a story about politics, because votes in Parliament cannot be other than political.
Eleven days suspension (or more) and a likely by-election? Or ten days suspension (or fewer) and no recall petition? If Johnson did act intentionally or recklessly, what mathematical formula marries offences to days? How many hours' penalty for not consulting a lawyer? How many minutes for turning a blind eye to a booze-heaped table?
In the end, we all fall back on our own prejudices. I have been waspish about my old Telegraph and Parliamentary colleague in my time. But what passes through Johnson's mind may sometimes be a mystery even to him. And Charles Walker raised the fascinating possibility in his questioning that the former Prime Minister may have spoken recklessly but not misled intentionally.
There should be a high bar to exposing anyone to a flawed recall procedure yoked by happenstance to a legitimate Parliamentary enquiry. I hope the Conservatives on the committee take the point. After all, they make up the majority, so its decision is effectively in their hands.
Editor says …Sterling Publishing & Media Service Agency is not responsible for the content of external site or from any reports, posts or links, and can also be found here on Telegram: https://t.me/acenewsdaily and thanks for following as always appreciate every like, reblog or retweet and comment thank you