This is our daily post that is shared across Twitter & Telegram and published first on here with Kindness & Love XX on peace-truth.com/
#AceNewsRoom in Kindness & Wisdom provides News & Views @acenewsservices
#AceBreakingNews – Prince Harry has launched a fierce attack on the "vile" press, blaming tabloids for destroying his adolescence and later relationships, as he gave evidence against a tabloid publisher whose titles he accuses of unlawful activities.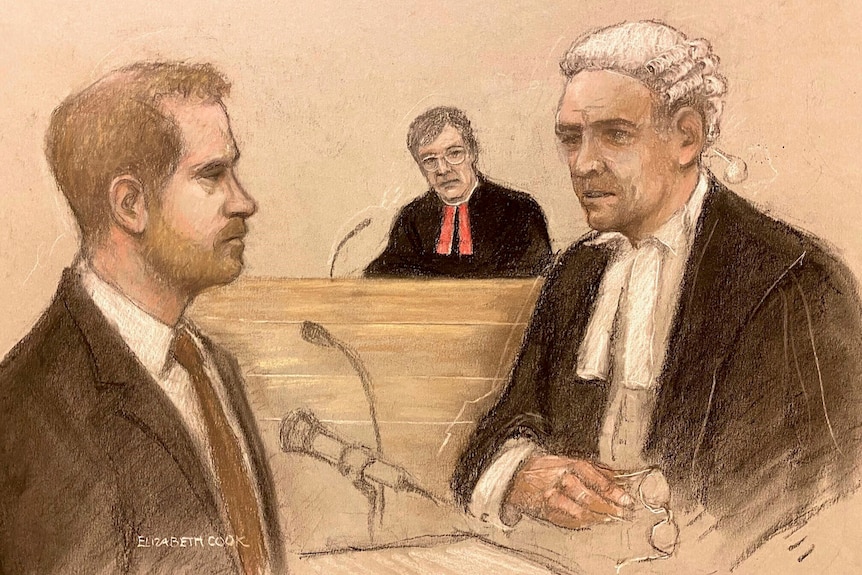 Harry, the fifth-in-line to the throne, became the first senior royal to appear in a witness box in more than a century in a lawsuit he and 100 others have brought against Mirror Group Newspapers (MGN).
They accuse the publisher of the Daily Mirror, Sunday Mirror and Sunday People, of widespread phone-hacking and unlawful information gathering between 1991 and 2011.
He briefly smiled as he passed the phalanx of photographers and camera crews at the High Court in central London, where he is facing hours of cross-examination from MGN's lawyer Andrew Green, over 33 newspaper articles whose details he says were obtained unlawfully.
"Every single one of these articles played an important role, and destructive role in my growing up," he said.
Mr Green began by personally apologising to Harry on MGN's behalf over one instance in which it admitted unlawful information gathering.
"It should never have happened and it will not happen again," he said, adding if the court agreed MGN had committed wrongdoing on other occasions "you will be entitled to, and you will receive a more extensive apology".
In his written witness statement, Harry denounced the treatment he had experienced at the hands of the press.
He said he had been labelled a "playboy prince", a "thicko", a "failure" and a "drop out".
Harry said the press would try to destroy his relationships with girlfriends, blaming them for his break-up with Chelsy Davy, for causing his circle of friends to shrink, and had led to bouts of depression and paranoia.
"Looking back on it now, such behaviour on their part is utterly vile," he wrote, saying the tabloids had incited "hatred and harassment" into his and his wife Meghan's private lives.
In another section he said: "How much more blood will stain their typing fingers before someone can put a stop to this madness?
He was asked by Mr Green if he was suggesting by this that MGN journalists who wrote the articles at the centre of his lawsuit had blood on their hands.
"Some of the editors and journalists that are responsible for causing a lot of pain, upset and in some cases — perhaps inadvertently — death," he said.
Looking serious and speaking firmly but quietly, Harry, the first senior British royal to give evidence for 130 years, said thousands if not millions of stories had been written about him, as Mr Green pressed him on whether he had read the MGN articles in question at the time they were published.
The lawyer also sought to cast doubt on his claim the information had been unlawfully obtained and intimated that the distress he had suffered was caused by press coverage in general, not the specific MGN stories.
Mr Green suggested to Harry that his allegation that an article about him breaking his thumb as a teenager was the result of phone hacking, or other unlawful information gathering, was "in the realms of total speculation".
The seven-week MGN trial began last month, with Harry and the other claimants arguing hacking and unlawful information gathering was carried out with the knowledge and approval of senior editors and executives.
About 20 members of the public queued to gain access to one of the dozen or so seats allocated to the public inside the courtroom.
Harry is one of four test cases, and his specific allegations form the focus of the first three days of this week.
Prince Harry Guns For Piers Morgan In Explosive Court Testimony; Says Fox Nation Presenter Makes Him Feel "Physically Sick" according to Deadline News by Jake Kanter
Prince Harry has inflamed his war with Piers Morgan by personally attacking the TalkTV and Fox Nation presenter in explosive court testimony.
The Duke of Sussex was in the witness box today for the phone hacking trial he and other British celebrities are bringing against Mirror Group Newspapers, where Morgan worked as Editor of The Daily Mirror for nearly a decade.
In a written statement to London's High Court, Prince Harry said the thought of Morgan prying on the private correspondence of his late mother, Princess Diana, made him feel "physically sick."
He added that Morgan's repeated attacks on himself and his wife, Meghan Markle, were an effort to bully him out of bringing legal action against Mirror Group Newspapers. Morgan has consistently denied any knowledge of phone hacking at the Mirror, which he edited from 1995 to 2004.
"The thought of Piers Morgan and his band of journalists earwigging into my mother's private and sensitive messages (in the same way as they have me) and then having given her a 'nightmare time' three months prior to her death in Paris, makes me feel physically sick," Prince Harry said.
"Unfortunately, as a consequence of me bringing my Mirror Group claim, both myself and my wife have been subjected to a barrage of horrific personal attacks and intimidation from Piers Morgan", he said, adding that the attacks were done in the hope "I will back down."
Prince Harry is the first senior member of the British royal family to be cross-examined in court since the 19th century. He trashed the "vile" behavior of British tabloids and said press intrusion has had a "devastating impact on our mental health and wellbeing."
Earlier in the legal proceedings, the High Court was told last month that Morgan openly discussed phone hacking in front of colleagues on Mirror Group Newspapers premises.
Former Mirror political editor David Seymour told the court how Morgan played a Paul McCartney voicemail to reporters, in which the Beatles star attempted to patch up his relationship with then-girlfriend Heather Mills by singing And I Love Her.
The trial has reignited the phone hacking debate in the UK more than a decade after Rupert Murdoch shut down the News of the World amid revelations about unlawful activity.
Princess Diana a victim of hacking
On Monday, his lawyer David Sherborne said Harry's late mother Princess Diana, had also been a victim of hacking, and the prince referred to this in his witness statement, laying the blame at the Daily Mirror's former editor Piers Morgan.
He said the thought of Piers Morgan and his "band of journalists earwigging" into my mother's messages "makes me feel physically sick".
Morgan has always denied any involvement in, or knowledge of phone-hacking or other illegal activity.Harry with his mother Princess Diana when he was eight years old.(Reuters)none
"I've always heard people refer to my mother as paranoid, but she wasn't," Harry said in his statement.
"She was fearful of what was actually happening to her and now I know that I was the same."
MGN, now owned by Reach, has previously admitted its titles were involved in phone-hacking, settling more than 600 claims, but Green has said there was no evidence that Harry had ever been a victim.
The publisher also argues that some of the personal information involved had come from senior royal aides, including from one of his father's former top officials.
Editor says …Sterling Publishing & Media Service Agency is not responsible for the content of external site or from any reports, posts or links, and can also be found here on Telegram: https://t.me/acenewsdaily  and thanks for following as always appreciate every like, reblog or retweet and comment thank you