This is our daily post that is shared across Twitter & Telegram and published first on here with Kindness & Love XX on peace-truth.com/
#AceNewsRoom With 'Kindness & Wisdom' Nov.14, 2022 @acenewsservices
Follow Our Breaking & Daily News Here As It Happens:
#AceNewsDesk – Ukrainian President Volodymyr Zelenskyy has hailed the Russian withdrawal from Kherson as the "beginning of the end of the war", as he lauded soldiers and took selfies with them in the recently liberated southern city.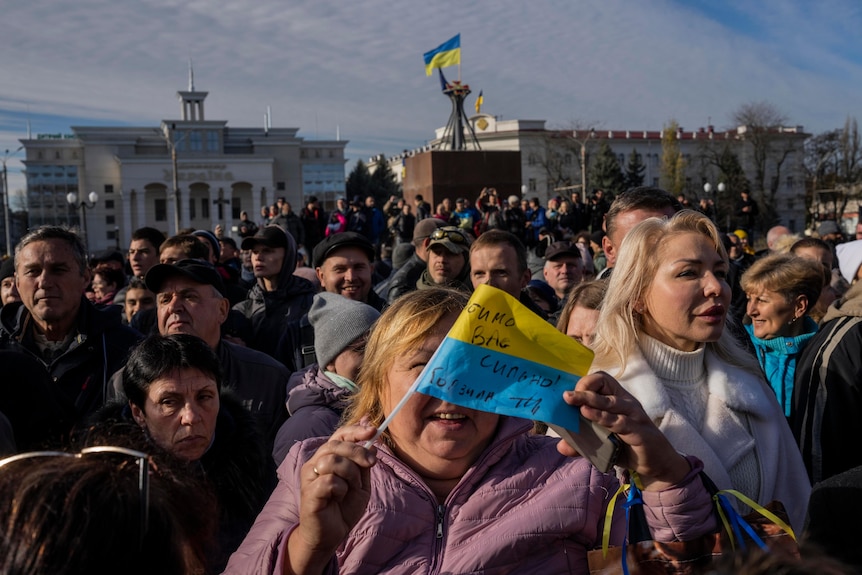 " We are step-by step-coming to all the temporarily occupied territories," he said………………………." We are ready for peace – but our peace … For all our country, all our territory," he said.
Video footage showed Mr Zelenskyy waving to residents who waved at him from an apartment window and yelled "Glory to Ukraine!"……………..The reply "Glory to the heroes!" came back from Mr Zelenskyy's group, made up of soldiers and others.
Mr Zelenskyy has previously appeared unexpectedly in other front-line zones at crucial junctures of the war, to support troops and congratulate them for battlefield exploits.
Kremlin spokesman Dmitry Peskov on Monday refused to comment on Mr Zelenskyy's visit, saying only that "you know that it is the territory of the Russian Federation".
Reuters reported:
The liberation of Kherson after a grinding offensive that forced Russian to withdraw its forces from the city was one of Ukraine's biggest successes so far of the nearly nine-month invasion, and a stinging blow for the Kremlin.Ukraine's President Volodymyr Zelenskyy said Ukraine is taking back temporarily occupied territories "step by step".(Reuters)
The end of Russia's eight-month occupation of Kherson city has sparked days of celebration, but also exposed a humanitarian emergency, with residents living without power and water, and short of food and medicines.
Humanitarian crisis
Russia still controls about 70 per cent of the wider Kherson region.
Mr Zelenskyy said Russian soldiers left behind when their military commanders abandoned the city last week are being detained.
He also spoke, again without details, of the "neutralisation of saboteurs."
Ukrainian police have called on residents to help identify people who collaborated with Russian forces.
Mr Zelenskyy urged people in the liberated zone to also be alert for booby traps, saying: "Please, do not forget that the situation in the Kherson region is still very dangerous."
He promised that essential services would be restored.Ukrainian authorities warn Kherson faces a long road to recovery after being liberated, with Russian troops destroying critical infrastructure as they retreated.
"We are doing everything to restore normal technical capabilities for electricity and water supply as soon as possible," he said.
"We will bring back transport and post. Let's bring back an ambulance and normal medicine.
"Of course, the restoration of the work of authorities, the police, and some private companies are already beginning."
Residents said departing Russian troops plundered the city, carting away loot as they withdrew.
They also wrecked key infrastructure before retreating across the wide Dnipro River to its east bank.President Volodymyr Zelenskyy promised that essential services would be restored in Kherson. (AP: Ukrainian Presidential Press Office )none
One Ukrainian official described the situation in Kherson as "a humanitarian catastrophe".
Reconnecting the electricity supply is the priority, with gas supplies already assured, Kherson regional Governor Yaroslav Yanushevych said.
The Russian retreat marked a triumphant milestone in Ukraine's pushback against Moscow's invasion, and the latest in a series of battlefield embarrassments for the Kremlin.
It came some six weeks after President Vladimir Putin annexed the Kherson region and three other provinces in southern and eastern Ukraine — in breach of international law — and declared them Russian territory.
A Washington-based think tank, the Institute for the Study of War, said that Ukraine has won "an important victory" in recapturing the city of Kherson and other areas west of the Dnipro River, but "it has by no means liberated the minimum territory essential to its future security and economic survival."
Echoing US Secretary of State Antony Blinken's comments over the weekend, Mr Stoltenberg said it was up to Ukraine to decide when and how it wanted to negotiate with Russia to end the war.
"They are paying now the highest price in terms of lost lives and damage to the country. So it is for Ukraine to decide what kind of terms are acceptable for them," he said.
A foreign ministry spokesperson reiterated Ukraine's terms on Facebook on Monday.
"Ukraine's peace formula remains unchanged: an immediate end to the war, the withdrawal of all Russian troops, the restoration of Ukrainian territorial integrity, compensation for the damage caused, and the provision of effective guarantees of non-repetition of aggression," he wrote.
"What happens around the table is fundamentally linked to the situation on the battlefield," Mr Stoltenberg said.
"So what we should do is to support Ukraine and to strengthen their hand so that at some stage there can be negotiations where Ukraine prevails as an independent sovereign nation in Europe," he added.
The Russian Defense Ministry said on Monday that its forces had completely captured the village of Pavlivka in the eastern Donetsk region.
Multiple Ukrainian officials have spoken of heavy battles raging in the area in recent weeks but did not confirm their loss of Pavlivka.
AP/Reuters
Editor says …Sterling Publishing & Media Service Agency is not responsible for the content of external site or from any reports, posts or links, and can also be found here on Telegram: https://t.me/acenewsdaily and all wordpress and live posts and links here: https://acenewsroom.wordpress.com/ and thanks for following as always appreciate every like, reblog or retweet and free help and guidance tips on your PC software or need help & guidance from our experts AcePCHelp.WordPress.Com