This is our daily post that is shared across Twitter & Telegram and published first on here with Kindness & Love XX on peace-truth.com/
#AceNewsRoom in Kindness & Wisdom provides News & Views @acenewsservices
#AceNewsDesk – A record climbing season has left parts of Mount Everest looking like a rubbish dump with discarded tents and sanitation pads with one experienced local climber describing the mountain as the "dirtiest" he has ever seen it.
Climbing guide Tenzi Sherpa recently completed a climb and said people left behind tents, empty gas bottles, bowls, sanitation pads and plastic at Camp Four on the South Col, 7,906 metres above sea level.
He's been taking climbers up the mountain for four years.
"It's the dirtiest I've seen," he said.
"I feel so sad every time because I have seen many times doing expedition groups and companies out there cut out their logos and leave the rest of the tents," he said.
It is currently peak climbing season in the Himalayas, and Nepal has issued 478 Everest climbing permits, the highest number ever.
The previous Everest permit record was 408 for the 2021 season.
Twelve people have died while attempting the climb this year.
Mr Tenzi said lots of rubbish is left behind each year.
"Some tourists try to clean but many do not," he said.
"It's always like this."
Officials paid to do 'nothing'
Fifty tonnes of rubbish has been left on Mount Everest in the last 60 years, according to a 2020 study into the "Excessive Impact of Tourism in Mount Everest" published by the European Journal of Molecular and Clinical Medicine.
There have been numerous attempts to correct the rubbish problem in Nepal by both government and non-government organisations.
Since 2013 every climber who goes beyond Base Camp has been legally obliged to bring back an additional 8 kilograms of rubbish.
If they don't, they can be forced to forfeit a $6,000 deposit they have to pay before they climb.
But the European Journal study found the rules are unclear, and fail to account for climbers who are injured and unable to carry extra rubbish off the mountain.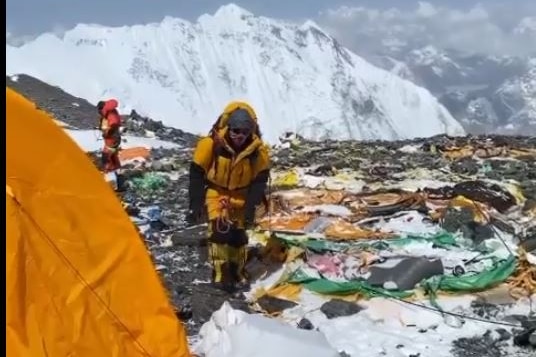 The Nepalese army has also been deployed on many occasions to help with the cleanup.
But Mr Tenzi said the government can't keep up and liaison officers responsible for mandating rubbish removal don't monitor camps enough.
"Liaison officers are getting paid for nothing, just nothing," he said.
"I would like to request the government to punish companies that leave their trash on the mountain, it's a huge problem we are all facing."
'Everest is a gift'
Queensland woman Megan O'Hara Sullivan trekked to Base Camp last month.
She said she consciously went with a trekking company that aimed to be as sustainable as possible.
"I wasn't overly struck with it being dirty but there needs to be a push from companies to protect this place as it's also their tourism industry," she said. Megan O'Hara Sullivan completed a treck to Everest Base Camp in April. (Supplied )none
Ms O'Hara Sullivan said her group took an extra 2kg each of rubbish back down the mountain with them.
"There needs to be a real focus on keeping it as beautiful as possible," she said.
"I think people forget Nepal is a developing country and views toward rubbish are different all over the world.
"So there needs to be a conscious effort by companies or the Nepalese government to regulate less climbers if rubbish is an issue."
Alan Cohrs runs a company that guides treks to Mount Everest Base Camp.
He said most companies are doing their best.
"For me, when I'm doing expeditions it's about little steps," he said.
"Plastic bottles are a huge problem so I have a Sherpa who boils water for us so we can stamp out needing to buy water."
Mr Cohrs said unprecedented numbers of visitors to the mountain this year are contributing to the problem.
"I think it will improve, and there is a lot of initiatives out there," he said.
"But Everest is a gift and people should learn to respect it."
The Nepal Tourism Board has been contacted for comment.
Editor says …Sterling Publishing & Media Service Agency is not responsible for the content of external site or from any reports, posts or links, and can also be found here on Telegram: https://t.me/acenewsdaily  and thanks for following as always appreciate every like, reblog or retweet and comment thank you