This is our daily post that is shared across Twitter & Telegram and published first on here with Kindness & Love XX on peace-truth.com/
#AceNewsRoom in Kindness & Wisdom provides News & Views @acenewsservices
#AceNewsDesk – Wildlife officers euthanase crocodile after reports of large reptile stalking surfers, fisherman in Mackay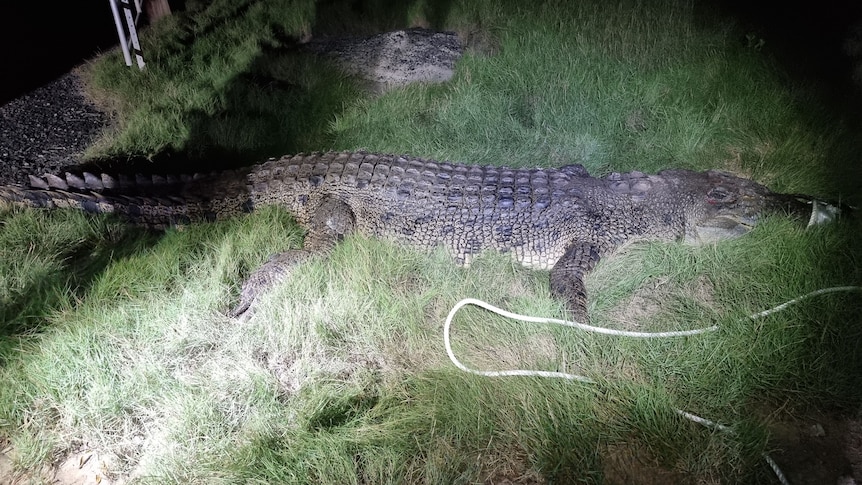 A large crocodile has been shot dead in Mackay after stalking surfers and fishermen in waters around the region.
As Tropical Cyclone Gabrielle passed offshore last week, North Wall was full of keen surfers who did not often get to catch a wave in Mackay.
But little did they know a 3.8-metre crocodile was lurking.
Some surfers and swimmers were forced to scramble up the rock wall to get away from the reptile.
Days later, a fisherman fought off the same crocodile with rocks at a local creek.
The Department of Environment and Science received several reported sightings over a number of days from the public.
"On February 9, a member of the public contacted the department to report a large crocodile at a local beach," senior wildlife officer Jane Burns said.North Wall was packed with surfers last Thursday.(ABC Tropical North: Lillian Watkins)none
"He told the story that the crocodile had approached him while he was out surfing and there were a number of people there.
"Some people ended up getting out onto the beach and then others managed to get out up close to the rocks, which was their closest exit."The crocodile was spotted at several locations around Mackay.(Supplied: Department of Environment and Science)none
Ms Burns said the crocodile remained in the area for a while before heading to the local marina.
"We had a couple of sightings that same day for an animal that fitted the same description," she said.
"That sort of action is when wildlife officers start going out and actually looking for the animal.
"We do that every time something like this comes along to confirm behaviour and size."
Search mission
Local wildlife officers began a search mission that lasted several days and nights.
"Wildlife officers conducted night-time spotlight searches around the harbour, Eimeo Creek, and McCreadys Creek before extending their search into Reliance Creek," Ms Burns said.
On Tuesday, a fisherman alerted the department to a large croc aggressively stalking him on the banks of Reliance Creek.Signs warned beachgoers about the recent crocodile sighting.(Supplied: Department of Environment and Science)none
"He felt very uncomfortable with the distance this animal came to him … he threw rocks at this croc to basically get it away," Ms Burns said.
"Wildlife officers assessed the animal as posing an unacceptable danger to the community and the decision was to humanely euthanase the crocodile on the spot.
"In the majority of times if there's an animal that's been declared, it's removed with trapping … and then put into one of the local zoos or farms."
Croc shot
Crocodiles that pose a threat to human safety are targeted for removal under the Queensland Crocodile Management Plan.
Ms Burns said there were a number of reasons why an animal was euthanased or removed from the wild.
"It's all based on the location, behaviour and size," she said.
"With this particular animal, it was deemed to have dangerous behaviour in what it did days before and we observed that as well out on the water.
"For that instance, we did have firearms there on site … it was the safest option."
'Croc country'
Since the start of the year, there have been 23 reported crocodile sightings in the Mackay region.Crocodile sightings are usually posted to local Facebook groups.(Supplied: Volunteer Marine Rescue Mackay)none
In contrast, the Rockhampton region has had four.
"Mackay is croc country," Ms Burns said.
"With recent rain events, it does push them around a lot more so they can turn up in unexpected areas.
"During the recent investigation, wildlife officers located a 2.7m crocodile in Reliance Creek and a smaller animal in another nearby creek."
Ms Burns said those animals did not pose any danger to the community.
"People must understand that crocodiles are widely distributed throughout the Mackay region," she said.
Anyone who spots a crocodile is encouraged to report the sighting using the QWildlife App or by calling the Department of Environment and Science.
Editor says …Sterling Publishing & Media Service Agency is not responsible for the content of external site or from any reports, posts or links, and can also be found here on Telegram: https://t.me/acenewsdaily and thanks for following as always appreciate every like, reblog or retweet and comment thank you