This is our daily post that is shared across Twitter & Telegram and published first on here with Kindness & Love XX on peace-truth.com/
#AceNewsDesk – Alice Springs grandmothers demand Indigenous Voice to Parliament following Prime Minister Anthony Albanese's visit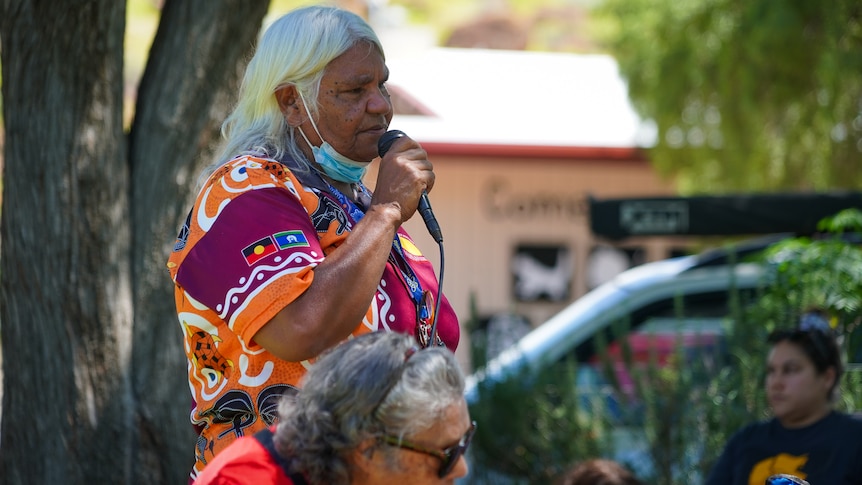 A group of First Nations' grandmothers has told the Invasion Day rally in Alice Springs they support the Indigenous Voice to Parliament, calling on policy-makers to "get out of our way and ask us what we want."
It follows the announcement of alcohol restrictions and more funding for police by Prime Minister Anthony Albanese during a whirlwind trip to the town on Tuesday.
He also announced some extra funding for a domestic violence program but did not address ongoing calls for needs-based domestic violence funding for the Northern Territory.
Arrernte woman Sabella Kngwaraye Turner told the crowd Alice Springs' crime, alcohol troubles and high domestic violence rates needed to be addressed together if meaningful change is to be made.
"You can't just go around implementing rules — this is our community and we need to work together," she said.
How Alice Springs found the national spotlight Anthony Albanese may have only been in Alice Springs for a few hours, but the reality of the town's problems have been all too apparent to local residents and community leaders, who have spent months desperately calling for something to change.
Western Arrernte great grandmother Sylvia Purrurle Neale told the crowd it was time for policy-markers "get out of our way and ask us what we want" and asked the wider community to "come to the table".
"Really come to the table — come and sit at the table, with no other agenda except to make things better, for all of us," she pleaded.
Arrernte traditional owner Perrurle Pat Ansell Dodds asked the crowd to vote for a Voice to Parliament when the referendum is held later this year.
"Aboriginal people need to have a voice to tell our own stories of Australia," she said.
"Give us a chance to live our own life and share our culture and our language with our children and our country."Perrurle Pat Ansell Dodds.(ABC News: Xavier Martin)none
The rally took place on a CBD lawn beside a statue commemorating 19th century explorer John McDouall Stuart.
Ms Ansell Dodds said the monument was a painful reminder of the day her community was turned upside down forever.
"Our history started with this, we are the last place in Australia that white men came to when John McDouall Stuart came," she said.
"It was devastating to us."
The park is also located near a street named after colonial police officer William Wilshire, who is known to have murdered at least 13 Aboriginal people.A statue of colonial explorer John McDouall Stuart, holding a shotgun, stands in the centre of Alice Springs.(ABC News: Xavier Martin)none
Ms Dodds said it was time for the country to reckon with the violence her community had faced since colonisation.
"When Wilshire came, he shot our people here because they lived here," she said.
"They've been here for thousands of years and he shot them like dogs … and they have a street named after him."
She said her community had endured massacres, enslavement on cattle stations, the Stolen Generations, then the Intervention.
"This is my history of Australia, and it has to stop, we have the right to talk in parliament," she said.Protests in Alice Springs.(ABC New: Xavier Martin)none
Senior Australian of the Year makes appeal to older voters
The comments echoed those made by Territory-born Kungarakan elder Tom Calma who was last night named Senior Australian of the Year.
Mr Calma said he was troubled to see the numbers of young Indigenous people walking the streets at night in Alice Springs.
But he said too little had been said about the factors contributing to the problems, beyond alcohol.
"It is not an issue just about alcohol, it is about overcrowded housing, lack of access to services, and lack of opportunity for young people, in this case, particularly Aboriginal and Torres Strait Islanders people," he told Channel 7.
Mr Calma used his award speech to appeal to older Australians.
"Because you are the demographic being targeted with misinformation by pundits who are either ill-informed or have malicious intent regarding the Voice," he said.Human rights advocate Tom Calma awarded 2023 Senior Australian of the Year
He said he wanted all Australians to understand the Voice "is not a choice between improving people's lives or amending the constitution."
"We can do both," he said.
"But it will require bipartisanship, all levels of government working together, and it must involve those most affected, namely Aboriginal and Torres Strait Islander people."
Protesters in Darwin gather outside Don Dale
A large-scale rally in central Darwin was not held this year, with previous organisers choosing to work or rest as a form of resistance.
Protesters gathered outside the notorious Don Dale youth detention centre, which remains open in what is now the sixth year since the NT government said it would be closed.
Larrakia man Eric Fejo addressed the crowd outside the facility, where numbers have reached new records after controversial bail changes in 2021.
"This place, this colony, was set up as a penal colony, and this is a penal situation right here," Mr Fejo said.
"Children need help.
"They need health and understanding. They need education … locking them up and flogging not going to do anything. It's only going to harm them."
In December the ABC reported that children and young people arrested in Alice Springs would be transferred to Darwin in the first quarter of this year while the southern facility was refurbished.
Changes increasing the age of criminal responsibility from 10 to 12 will take effect in the NT later this year.
Editor says …Sterling Publishing & Media Service Agency is not responsible for the content of external site or from any reports, posts or links, and can also be found here on Telegram: https://t.me/acenewsdaily and all wordpress and live posts and links here: https://acenewsroom.wordpress.com/ and thanks for following as always appreciate every like, reblog or retweet and free help and guidance tips on your PC software or need help & guidance from our experts AcePCHelp.WordPress.Com