This is our daily post that is shared across Twitter & Telegram and published first on here with Kindness & Love XX on peace-truth.com/
#AceNewsRoom in Kindness & Wisdom provides News & Views @acenewsservices
#AceNewsDesk – Anthony Albanese has signalled Labor still plans to sign an international treaty on nuclear weapons amid concerns about the AUKUS deal according to Catie McLeod, news.com.au 23 Mar 23
Anthony Albanese has signalled Labor still plans to sign a treaty prohibiting nuclear weapons amid concerns the AUKUS submarine deal will breach Australia's international obligations on the issue.
Under the trilateral security agreement with the United States and the UK, Australia will become the first non-nuclear weapon state to acquire nuclear-powered submarines by seeking an exemption from the International Atomic Energy Agency.
The government has said the submarines will only use nuclear propulsion and would not have nuclear weapons.
Despite this iron-clad assurance, some countries in the Indo-Pacific have raised concerns the submarine deal is a breach of Australia's existing nuclear non-proliferation treaty obligations, and that it might stop it from ratifying an additional treaty prohibiting nuclear weapons.
Australia made a binding commitment to never acquire nuclear weapons when it ratified the international treaty on non-proliferation 50 years ago but it is yet to sign or ratify a newer treaty created in 2017 that binds member countries to outlawing nuclear weapons all together.
Labor first committed to signing and ratifying the Treaty on the Prohibition of Nuclear Weapons at its National Conference in 2018 and reaffirmed that commitment in 2022.
Speaking in parliament on Wednesday, the Prime Minister said Labor would stick with the commitment and said Australia's clear position was that a world without nuclear weapons "would be a very good thing".
"We don't acquire them ourselves, we wish that they weren't there," Mr Albanese said after independent Goldstein MP Zoe Daniel asked him if Labor would sign the nuclear prohibition treaty.
"We will do is we will work systematically and methodically through the issues and in accordance with the commitments that were made in the national platform.
Labor backbencher Josh Wilson breaks ranks on AUKUS nuclear-powered submarines according to ABC News report
Posted Tue 21 Mar 2023 at 4:57am, updated Tue 21 Mar 2023 at 7:12am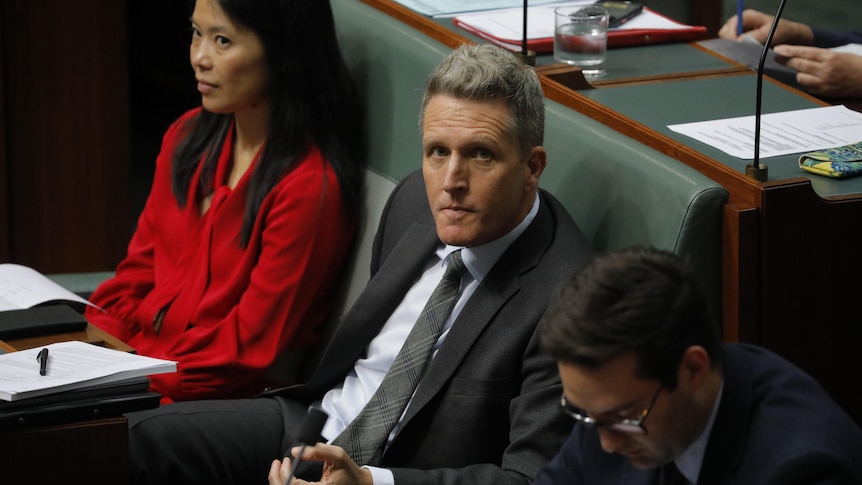 Federal Labor is playing down suggestions the party is divided over the government's plans to spend up to $368 billion buying and building a fleet of nuclear-powered submarines.
Labor backbencher Josh Wilson used a speech in the parliament to speak out against the AUKUS pact with the United Kingdom and the United States, fearing it might undermine Australia's commitment to nuclear non-proliferation.
"I'm not yet convinced that we can adequately deal with the non-proliferation risks involved in what is a novel arrangement, by which a non-nuclear weapons state under the NPT (Non-Proliferation of Nuclear Weapons Treaty) comes to acquire weapons-grade material," he told the parliament.
None of the politicians to whom the ABC has spoken have called for AUKUS to be abandoned. They universally say while they have accepted it, they see it as their role to raise questions about the deal.
A requirement of the AUKUS pact is that Australia must store the spent nuclear reactors after the submarines are decommissioned, beginning in the 2050s.
A Labor politician — speaking on the condition of anonymity — told the ABC they estimated up to 10 Labor politicians were continuing to raise questions or concerns about AUKUS, particularly around nuclear proliferation and waste issues.
At a Labor partyroom meeting on Tuesday morning, three politicians raised questions about AUKUS. The questions were about funding, human capital and what it meant for Australia's defence sovereignty.
No one in the meeting spoke against the pact nor the nuclear elements of it, a Labor politician later said.
Parts of the Labor Party have a long history of campaigning against nuclear developments in Australia and close ties with the United States are not universally supported by party branches. Labor MP Josh Wilson expresses concerns over nuclear waste from AUKUS project.
Mr Wilson — who holds the seat of Fremantle in Western Australia — was the first to break party ranks on Monday, when he told parliament the nation must be able to have a "mature" debate about the risks of pursuing the AUKUS security pact.
"It should be a statement of the obvious to say that — with an undertaking of this scale, complexity, cost and duration — there remain considerable risks and uncertainty. That is the plain, hard reality," he said.
Mr Wilson questioned the proposed timelines for delivery of submarines, noting from the experience of building the Collins-class submarines and abandoned French subs that "building submarines inevitably takes longer and costs more than you anticipate".
He said that, while he supported the work of the government, he was not convinced the nuclear-powered submarines were the best answer for Australia.
In particular, Mr Wilson questioned plans for disposal of nuclear waste, saying Australia had not yet managed a solution to store low-level nuclear waste after 40 years, and now was taking on the challenge of safely disposing of high-level waste.
"The AUKUS agreement — arrived at with some characteristically questionable secrecy by the former government, and some strange ministerial arrangements — is not a sports team of which we have all suddenly become life members," Mr Wilson said.
"It is a significant partnership with two of our most important and closest allies, but it will only be effective if we do our job as parliamentarians, which is to look closely and ask questions in order to guard against risk."
Former prime minister Paul Keating said there was disquiet within the party over AUKUS as he levelled his own criticisms of the party's leadership but, so far, Mr Wilson is the only sitting Labor member to question the deal.Why is the AUKUS submarine pact such a big deal?
Editor says …Sterling Publishing & Media Service Agency is not responsible for the content of external site or from any reports, posts or links, and can also be found here on Telegram: https://t.me/acenewsdaily and thanks for following as always appreciate every like, reblog or retweet and comment thank you