AceNewsDesk – From a hidden bunker on a quiet street in New Delhi, a secret agent watches a man ascend the steps of his three-storey home with a nondescript briefcase in tow.
Ace Press News From Cutting Room Floor: Published: Dec.09: 2023: ABC Special News: TELEGRAM Ace Daily News Link https://t.me/+PuI36tlDsM7GpOJe
Inside is a trove of top-secret documents taken from India's external intelligence agency.
The man is a mole, believed to have been leaking sensitive information to a powerful ally, as part of a high-stakes political plot to topple a foreign enemy.
It's a scene seemingly ripped from 2023's headlines — as the mission unfolds, the spy is drawn into a complicated web of betrayal and danger, culminating in a daring escape escape across borders.
But the real story behind this Netflix thriller came almost two decades before alleged international assassination plots put India's intelligence agencies under the spotlight.
Rabinder Singh was working at India's Research and Analysis Wing (R&AW) in 2004 when he became the spy that vanished into thin air.
It is a story so bizarre that it has been rehashed in several dramatic accounts.
Khufiya (House of Spies), released last month, is the Netflix adaptation of a 2012 novel called Escape To Nowhere, written by former spy chief Amar Bhushan.
While it has been promoted as a work of fiction loosely inspired by true events, it bears some striking similarities — and some key differences — with the account offered in another book authored by a former intelligence officer.
RK Yadav's book, Mission R&AW, was released as a tell-all memoir in 2014, detailing "the first eye-opening account … of the achievements and failures of Indian intelligence".
Piecing together the records of what unfolded reveals a desperate race to catch a double agent and understand how and why the CIA convinced an Indian citizen to turn on his own government.
Who was Rabinder Singh?
Singh first joined the R&AW in the late 80s, after a brief military career.
Media reports describe him as a clean-shaven man from an affluent family in Amritsar, the son of a retired lieutenant in the Indian Army.
Having joined the Gorkha Regiments in 1970 and worked his way up to become major, Singh was reportedly overlooked for further promotion due to his "mediocre calibre" as a soldier.
He did take part in Operation Blue Star, a sting in 1984 targeting a group of separatists known as the Khalistan movement who had taken over the Golden Temple, the most sacred site in Sikhism.
According to Yadav's book, which he told the ABC was entirely factual and based on his own career as well as interviews with internal sources, Singh was appointed to the agency by an old family friend who had worked with his father.
Stationed in Amritsar, Singh gained a reputation for his close relationships with local police, allegedly getting involved in an embezzlement scheme involving secret service funds meant for clandestine operations in Pakistan.
Singh was eventually posted to the Indian embassy in Damascus, where he once let slip to an American diplomat about a secret Indian Air Force visit to an air strip on the outskirts of the city.
It has been suggested that it was around this time that Singh was first recruited by the CIA.
According to multiple reports in Indian media, Singh's daughter was seriously injured in 1992 or 1993, and he requested a transfer to Washington DC.
"Singh said he needed a lot of money to pay for his daughter's treatment, and that the Washington posting would help," RL Bhatia, the minister involved in external state affairs at the time, told Frontline in 2004.
The request was declined. Instead, after Damascus, Singh was stationed as a counsellor at The Hague.
Colleagues noted his expensive tastes and penchant for throwing lavish dinner parties at five-star hotels where he mingled with senior officers and foreign diplomats.
"Everybody in R&AW knew that he had acquired disproportionate assets to his known sources of income, but no-one dared to take any action against him due to his allegiance with a coterie of senior officers," Yadav wrote.
"He openly used to claim in cocktail circles that he was the richest bureaucrat of India, but no-one in R&AW had the guts to question the source of his richness and lavish style of living."
By the early 2000s Singh had returned to New Delhi, and was working as a joint secretary at R&AW headquarters focused on its South-East Asia operations.
But the man described by his peers as a "fairly ordinary" agent was hiding a secret.
The double agent arouses suspicion
Some time in late 2003, Singh's colleagues began to notice he had become particularly inquisitive, striking up conversations about topics outside his department's purview and spending an unusual amount of time at the photocopier.
One officer approached Bhushan, who at the time was the senior secretary in charge of the Counter Intelligence and Security division that monitored internal threats at R&AW.
Bhushan began preliminary inquiries, and by the new year, Singh was under surveillance.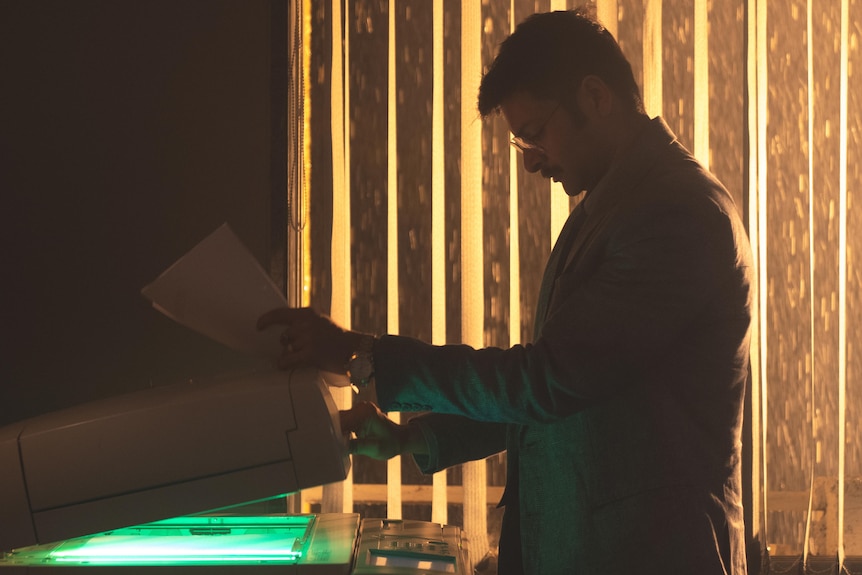 Agents installed hidden cameras inside his home and office, tapped his phones and opened a mini control room down the street to monitor the video and audio recordings of Singh's conversations with guests as they came and went.
At one point, Yadav wrote, there were more than 20 agents tracking Singh's every move.
The wire taps seemed to suggest Singh had been collecting intelligence from inside the R&AW and passing it on to an unknown handler believed to be working for the CIA.
The surveillance team were working on the assumption that Singh had somehow been transferring documents through a courier.
But before they could gather enough evidence or catch Singh in the act, he received a tip-off that he was being watched.
"Surveillance is only effective as long as the suspect doesn't know they're being watched. But then once he knows he is being watched, he has power," Bhushan explained in a documentary last year.
Singh applied for leave from work, ostensibly to attend his daughter's engagement ceremony in the United States. The request was turned down, confirming his fears.
According to Yadav's book, tapes from the bugs installed at R&AW headquarters showed Singh desperately ransacking his office in search of hidden cameras — a scene re-created in the film adaptation based on Bhushan's novel.
One morning in April, the counter intelligence team watched as Singh stacked piles of papers into bundles, ready to be squirrelled out of the building. They pounced.
Bhushan directed his officers to frisk every R&AW employee as they left the building.
"Hundreds of classified documents were seized from senior and middle level officers of R&AW being taken out of headquarters," Yadav wrote, including pen drives, CDs and DVDs, and a large volume of pornographic materials.
But still there was not enough to pin down their main target.
The spy who vanished
Singh, now suspicious that counter intelligence agents were tailing him, needed to hatch an escape plan.
Meanwhile, operatives installed a trick photocopier in his office that recorded digital copies of every page he scanned.
Over 16 days, Singh took copies of more than 210 reports, including classified documents that contained sensitive information about R&AW's assessment of activities in Afghanistan, Pakistan, and several of its neighbours, according to Yadav.
The investigation appeared to be gathering steam, but senior agents were frustrated that there was still no conclusive evidence that would allow them to question Singh or identify who he was working with.
They were under pressure to arrest their target, or drop it entirely.
Singh took his chance. On May 1, 2004, he and his wife Parminder Kaur made their escape.
They borrowed a car and drove to the border with Nepal, crossing over at Nepalganj, where they were met by Singh's CIA contact, David Vacala.
The three of them stayed the night at a hotel before booking a domestic flight to Kathmandu, where they stayed at the American embassy.
There, Singh and his wife were issued US passports under new names: Ram Prasad Sharma and Deepa Jumar Sharma.
On May 7, the Sharmas boarded an Austrian Airlines flight bound for Washington DC.
After Singh had failed to turn up to work for several days, counter intelligence officers checked city hospitals and interrogated family members about his whereabouts.
A team was dispatched south to Chennai, but found no trace of their man.
They contacted international airports, but hadn't enough evidence to block Singh's passport.
"We came fairly close to understanding that there could be a security implication. But we simply did not have conclusive evidence at that point," a senior source told Outlook India in 2004.
A search of Singh's home finally delivered the smoking gun they'd been looking for: a laptop that Singh had been using to send electronic copies of his pilfered documents.
The counter intelligence wing soon figured out his whereabouts, but by the time they contacted the Indian embassy in Kathmandu to try to intercept him, it was too late.
The fallout
Singh was formally dismissed as a R&AW officer in 2005, under an article of India's constitution that allows the president to do so without holding a formal departmental inquiry if it is not considered to be in the national interest.
A senior official at the agency reportedly completed an internal inquiry, but its findings were never made public.
The Indian media was whipped into a frenzy over the "spy who disappeared", and the secrets he may have sold to one of the country's strongest allies.
So what happens to a double agent once they are forced to flee their home base and are cut off from a network of informants?
In Singh's case, it would seem, they become far less valuable.
According to one account, just a few months after he landed state-side, he was dropped by the CIA.
"They stopped paying him, scuppered his attempt at gaining employment with a think tank, and declined to support his request for naturalisation," wrote Shaunak Agarkhedkar, an Indian spy novelist.
In November 2004, a person calling themselves Surender Jeet Singh petitioned the US Court of Appeals to review a decision by the Board of Immigration denying him asylum.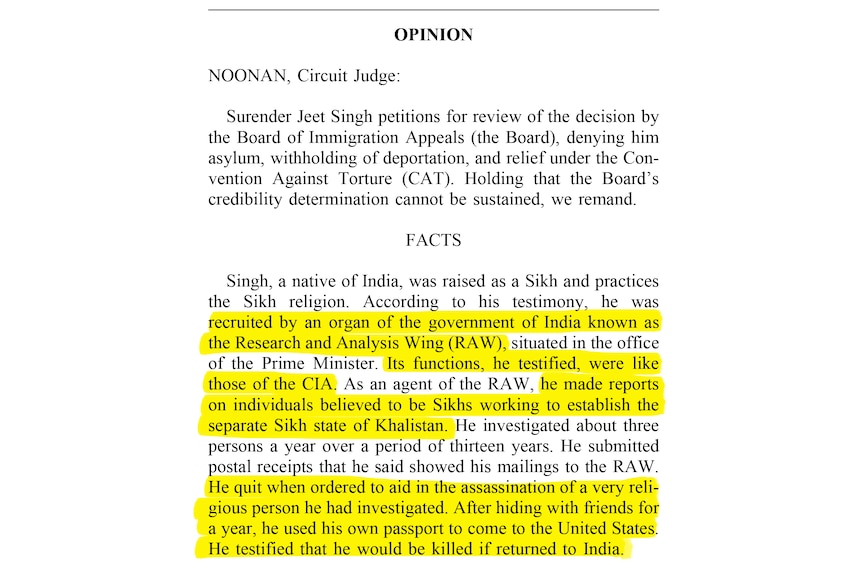 In court documents, he explained that he had been recruited by a CIA-like department in India called the Research and Analysis Wing, to report on individuals believed to have been pushing for a separate state known as Khalistan.
He claimed to have quit the R&AW when "he was ordered to aid in the assassination of a very religious person he had investigated".
Singh told the court that after hiding with friends for a year, he had used his own passport to come to the US, and testified that he would be killed if he returned to India.
The immigration judge denied Singh's asylum request, finding him not credible. In a subsequent appeal, the decision was upheld on the basis that he presented "no corroborative evidence whatsoever" that the R&AW even existed.
The Ninth Circuit Court, however, decided otherwise.
"We can notice that the government of India exists. We can notice that the office of the Prime Minister of India exists. We can notice that a part of the Prime Minister of India's office is the RAW," the judge wrote, referring the matter back to the board of immigration appeals.
While there is no official record of Singh's final asylum application, it appears he was allowed to stay in the country.
India's Central Bureau of Investigation (CBI) — another Indian intelligence agency that runs separately to the R&WA and oversees domestic crimes — had asked Interpol to issue a global arrest warrant for Singh in 2007, but Interpol declined on the grounds that the charges were political.
That same year, the Indian embassy in Washington confirmed to the New York Times that Singh and his wife were wanted by the Indian government for violating India's Official Secrets Act.
Media reports have suggested Singh spent several years living as a recluse in New York, Maryland and Virginia, near his extended family, before dying in a road accident in 2016.
Questions of a cover-up
At the centre of these recountings of the Singh case are a few key questions: why would the US need to spy on India, and how did this agent manage to escape?
Several theories have been floated about what exactly the CIA was hoping to gain from Singh's leaks, ranging from intelligence on terrorist activity among India's closest neighbours, particularly Pakistan and Afghanistan, to evidence of Iraq possessing weapons of mass destruction.
Yadav and others have suggested that the top priority would have been information about India's own nuclear capabilities, after recent failures by US intelligence to anticipate a series of nuclear tests known as the Pokhran-II tests.
In any case, Bhushan says the documents that Singh did manage to pass on were mostly minor in terms of sensitivity.
While the R&AW never made its internal inquiry public, it did confirm in the wake of the Singh episode that eight of its key operatives had gone missing since the agency was formed in 1968.
The revelation prompted considerable backlash in the community, and questions about the integrity of R&AW's officers and its decisions.
In Yadav's book, as well as granular detail about the Singh case that he says was gathered from internal sources, he made the case that R&AW was in urgent need of reform to address unprofessional behaviour and corruption.
The exact details of what went on inside the R&AW in the months leading up to and directly following Singh's escape are difficult to verify. But Yadav offered the following account.
He believes that many officials were quite happy for Singh to vanish, if he took with him the potential consequences of any further investigation that could point to them as conspirators.
"There is a strong Indian myth that a crow never bites a crow," he wrote.
Yadav wrote that 57 officers of the R&AW were found to have been involved in Singh's deception in some way, according to the suppressed internal inquiry.
He listed the names of 19 employees who he argued were conspirators, having either assisted or allowed Singh to flee the country, or provided information that Singh passed on to the CIA.
Yadav filed a complaint to the CBI asking them to look into the matter.
The complaint landed in Delhi's High Court, which in 2009 declined to press CBI any further, on the grounds that Yadav had not provided sufficient evidence.
"Your complete petition is nothing but hearsay. You have no authenticity and without any evidence you are asking us to initiate action against the officers," Chief Justice A P Shah said.
In his book, Yadav explains the lengths he went to in order to compel an official body to take further action against the people he says helped Singh to escape justice. He maintains to this day that he has only ever sought to expose the truth.
"He was chased away. Had [Rabinder Singh] been arrested here, then those officers who shared information with him would have faced court under the official secrets act. Therefore, they made him escape," he told the ABC.
A review of Yadav's book published by the CIA noted that it was "difficult to analyse as it has no footnotes, no end notes, and no bibliography, which means there are no citations from secondary sources, archives, or documents to support the claims".
"The book is strongest when Yadav discusses what he witnessed and experienced, but the sections that contain historical narrative lack independent sources necessary to document the events," the reviewer wrote.
According to Bhushan's version of events, there was corruption at the centre of the Singh case — but only of one man.
"We have perfect institutions. We have laws, we have rules, we have procedures. What's lacking is people who work within this and implement it," he told the EPIC Channel documentary.
"From what I understand and see in this case, give lure of money to anyone, he gets tempted. Then he doesn't know where to stop. If you don't realise where to stop, you can't come back."
Few former agents have gone on record about what went on at the R&AW.
Retired intelligence officers are now required to seek prior permissionfrom the head of their organisation before publishing any details about the inner workings of government agencies.
One former R&AW officer is currently being sued by the CBI for allegedly publishing classified information in his 2007 book titled India's External Intelligence – Secrets of Research and Analysis Wing.
For now, those with lingering questions about what really happened to Singh will perhaps turn to the accounts penned by his former colleagues — one that calls itself fact, and the other fiction.