This is our daily post that is shared across Twitter & Telegram and published first on here with Kindness & Love XX on peace-truth.com/
#AceNewsRoom With 'Kindness & Wisdom' Oct.03, 2022 @acebreakingnews
Follow Our Breaking & Daily News Here As It Happens:
#AceBreakingNews – Kwasi Kwarteng U-turns on plans to scrap 45p tax rate
By Nick Eardley
BBC political correspondent
The government has U-turned on plans to scrap the 45p rate of income tax for higher earners.
Chancellor Kwasi Kwarteng told the BBC the proposals, announced just 10 days ago, had become "a massive distraction on what was a strong package".
"We just talked to people, we listened to people, I get it," he added.
The decision, which marks a humiliating climbdown for Prime Minister Liz Truss, comes after several Tory MPs criticised the plan.
The plan to scrap the 45p rate, paid by people earning more than £150,000 a year, was announced as part of a package of tax cuts.
Mr Kwarteng told BBC Breakfast the proposal was "drowning out a strong package", including support for energy bills, and cuts to the basic rate of income tax and corporation tax.
Asked whether he owed people an apology, he said: "We've listened to people. And yeah, there is humility and contrition in that. And I'm happy to own it."
On how the decision was made, he said: "The prime minister decided not to proceed with the abolition of the rate."
However, pressed on whether it was her U-turn, Mr Kwarteng added: "No, we talked together, I said this is what I was minded to do and we decided together, we were in agreement that we wouldn't proceed with the abolition of the rate."
On Sunday, the prime minister had told the BBC the move to cut the top rate of income tax was "a decision that the chancellor made".
Asked if he had considered resigning, he said: "Not at all."
But she also said she was absolutely committed to it as part of a package to make the tax system "simpler" and boost growth.
Asked whether his previous comment that there was "more to come" on tax cuts still stood, Mr Kwarteng said there would be no tax cuts ahead of the next Budget in the spring.
Pressed on whether his economic plans would mean spending cuts for public services, the chancellor said there would be more details in the government's fiscal plan on 23 November.
However, he said the government was sticking to its 2021 comprehensive spending review, meaning it will not raise spending in line with inflation.
BBC political editor Chris Mason said the U-turn had left the chancellor and prime minister "humiliated, wounded and weakened".
"But Liz Truss will hope it creates space to move forward, hauling herself out of the political quagmire of a budgetary statement that imploded on contact with political reality," he said.
Labour called for the government to "reverse their whole economic, discredited trickle-down strategy"……………..Shadow chancellor Rachel Reeves said the U-turn came "too late for the families who will pay higher mortgages and higher prices for years to come".
Lib Dem leader Sir Ed Davey called on the chancellor to resign, saying he no longer had "any credibility" and the whole mini-budget needed an overhaul.
Michael Gove: Cutting tax for the wealthiest "a display of the wrong values"
Plans to scrap the top rate of tax had seen remarkable opposition from the markets, other parties and a growing number of Tory MPs.
Conservative Party chairman Jake Berry had previously warned Tory MPs who voted against the prime minister's tax measures that they would be kicked out of the parliamentary party – known as losing the whip.
But increasingly, it seemed Ms Truss did not have the numbers to get it through Parliament.
On Sunday, senior Tory Michael Gove hinted he would not vote for the plan when it came to Parliament, saying "I don't believe it's right".
The former cabinet minister said the PM's decision was "a display of the wrong values".
He welcomed the U-turn, telling the BBC: "It's better to act, it's better to reverse ferret on something that's causing a problem like this, and it sends a very important signal to the public and also to the markets that we are serious about sound money."
The decision was also welcomed by the Confederation of British Industry.
Director-general Tony Danker said the pledge had become a "distraction" from other economic reforms, which he said would "make a real difference to growth".
The U-turn, suggestions of which were first reported by the Sun, comes on the second day of the Conservative conference in Birmingham, with Mr. Kwarteng due to speak later on Monday.
The pound jumped on the news, rising by more than a cent against the dollar to $1.1263, before falling back.
The currency touched a record low last week after Mr Kwarteng's mini-budget – which contained around £45bn of unfunded tax cuts – created turmoil on the markets.
A 45% tax rate applies to income above £150,000 in England, Wales and Northern Ireland.
Other measures announced in the government's mini-budget included a cut to the basic rate of income tax to 19%, a reversal of the recent rise in National Insurance and scrapping the cap on bankers' bonuses.
UK Chancellor Kwasi Kwarteng to double down on tax cuts, promise fiscal responsibility
Posted 10h ago, updated 9h ago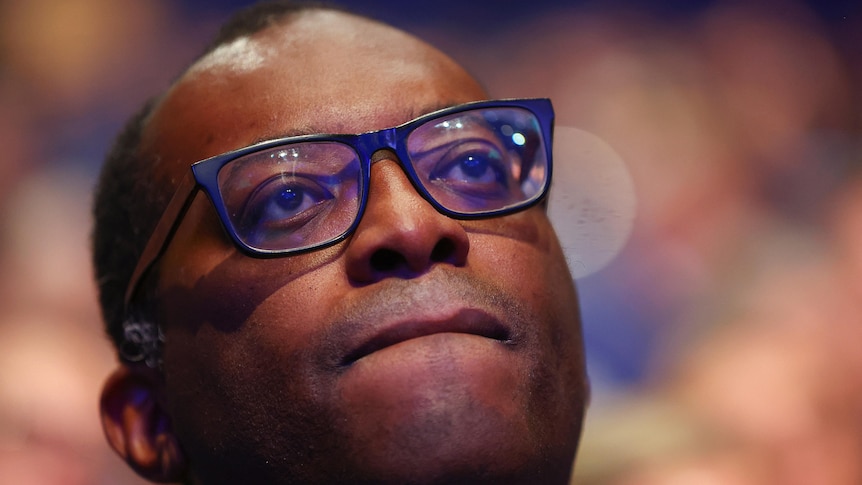 The UK chancellor will double down on tax cuts in a speech a week after his mini-budget sent markets into a tailspin.
Kwasi Kwarteng will promise "iron-clad" fiscal discipline at the Conservative Party's annual conference on Monday.
He and Prime Minister Liz Truss have defended their plan, which did not spell out how the government would finance deep tax cuts and energy subsidies.
Its release sent the pound to record lows and caused government borrowing costs to soar.
Mr Kwarteng has said he will set out his funding plans on November 23 in a full fiscal statement.
Later today, he will tell his party the policies will spur growth.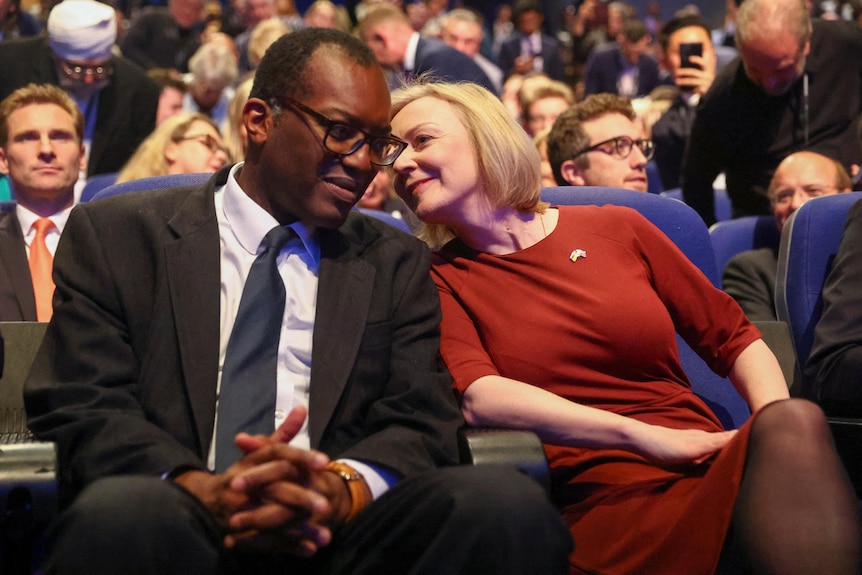 "We must face up to the facts that for too long our economy has not grown enough. The path ahead of us was one of slow, managed decline," he said.
"We needed a new approach, focused on raising economic growth … We must stay the course. I am confident our plan is the right one."
Speaking at the conference on Sunday, Ms Truss admitted she should have done more to "lay the ground" ahead of the mini-budget, but stood by her "growth plan" — which had prompted an emergency intervention from the Bank of England to bail out pension funds.
Her chancellor will have to work hard to restore confidence.
On Sunday, former minister Michael Gove hinted he might vote against cutting taxes for the wealthy.
The pound has recovered from its initial slump and government bond yields have stabilised after the Bank of England announced a plan to buy up to £65 billion ($113 billion) of long-dated debt.
The International Monetary Fund last week said the tax cuts would probably worsen inequality and undermine the Bank of England's bid to bring down inflation.
Speaking in Birmingham, Mr Kwarteng will promise what he calls a new economic deal for the country.
"What Britain needs is economic growth. And a government wholly committed to economic growth," he will say.
"That is why we will forge a new economic deal for Britain backed by an iron-clad commitment to fiscal discipline."
BBC/Reuters/ABC
Editor says …Sterling Publishing & Media Service Agency is not responsible for the content of external site or from any reports, posts or links, and can also be found here on Telegram: https://t.me/acenewsdaily and all wordpress and live posts and links here: https://acenewsroom.wordpress.com/ and thanks for following as always appreciate every like, reblog or retweet and free help and guidance tips on your PC software or need help & guidance from our experts AcePCHelp.WordPress.Com