AceBreakingNews – UPDATE – Optus chief executive officer Kelly Bayer Rosmarin has resigned in the wake of November 8's nationwide outage.
Ace Press News From Cutting Room Floor: Published: Nov.20: 2023: ABC Business News: TELEGRAM Ace Daily News Link https://t.me/+PuI36tlDsM7GpOJe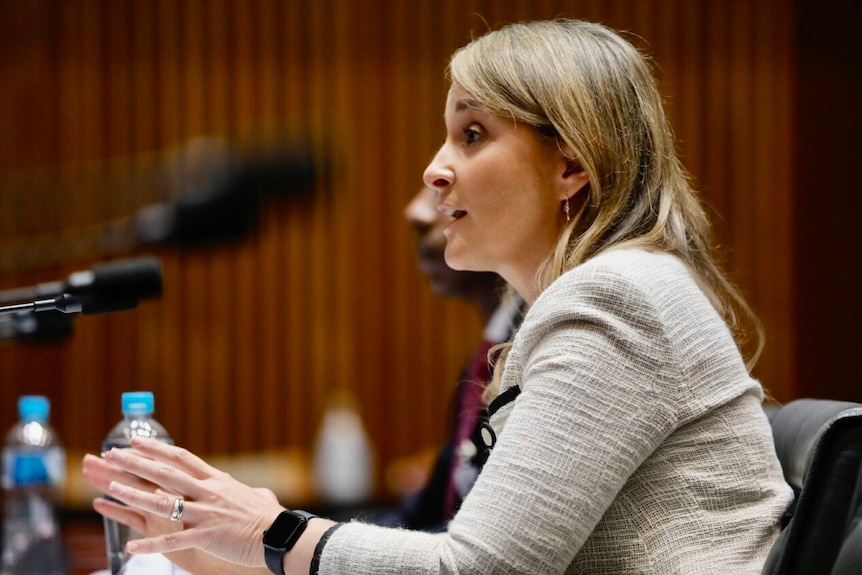 She said it "had been an honour to serve" but that "now was an appropriate time to step down".
Ms Bayer Rosmarin was the focus of intense criticism after a nationwide outage left 10 million Optus customers without mobile or internet service earlier this month.
During Friday's Senate hearing into the outage, Ms Bayer Rosmarin rebuffed suggestions she was under pressure to step down.
"On Friday, I had the opportunity to appear before the Senate to expand on the cause of the network outage and how Optus recovered and responded," she said in a statement on Monday.
"I was also able to communicate Optus's commitment to restore trust and continue to serve customers. Having now had time for some personal reflection, I have come to the decision that my resignation is in the best interest of Optus moving forward."
Ms Bayer Rosmarin will be replaced in the interim by chief financial officer Michael Venter.
Yuen Kuan Moon, the chief executive of Optus's Singaporean parent company Singtel Group, said the company understood her decision to resign.
Ms Bayer Rosmarin held roles with the Commonwealth Bank before joining Optus as deputy CEO in March 2019. She became the telecommunications giant's chief executive in April 2020.
Optus experienced a major cyber attack in September 2022, which led to more than 2 million customers having their personal identification documents compromised by hackers.Optus CEO Kelly Bayer Rosmarin fronted the Senate inquiry following the outage. (ABC News: Simon Beardsell)
Optus needs to 'regain customer trust', Singtel CEO says
Mr Yuen said Singtel recognised "the need for Optus to regain customer trust and confidence as the team works through the impact and consequences of the recent outage and continues to improve".
He said Optus's priority was about "setting on a path of renewal for the benefit of the community and customers".
"Optus is an integral part of our group's business. We view the events in recent weeks very seriously," he said in a statement.
"We fully recognise the importance of Optus's role in providing connectivity services to the community and the importance of network resiliency and security. That is a top priority in all markets where our companies operate in."
Singtel said Optus had also created a new chief operating officer position, which would be carried out by former Optus Business Managing Director Peter Kaliaropoulos.
Bayer Rosmarin defended Optus's response to nationwide outage
Optus said "changes to routing information" after a "routine software upgrade" was behind November 8's nationwide mobile and internet outage, which affected 10.2 million Australians and 400,000 businesses.
Ms Bayer Rosmarin told Friday's Senate hearing that the company intentionally did not contact customers directly during the outage, and instead prioritised posting on social media and doing live media interviews.
She said Optus did not want to comment publicly on the cause of the outage until the company had investigated it thoroughly.
"I appreciate how frustrating it was for all our customers not to know what the issue was or when it would be resolved, but it's not because we were withholding information … it's because we ourselves did not know what the issue was," she said on Friday.
Optus has offered at least 200GB of extra data to affected customers, but is also facing investigations and calls for class action lawsuits over the incident.
Next CEO 'needs to get on the front foot'
Telecommunications expert Mark Gregory, an associate professor at RMIT University, said Ms Bayer Rosmarin would be remembered as "another CEO in a technology company that really isn't suited for the role".
"Unfortunately, Australia has a very bad habit of [having] CEOs and senior management teams [who] are running our technology companies, especially our essential services, and these individuals are not really aware of the technology sides of their organisations," he said.
"Yes they're accountants or lawyers, but unfortunately they don't have that technology knowledge, so that when something goes wrong they're actually able to communicate clearly what the problem was and how the company is going to deal with that problem."
Mr Gregory said the next Optus CEO would first need to deal with the outage.
"The new CEO needs to get on the front foot and talk to its customers, and offer them more than a meaningless data handout," he said.
"They need to offer the customers some sort of reduction in their next monthly bill, but also for the 400,000 business customers that were affected by this outage.
"They need to talk to them individually and work out compensation solutions so they don't end up with a class action, because if they don't do that I can see a class action happening very soon, and really that will be Optus in the courts over two major matters, and for the company and the brand of the company, we don't need that as a nation."