AceNewsDesk – It's a tale of a divided parliament, a campaign of fear and a broken promise in the remote Northern Territory.
Ace Press News From Cutting Room Floor: Published: Sept.16: 2023: ABC Australia Voice & History Report: TELEGRAM Ace Daily News Link https://t.me/+PuI36tlDsM7GpOJe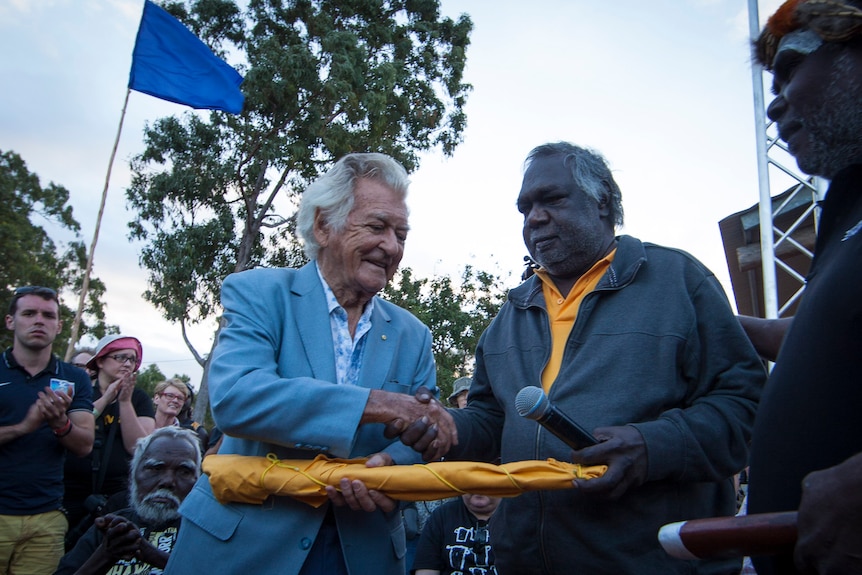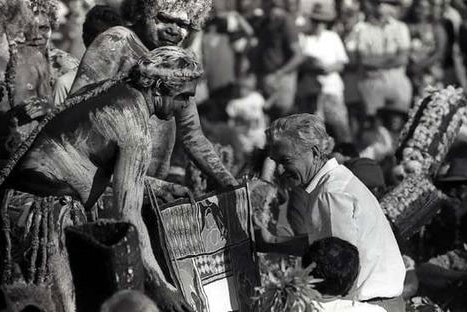 WARNING: Aboriginal and Torres Strait Islander readers are advised that this article contains the names and images of Indigenous people who have died.
In 1990, at the turn of the decade in Australia, Bob Hawke was prime minister, a recession was looming, and the unresolved fight for Aboriginal land rights was growing in the national consciousness.
Two years earlier, Mr Hawke had travelled to the remote Northern Territory community of Barunga, where, to rapturous applause from a huge crowd, he'd promised there would be a treaty made with Aboriginal people.
It was an agreement that some believed would recognise Aboriginal land, law and unceded sovereignty.
However, despite Mr Hawke's words, a treaty never came to fruition.Indigenous land rights activist and Gumatj clan leader Yunupingu presents the Barunga Statement to former prime minister Bob Hawke in 1988.(File photo)
Just a year later, in 1991, Mr Hawke was rolled from power by his ambitious treasurer, Paul Keating, and the pledge for a treaty became secondary to other plans under the new leader.
So, what happened to the promised treaty, and why couldn't Mr Hawke ever get it over the line?
Some of those who were there in 1988, at Barunga and in federal parliament, reflect on what happened, and what it all means for the impending Voice to Parliament referendum.
Marion Scrymgour: 'A campaign of fear' waged against treaty
Now a Labor MP for the Northern Territory, Marion Scrymgour was at Barunga the day Mr Hawke made the treaty promise in 1988, in the early years of her career with the Northern Land Council.
"I think everyone was on a big high," Ms Scrymgour said.
"Everyone thought, 'Finally, we've reached a pinnacle in our political endeavours to get the federal government to have a look at what's important for Aboriginal people, particularly in the NT.'"
But as the months passed with no sign of a treaty, that hope dwindled.
"For Aboriginal people, what this spelt was, 'Well, here we go again,'" Ms Scrymgour said.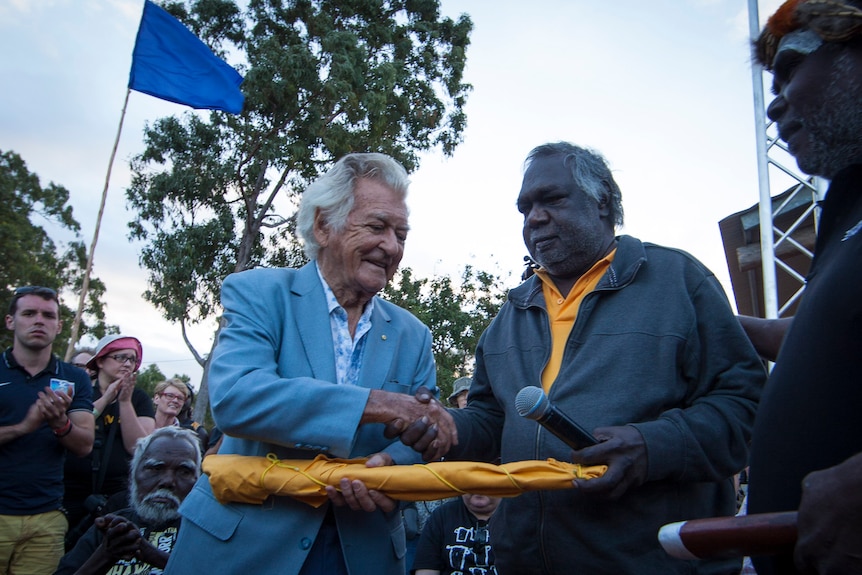 Mr Hawke had returned from Barunga to a divided, partisan parliament, which some say sunk the prospect of a treaty before the idea ever got off the ground.
Ms Scrymgour said she recalled a "campaign of fear" being run over the prospect of a treaty in the NT, led by some organisations that existed at the time such as the now-defunct "Rights for Whites".
"It was run out election after election [by the NT's then ruling conservative Country Liberal Party] that Aboriginal people were going to take your backyards," Ms Scrymgour said.
"There [were] a lot of really terrible things that had happened during that time."
Country Liberal Party senator Jacinta Nampijinpa Price was contacted to be interviewed for this story.
Fred Chaney: Treaty word was 'poisonous' to opponents
In 1988, then federal opposition leader John Howard — who would later become Australia's second longest-serving prime minister — publicly declared "it is divisive to have a treaty" and would not support the idea.
A prominent member of that opposition was Fred Chaney, a long-time Aboriginal equality campaigner, who had been the Aboriginal affairs minister under former Liberal prime minister Malcolm Fraser.
"Certainly it's true that [the] Liberal party at different times, certainly under the leadership of people like Charles Court, and to some extent under the leadership of people like John Howard, have been very ready to oppose the recognition of Aboriginal people by a treaty," Mr Chaney said.
"It just seems to me that the word 'treaty' is the thing that some people find poisonous – and some people of John Howard's generation think is going to be the end of the world."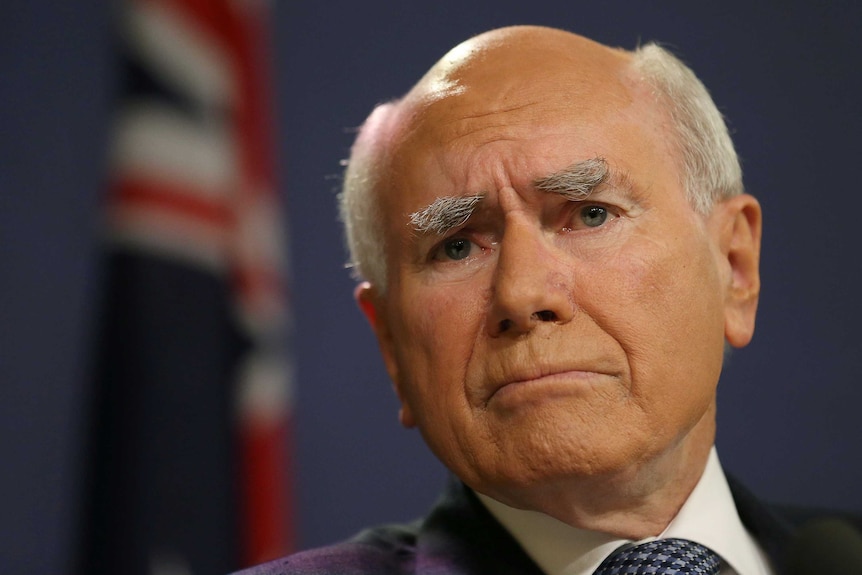 Mr Howard "politely declined" to give an interview to the ABC for this story.
Despite the rhetoric against a treaty from within the Liberal Party at the time, Mr Chaney said Mr Hawke's Labor Party could not completely absolve itself from its failure.
"The Labor Party's got a history of making these commitments, and then not necessarily following through, and I don't think it should be a matter of entirely blaming the Liberals for it," he said.
"There's a justifiable cynicism among Aboriginal people about the capacity of politicians of any stripe to keep their word and deliver on what they promise."
Warren Snowdon: Mr Hawke's last act to hang Barunga Statement
At the Barunga Festival in 1988, Warren Snowdon was a first-term politician, serving as an MP for the NT bush. He would end up serving 35 years in parliament.
Looking back on the treaty promise, Mr Snowdon was dismissive of the idea Mr Hawke played a role in the failure, and he rebuffed speculation that Mr Hawke had faced backlash from within his own Labor party room.
"There would've been some who had reservations, absolutely, understandable," Mr Snowdon said.
"But the point is … there was never going to be a treaty whilst Bob Hawke was in power, because there was no bipartisan support, and no inclination there would ever be bipartisan support."
It has been said that Mr Hawke's inability to follow through with a treaty and fulfil the wishes of the Aboriginal tribal leaders of the Northern Territory was the biggest regret of his political life.
"His very last act as prime minister of this country was to transfer the [Barunga Statement], that document, to the federal parliament and have it hung in one of the galleries," Mr Snowdon said.
"I was there, along with the land councils and other people. It was a very, very important day."
Yiŋiya Guyula: Treaty statement gathering dust in parliament
Independent Northern Territory politician Yiŋiya Guyula was less glowing than Mr Hawke's caucus colleagues about the former prime minister hanging the Barunga Statement as his final act.
The Yolŋu politician believes the Barunga Statement should instead be hanging in the middle of the House of Representatives chamber, as a constant and enduring reminder of what never happened.
"They put it in a gap where only tourists pass through when they visit Parliament House," he said.
"That proved that the government have forgotten about treaty. Because they just hid it up in the walls back there, where, if by accident tourists walk up, they could go 'oh, this is that treaty petition?'
"Like writing in the sand, the message just got washed away and forgotten."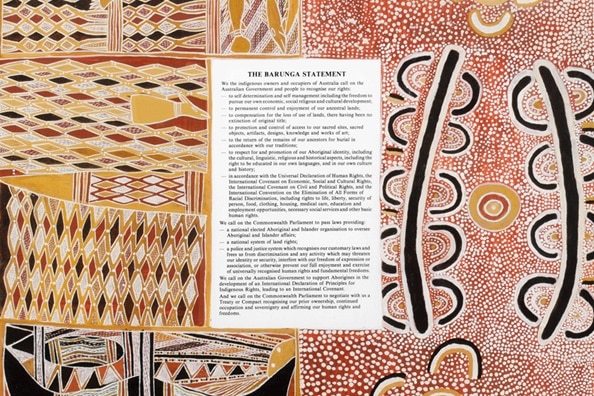 Mr Guyula was a young Northern Land Council delegate when he watched Mr Hawke deliver his pledge at Barunga.
Since then, he's been using his platform in the NT Parliament to continue campaigning for a treaty, though his pleas have largely been stonewalled by the NT government or fallen on deaf ears.
He believes the missed opportunity in 1988 created long-term disillusionment in the territory bush.
"We were ready for treaty then," Mr Guyula said.
"That was a big ceremony – tribal groups and the prime minister.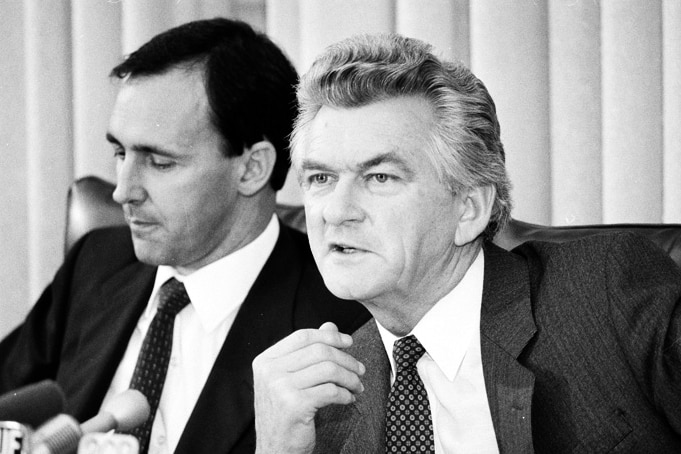 What does treaty's failure mean for the Voice?
For those who were in Barunga in 1988, such as Labor members Ms Scrymgour and Mr Snowdon, there is optimism surrounding the looming referendum as an opportunity to finally deliver real change for Aboriginal people in remote Australia.
However, there are also concerns that history is repeating itself in the tone of the current Voice debate.
"This is about the rights and interests of First Nations people in this country, and their recognition within our constitution," Mr Snowdon said.
"It should be above politics, but sadly, it's not."
Ms Scrymgour believes, as was the case in 1988, some sections of Australian society "fear change", and that is an element playing into the Voice to Parliament discourse.
"Aboriginal people want change, and there should be no fear about that change," she said.
"People should be embracing this, because if we can change education, health [outcomes], that's a good thing – we shouldn't be fearful of that.
"One day, in this federal parliament, we may see an Aboriginal prime minister, someone who will lead this country, and that's not something to be feared."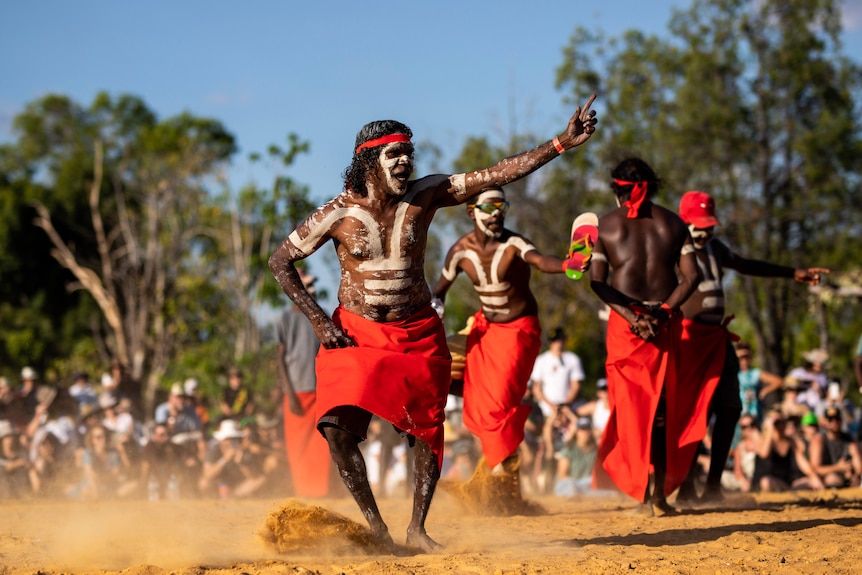 For former deputy Liberal Party leader Mr Chaney, the debate about treaty has parallels with the Voice.
"These things are always more complicated than just the big idea seems," Mr Chaney said.
"If you're looking at the travail in the current debate about the referendum, what is a very straightforward idea, which is rooted in what we've learned from successes and failures in the past, is now being turned into a political shambles.
"And unfortunately, all these things in Aboriginal affairs become very contentious, because there are significant people in Australia who just want the Aboriginal people to go away."
For Mr Guyula, whatever the outcome of the referendum is, it won't stop the ongoing fight for a treaty.
"I see Voice as a pathway towards a treaty, but it shouldn't be tied up to it," Mr Guyula said.
"So if it fails, it hasn't taken treaty and truth-telling away."
Editor says …Sterling Publishing & Media Service Agency is not responsible for the content of external site or from any reports, posts or links and thanks for following as always appreciate every like, reblog or retweet and comment thank you