This is our daily post that is shared across Twitter & Telegram and published first on here with Kindness & Love XX on peace-truth.com/
#AceNewsRoom in Kindness & Wisdom provides News & Views @acehistorynews
#AceHistoryDesk – ABC News: It's been a decade since the Adelaide Thunderbirds held netball's very first Indigenous game
In round five of the 2013 trans-Tasman championship, the side — which went on to win the premiership that season — hosted the Melbourne Vixens at Netball SA Stadium.
The two teams had met just three weeks earlier on the Vixens' home court, where the visitors suffered a 58-44 smashing.
But on this occasion, the Thunderbirds sealed a nail-biting 39-38 victory, all while wearing their trademark pink dress embellished with Indigenous art.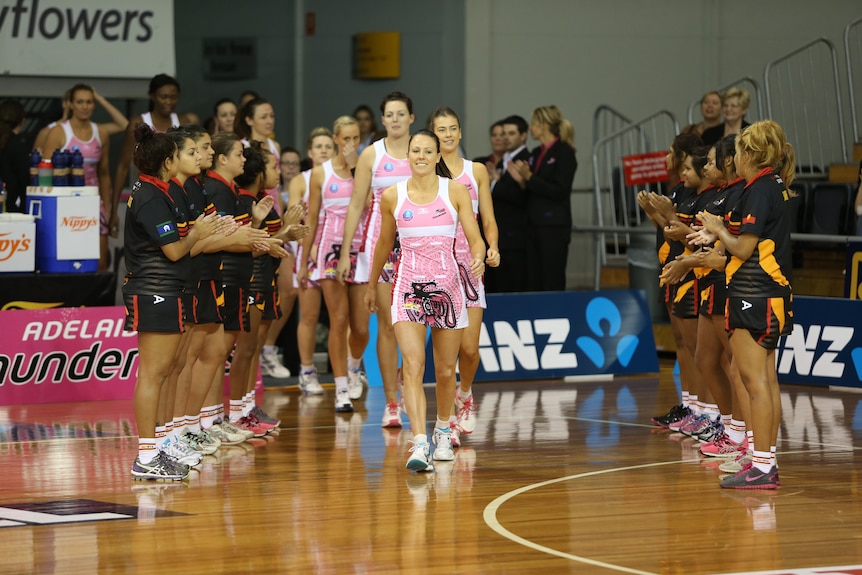 The next year, the West Coast Fever joined in on the action, with Torres Strait Islander woman Josie Janz-Dawson in their squad. And from then on, the Indigenous game became an annual fixture between these two clubs.
Various other teams followed their lead as time went on, but netball didn't take on the concept as an official competition-wide themed round until the Super Netball era in 2018.
When you speak with the administrators that were around 10 years ago, most are a little hazy on the details — and can't you blame them, knowing how poor the sport has been at keeping records.The Thunderbirds and Fever kept the tradition going last Saturday in the first week of the First Nations Round.(AAP: Matt Turner)none
One person who does remember it clearly though is Lizzie Bermingham, who previously worked as the general manager of game development with Netball South Australia for eight years.
"Part of my portfolio at that time was community engagement, and we were trying to work with Netball Australia and the entire ANZ Championship competition to start up an Indigenous round," Bermingham told the ABC.
"It was a bit slow on the uptake, so we just pushed ahead and started our own, which saw the creation of the dress … I can still remember what it looked like. I know I'm probably bias, but it was the most beautiful netball dress I've seen. It was magnificent.
"We also did a whole lot of work with the Indigenous community too in terms of activation at that match; we had a special corporate function with specific stakeholders, there was a welcome to country, we held cultural awareness training for athletes and staff, and there was a lot of fuss around the design of the dress and the presentation to the players.
"Bec Bulley was in the paper as an ambassador, and we did a fair bit of external engagement too."Former Thunderbirds and Diamonds wing defence Renae Ingles passes the ball.(Sports in Focus: Richard Keane)none
Although Netball Australia was slow to get involved, Bermingham says it was very supportive.
She also shot down the idea that the idea might have been pinched from the Adelaide Crows, as the footy players wore their very first Indigenous guernsey that same year, albeit a month later.
"No, I think it was fairly independent and driven by Netball SA," she said.
"I had a couple of really good staff working in the community space at that time and we were trying to do more at a grassroots level.
"I left in 2019, but every year we kept building on it and SAASTA's (South Australian Aboriginal Secondary Training Academy) netball academy would also play a curtain-raiser game beforehand."
South Australian-born Diamonds player Jenny Borlase was a member of the Netball SA board when the match took place.
She is not surprised that, not only is there very little information available from that period, but that it's relatively unknown that the Thunderbirds were leaders in this space.
"It was something that wasn't promoted much externally, it was an initiative that was simply just implemented and has grown immensely over the years," Borlase said.
"Perhaps it was unexpected back then how much it would grow, but now when you see the value in it, it's surprising that we haven't been doing it longer.
"I think the fact that we were the first is a testament of the innovation and forward thinking of both Netball SA and the Thunderbirds.
"You have to be proud of that."Former Thunderbirds and Diamonds shooter Erin Bell looks up at goal.(Sports in Focus: Richard Keane)none
These days, sporting organisations are sometimes criticised for focusing too much on the Indigenous designs that cover dresses and balls in these themed rounds, rather than using the opportunity to push for genuine change, but Borlase says the art's importance cannot be discounted.
"I think some people on the surface just see it as a pretty dress, but it's also a lovely way to support the culture and understand the backstory behind it that can help us grow in our appreciation for the history of Indigenous culture," she said.
"Those designs provide a great opportunity for the local artists too because they're public and they provide a platform to talk about their story and cultural significance."
Netball SA increases support for First Nations players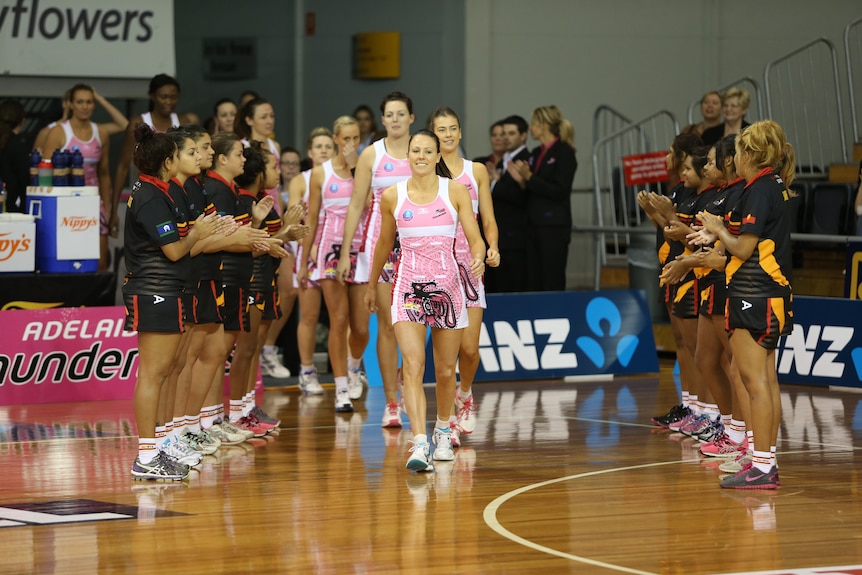 Members of the Rising Stars Netball SA program.(Instagram: Netball SA)none
Netball SA is doing a fair bit of work to strengthen its ties with the Indigenous community.
It has recently updated its First Nations Framework, aiming to help increase participation rates and the development of Aboriginal and Torres Strait Islander netballers in the state, while expanding on various initiatives it introduced last year.
This includes the launch of its First Nations clinics and athlete participation scholarships, the Rising Sisters program and the return of the Nunga netball carnival; adding to its long-running partnership with SAASTA and its netball academy.
A group from SAASTA is actually headed to Melbourne this weekend to watch Collingwood and the Thunderbirds play in the second week of Super Netball's First Nations Round.
"In 2022, we hosted 63 teams at Netball SA Stadium for the Nunga netball carnival and supported 14 recipients of our First Nations athlete participation scholarship," chief executive Bronwyn Klei said.
"We also welcomed 20 young netballers into our inaugural Rising Sisters Aboriginal Netball Program, and six of those were recently named in our Adelaide Thunderbirds talent academy.
"As a sport, it's important we continue to do everything we can to create opportunities for young First Nations athletes to grow and thrive in netball.
"Hopefully we'll see a Rising Sisters athlete pull on the pink dress in the future."South Australia's 19U team won the national title this year.(Instagram: Netball SA)none
All of the athletes named in the first Rising Sisters program are aged between 14 and 17, and they will attend four sessions over a six-month period where they'll aim to gain more exposure to the high-performance environment, build confidence and develop skills to help them work towards the goal of potential selection in the state's 17U and 19U teams.
At the 2023 national championships held in Darwin in April, there were 18 Indigenous athletes who took part across the eight competing states and territories.
The Rising Sisters program is therefore a pretty important step in the South Australian effort to try to retain those players beyond the teenage years.
Adelaide's forgotten Indigenous players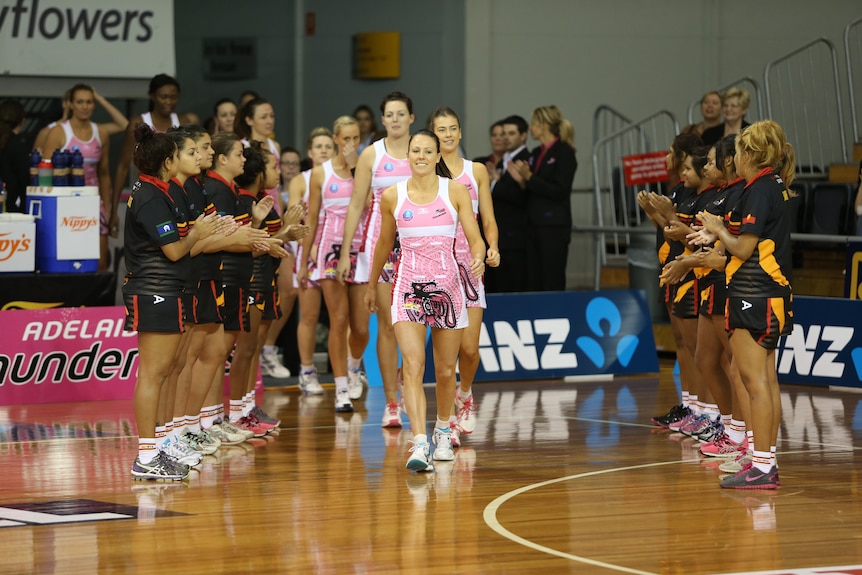 Although Netball SA and the Thunderbirds have been key leaders in this space, they don't have a well-documented history of Indigenous players at the national league level that athletes can look to.
It took some digging to come up with the names of some of the state's previous First Nations stars, who all took the court before that very-first Indigenous game.Alison Tucker-Munro with Giants head coach Julie Fitzgerald.(Getty: Jason McCawley)none
During the CBT netball league, former Diamonds squad member and Kamilaroi woman Ali Tucker-Munro represented the Adelaide Ravens alongside Palawa woman and eventual Melbourne Phoenix champion Fiona Geappan (nee Doran).
These days, Tucker-Munro coaches in the Netball NSW pathways with the Giants Academy, while Geappan's daughter recently represented Tasmania at the national championships.
From a Thunderbirds perspective, Narungga woman Marisa Romeo was one of the team's foundation players that took the court in their first game back in 1997, while Whadjuk-Noongar woman Bianca Giteau (nee Franklin) also wore pink in 2011.Bianca Giteau played for the Perth Orioles, Canberra Darters, Melbourne Kestrels, West Coast Fever and finally the Thunderbirds during her career. She is the sister of Buddy Franklin.(Hannah Johnston: Getty Images)none
Romeo moved on to the Ravens before hanging up her netball dress for good and travelling overseas, where she lost touch with the sport, but her daughter is a big fan of the Thunderbirds and is slowly drawing her mum back to netball.
"It seems like a lifetime ago that I played," Romeo told the ABC.
"I remember being really excited about the set-up of the new league and being able to play at that top domestic level on a regular basis after playing underage state and Australian representative netball.
"I still have some playing cards somewhere that I found when we moved.
"It was nice to check out for a little while after my career ended, and I don't talk that much about it these days really, but now my 13-year-old daughter plays, I'm getting more involved with coaching and starting to watch the league again.
"She's a defender, while I was a goalie, so she's a big Shamera Sterling fan."Noongar woman Donnell Wallam hit a career-milestone 1,000 goals last week.(AAP: James Gourley)none
Romeo thinks the recognition provided to Indigenous netballers during the First Nations Round is important, and says retracing the past and trying to track down former players who missed out on that kind of recognition can only be a good thing.
"It's amazing that Donnell Wallam is now playing at the level she's at, but there are probably so many players over the years that could also be recognised," she said.
"It's not a secret — if people ask the question, we're more than happy to talk about our heritage — but it's not something you sort of walk around and talk about unless someone asks.
"Given the number of people that play netball in this country, if there are Indigenous players that are going to be motivated to stay within the sport by Super Netball's First Nations Round and all that Donnell is doing at the moment, it can only be a good thing.
"To know there's more players that have played at the national level beforehand might also be helpful for someone like Donnell and other Indigenous players aspiring to play at that level."
Editor says …Sterling Publishing & Media Service Agency is not responsible for the content of external site or from any reports, posts or links, and can also be found here's on Telegram: https://t.me/acenewsdaily  and thanks for following as always appreciate every like, reblog or retweet and comment thank you