AceNewsDesk – In towns where news travels via "bush telegraph", here's what people say about the Voice to Parliament.
Ace Press News From Cutting Room Floor: Published: Sept.23: 2023: TELEGRAM Ace Daily News Link https://t.me/+PuI36tlDsM7GpOJe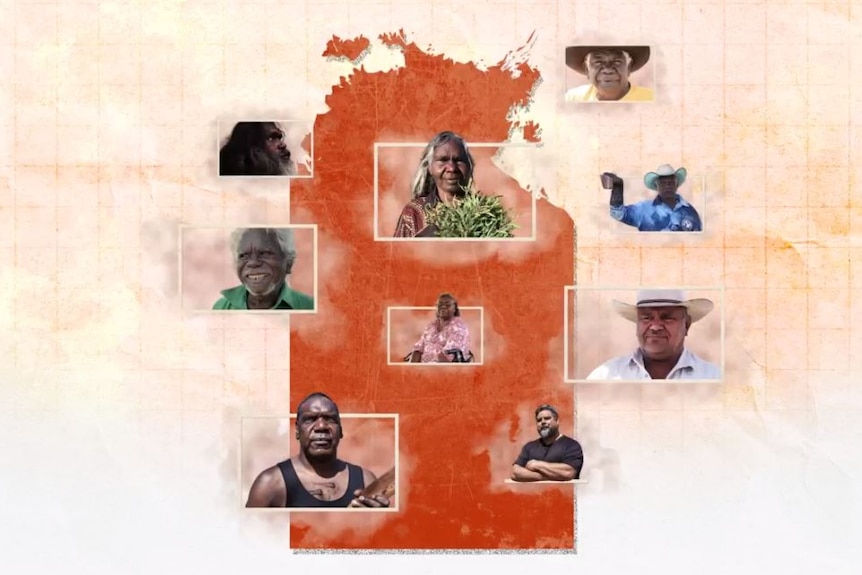 Thousands of kilometres from Canberra, past regional mining towns and beyond the Simpson desert, live more than 60,000 Indigenous Australians across the Northern Territory.
For most, English is a second, third or even fourth language.
Life is different in these remote towns and communities.
The rush of peak-hour traffic is replaced by tranquil watering holes and an outback landscape rich in stories passed down over thousands of years.
Everyone knows each other.
Internet and mobile service is unreliable, and information often travels person to person through the "bush telegraph".
To hear what these hard-to-reach voters think of the referendum on an Indigenous Voice to Parliament, over the past months the ABC travelled to several remote communities and towns.
What we found were very different conversations to those happening within the walls of Parliament House.
Wadeye
The remote community of Wadeye, about 420 kilometres south-west of Darwin, began as a Catholic mission in the 1930s and is home to 22 different clan groups.
With a population of about 3,000, Wadeye is one of the NT's largest Indigenous communities.
In recent years, it has been stricken by bouts of violent unrest.
Stephen Bunduck is one of the Kardu Diminin clan's main ceremonial songmen and a local peacemaker in the community.
Stephen Bunduck wants conditions to improve in Wadeye.(ABC News)none
But when asked in June if he knew about the upcoming referendum, he shakes his head.
"We want to see our place be better, for our people, respecting one another," Mr Bunduck says.
On October 14, Australians will be asked to vote yes or no to the following question:
"A Proposed Law: to alter the Constitution to recognise the First Peoples of Australia by establishing an Aboriginal and Torres Strait Islander Voice. Do you approve this proposed alteration?"
Proponents say the Voice would act as an independent advisory body that gives advice to the Australian government on decisions, policies and laws that affect Indigenous Australians.
It would have no veto powers, nor would it oversee government funding.
But it would be enshrined in the Australian Constitution — a key legal document that has not been changed since 1977.
Those in support say it's about recognition of First Nations people in the constitution, and better and more consistent policymaking.
Those against are concerned it could divide Indigenous Australians and the broader population, that the change to the constitution could lead to legal challenges, or that the Voice proposal doesn't go far enough.
The debates happening in parliament and around suburban dinner tables are very different from those seen by Mr Bunduck, whose role is to mediate longstanding family disputes in Wadeye.
"We having family problem all the time around here in this community," he says.
"That's why I stop it all the time, immediately."
Last year it was estimated that 5 per cent of Wadeye's population was in jail after a long period of community fighting.
But these social issues aren't unique to Wadeye.
Indigenous Australians continue to experience higher rates of chronic health issues, income poverty, domestic and family violence, incarceration and overcrowded housing compared with non-Indigenous Australians.
Children are burdened with preventable diseases, many of which have been eradicated in every other developed country around the world.
Eddie Synot, a constitutional lawyer from the Uluru Dialogue, says the Voice aims to address "all of the issues they've been dealing with, that make their lives difficult in remote communities".
"That is exactly what the Voice is designed to do — it's about being able to amplify those voices and ensure that they are heard," he says.
NT Labor senator Malarndirri McCarthy says First Nations people are in "a constant cycle of grief".
"We've lost too many of our mob to suicide — we're forever going to funerals," she says.
NT senator Jacinta Nampijinpa Price, a Warlpiri-Celtic woman and high-profile opponent of the Voice, has previously shared her own stories of losing family members to violence.
She's not convinced the Voice will solve these problems.
"The Prime Minister [Anthony Albanese] owes the Australian people a clear, concise, realistic demonstration of how his Voice will deliver the outcomes that all good Australians want for our marginalised," she told a crowd at a recent press club address.
"As yet, he's unable to do that."
Senator McCarthy says after decades of government failure to address Indigenous disadvantage, she sees the Voice as Australia's "one shot" to change the status quo.
"I do believe it is our one shot in the locker to really try to bring First Nations people on an even keel, and to … lift ourselves out of what is incredible despair and poverty," she said.
Borroloola
About 50 kilometres upstream from the Gulf of Carpentaria, on the banks of the McArthur River, sits the town of Borroloola.
It's home to barramundi, saltwater crocodiles and a popular outback rodeo.
One of the big hurdles for Borroloola is its isolation — the town is an 11-hour drive from Darwin.
Garrawa elder Keith Rory says any way to improve communication between his community and the politicians in Canberra is a good thing.
Garrawa elder Keith Rory supports the Voice.(ABC News: Hamish Harty)none
"We need a strong voice to help us understand [people] in Canberra, and also here in Borroloola," he said.
"We need to work with them," he says.
Senator McCarthy, a Yanyuwa Garrawa woman from the same region, says the Voice is "ultimately about structural change".
"[It's] where First Nations people can, if successful, forever have a voice to the Australian parliament — to the Australian executive — about issues that impact them," she says.
"I would keep appealing to all people, but in particular First Nations people: This is our moment in history to change it for the better."
For local leaders, the Voice could also mean better communication with the government agencies that oversee Indigenous policy.
Tony Jack is backing the Voice "100 per cent". (ABC News: Hamish Harty)none
"Because we're so far away from everywhere [with] the isolation and all that, we have to make do with what we've got here with the programs," Roper Gulf Regional Council mayor Tony Jack says.
"We'd like to work more with government and everybody who is funding agencies to come and help us prioritise."
Nhulunbuy
Surrounded by coastlines, the mining town of Nhulunbuy in north-east Arnhem Land is a major service hub for thousands of Yolŋu people in surrounding communities and homelands.
The Yolŋu are made up of a myriad of clans that continue to practice their traditional law, dances and ceremonies, and share creation stories.
The Gove Peninsula is the home of rock band Yothu Yindi, whose 1991 hit Treaty catapulted Indigenous leaders' aspirations for a treaty with the Australian government to the world stage.
For decades, clan leaders have called for formal recognition.
Gumatj clan leader Djawa Yunupiŋu says Australia is "standing at the crossroads" of whether to properly recognise Aboriginal people.
Yolŋu clan leader Djawa Yunupingu is calling for unity.(ABC News: Hamish Harty)none
"We've waited long enough – when is it gonna happen?" he asks.
"When will the truth-telling, or the treaty, be recognised?
"That's something [for which] I always put on a brave face for my people."
Mr Yunupiŋu is hopeful an Indigenous Voice to Parliament will live up to its promise.
"We want to live together in unity: Aboriginal and Islander people can be united with the rest of Australia, in a way that we live as one," he says.
Elliott
Halfway along the Stuart Highway, between Darwin and Alice Springs, sits Elliott.
It's the closest township to the gas-rich Beetaloo Basin and proposed multi-billion-dollar Sun Cable solar farm, yet local job opportunities are scarce.
Djingili elder Janet Sandy says her community is used to empty promises from politicians and industry.
Janet Sandy hopes the Voice will deliver on its promise.(ABC News: Samantha Dick)none
"There's nothing here," she says.
"There's money coming in, but it's not being utilised the right way."
Across the NT, tens of thousands of Indigenous people are represented by four Aboriginal land councils, which help traditional owners negotiate deals with government and private companies over activities on their lands.
All four land councils strongly back the idea of an Indigenous advisory body.
But Senator Price argues there are dozens of Indigenous representative bodies that already exist in Australia.
And rather than enshrining an Indigenous Voice to Parliament in the constitution — which she believes will divide Australia by race — Senator Price is pushing for greater scrutiny of organisations like the land councils.
"If the taxpayer is funding these structures like land councils, native title and similar organisations — but they are not delivering outcomes — then it is incumbent upon us as elected members of parliament to provide a platform for the marginalised," she says.
"To hear from them as to how they are being failed."
Mr Synot, a Wamba Wamba man, says land councils and other Indigenous bodies already undergo regular performance audits.
He says the bigger problem is the patchwork of Indigenous policies and programs that change with each new federal government, usually without effective consultation.
"Issues always get swept under the carpet in bureaucracy and they get hidden," he says.
"It's the impacts we've had of [funding] cuts and the way decisions were made — it's that distrust of government — that fed the demand [for the Voice]."
Minyerri
South-east of Katherine, the community of Minyerri is home to about 670 people.
It's surrounded by red rock escarpments and gorges full of springs and waterholes. But groundwater supply is limited.
Alawa traditional owner Naomi Wilfred is worried the region's water resources are under increasing threat from water-thirsty industries such as cotton and gas fracking.
Naomi Wilfred wants stronger water regulations for her community.(ABC News: Jane Bardon)none
She says any proposal that might encourage more listening by the federal government could have potential.
"We've got to work together," she says.
"Get them in to negotiate and try to sit down and talk about it — not like in the past."
Tennant Creek
Further south along the Stuart Highway lies Tennant Creek.
Once home to a thriving gold and copper field, the isolated town is now troubled by crime and poverty.
The poorest live in tin shacks without running water, and restless youth often roam the streets with not much else to do.
Tennant Creek local Kenneth Plummer says his town needs a lot of help.
"It could help out a lot, you know, just letting the prime minister know what's going on in Tennant Creek and how hard it is for some of the little kids," he says.
Joseph Williams, a Purrurtu custodian, says there's limited understanding about the Voice.
Joseph Williams wants to know what the Voice could do for Tennant Creek.(ABC News: Mike Donnelly)none
"The people I've been around have told me to vote yes, but I keep asking them why we've gotta vote yes," he says.
"I'm not sure people have been educated enough to understand."
Warumungu man Laurance Williams has found it hard to get information.
"I reckon with the referendum and the Voice, it needs to be widely discussed and more information needs to come in," he says.
Laurance Williams wants more information.(ABC News: Mike Donnelly)none
Lesley Turner is the chief executive of the Central Land Council, one of the four land councils.
He says Australia's cost-of-living crisis is contributing to the communication breakdown in remote areas.
"When you're living day-to-day, struggling to survive and surrounded by chronic illness and the constant grief and trauma, everything else takes a back seat," Mr Turner says.
"You don't think about how to fix a broken-down system, which is what the Voice is all about."
For generations, Indigenous Australians in the remote NT have worked against a backdrop of disadvantage, isolation and failed government policies.
Whether it's the way services are funded or planning decisions are made, they've long felt their voices are not being heard in Canberra.
Some are hopeful an Indigenous Voice to Parliament could be the answer. Others are too over-burdened to give it a second thought.
While each community has their own unique challenges and ambitions, there's widespread consensus that something needs to change.
And after decades of disappointment, they're tired of waiting.
Credits
Editor says …Sterling Publishing & Media Service Agency is not responsible for the content of external site or from any reports, posts or links and thanks for following as always appreciate every like, reblog or retweet and comment thank you