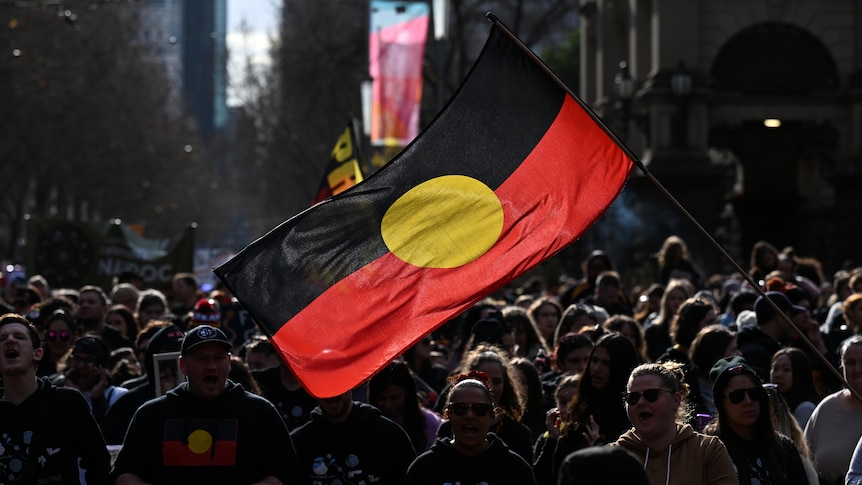 AceBreakingNews – UPDATE – With 34 days until polling day, advocates for a Voice to Parliament would almost certainly be wishing they were in a stronger position right now.
Ace Press News From Cutting Room Floor: Published: Sept.09: 2023: ABC Voice News Report:
From extremely high levels of support a year ago, when the referendum question hadn't been finalised and the Voice was a vague concept in people's minds, support has fallen a long way.
The latest poll from RedBridge, published today, estimates 61 per cent of Australians are opposed to the Voice, while 39 per cent are in favour.
It's the single lowest poll result we've seen for Yes (worse than the 38 per cent in Newspoll this week because that poll included 9 per cent undecided), albeit from a pollster which has tended to produce poorer numbers for Yes than other polls.
With this new data point, along with Newspoll and Essential polls published this week, Yes is sitting at an average of 43.7 per cent across the polls.
No is sitting more than 12 percentage points ahead on 56.3 per cent.
The RedBridge poll was conducted over a period both before and after the Uluru Dialogue launched its ad for the Yes campaign featuring John Farnham's You're the Voice.
"Support for Yes is rapidly declining across all demographic cohorts now," says Kos Samaras, a director at RedBridge and former Labor strategist.
"For some time, what was still holding up for them was university-educated voters and younger voters, and even that's dropping," he says
"It looks like the more [voters] are exposed to this campaign, the less likely they are to be voting yes."
The poll results also suggest naming the date for the referendum vote, and a general intensifying of campaign activity, have had little immediate impact on public opinion.
Can Yes turn things around?
This polling average, calculated using a model developed by Professor Simon Jackman at the University of Sydney, is not a prediction of the outcome of the vote, but an effort at interpreting all the published polls to date.
For Yes to win from here, it needs to turn things around dramatically, and fast, or hope that we're about to see perhaps the worst polling fail in Australian history.
"Their only hope now is that polling is methodologically challenged when surveying for referendums, although history tells us otherwise," Samaras says.
The No campaign, on the other hand, would be feeling increasingly hopeful of not just defeating the referendum, but defeating it comprehensively with five or six states voting against it.
Support for the Voice in the polls has been falling by about 0.7 percentage points a week, and there are still five weeks to go before the vote.
Two of the three national polls published this week were conducted after the Prime Minister announced the October 14 referendum date, while Newspoll was in the field on either side of the announcement.
Newspoll suggests No is leading in all states and regions, and Samaras says Liberal, National and One Nation voters appear to be more solid in their vote right now than voters on the left.
"If Yes wants to economise its time, it really needs to be going really hard after soft voters on the Labor, Green piles," he says.
"They could pull it off, but everything has to align. It is difficult because there isn't enough of those soft voters."Loading…
Generational differences are stark
Another common pattern across the polls is that the generations are not on the same page.
"You can see the massive generational difference in this," says Peter Lewis, who runs Essential Research, a Yes23 campaign partner.
"If this referendum was being run by under 35's, it's a slam dunk, and it's dead on arrival if you're over 55."
Who is shifting, and who is undecided?
Various polls have put the number of persuadable voters — those who are undecided or softly leaning one way or the other — at between 20 and 30 per cent.
They will be the focus of both campaigns until October 14.
Polls from both RedBridge and Essential this week have suggested that the No vote is slowly firming, while Yes is struggling to consolidate its locked-in support.
In the Essential poll — which has generally shown better figures for Yes than RedBridge — the "hard" No vote has grown from 38 to 41 per cent.
"29 per cent are yet to commit hard either way, of which 10 per cent can't even pick a side they're leaning towards," Lewis says.
"There is a large number of people that are yet to engage or make up their mind, and the last six weeks are going to be really important.
"Those that are locked in are more likely to be locked in No than locked in Yes, which speaks to the challenges the Yes campaign faces."
Many voters are uninformed and apathetic
By most accounts, the Yes campaign has more money to spend than No, and many more volunteers on the ground.
On paper that might give them a campaign advantage, and enable hundreds of thousands of one-on-one conversations to occur as polling day approaches.
Yes advocates, like Prime Minister Anthony Albanese, maintain those conversations — and a direct engagement with the issue — will make all the difference.
"When [it is] put to them what the question actually is, they respond very positively," he said a fortnight ago.
On the general principle, he may well be right. Peter Lewis points to his polling, which suggests nearly two thirds of people agree with the statement that "when we listen to people, and make decisions based on their local knowledge, we get better outcomes".
But that has not always been the ground this debate has been fought on, and voters don't seem to be paying all that much attention.
Essential's polling suggests that only about half of people say they feel well informed about the referendum, and that most people haven't read either the Uluru Statement from the Heart itself nor the referendum pamphlet that has been sent to all households.
"People are saying 'oh I just need someone to explain what it's all about', [but] everything's there in front of them," Lewis says.
"There is still a pathway," he believes. "The path to victory is that as [the vote] draws closer people actually take the time to read the statement, read the pamphlet.
"It just seems to me that with the ecosystems of information that are both pervasive and not trusted, the clarity around the proposition has been undermined."
What information do people trust?
He says the source people are most likely to trust for information about the referendum is their friends and family.
Combine that with a general apathy about the referendum, which Kos Samaras says is coming through strong in focus groups conducted by RedBridge.
"People don't really care about this, it's not at the top of their mind," he says. "It's not at the centre of their daily lives, they're not really concerned about it."
Many people have heard about the referendum on the news, "but they're a bit bored about it".
"Polling is difficult when it comes to this because you can't measure apathy."
Editor says …Sterling Publishing & Media Service Agency is not responsible for the content of external site or from any reports, posts or links and thanks for following as always appreciate every like, reblog or retweet and comment thank you