This is our daily post that is shared across Twitter & Telegram and published first on here with Kindness & Love XX on peace-truth.com/
#AceNewsRoom in Kindness & Wisdom provides News & Views @acehistorynews
#AceHistoryDesk – For years, Vincenzo D'Agostino terrorised and extorted Italian migrants across Far North Queensland as leader of organised crime group, the Black Hand.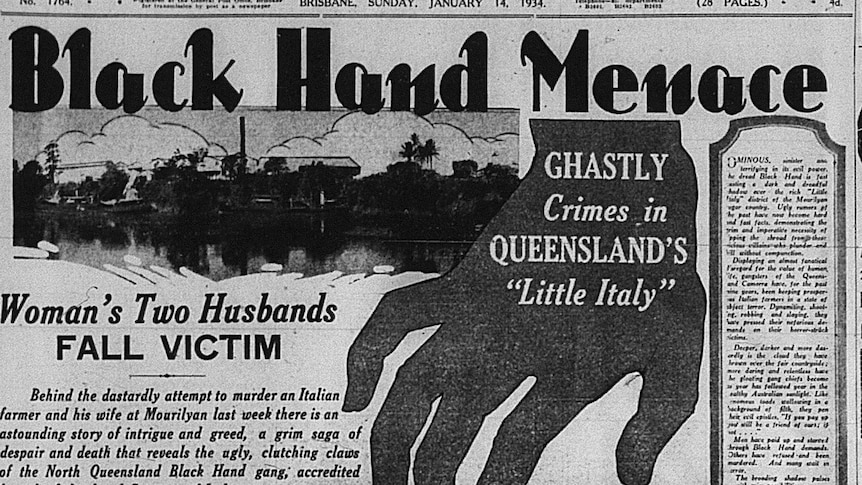 His rule was a defining period for the regional Italian community, but one question remains unanswered — who turned the tables, and murdered D'Agostino?
It was pouring rain on the night D'Agostino was killed.
Under the cover of darkness and the downpour, his murderer had crept to D'Agostino's living quarters and laid their trap.
His most powerful days were behind him, but the little he had left also included a long line of enemies made through his callous and criminal activities over the years.
That mid-January evening in 1938, D'Agostino decided to find solace from the rain in a local bar, but witnesses would later say he seemed anxious, afraid.
As it turned out, he had good reason to be.
D'Agostino's story involves a cast of characters, including friends and foes — learn more about each below.
The first strike
While D'Agostino ultimately rose to the top of the Black Hand, he wasn't the first member to target the Italian community in north Queensland.
In late 1920s Innisfail, Nicola Mamone is the kingpin.
And Alfio Patane, a cane farmer living just outside of town, became what was believed to be the first victim under Mamone's Black Hand.
Like Patane, many Italians ended up in Far North Queensland and found their start as sugar cane farmers or labourers, replacing South Sea Islander workers being stripped of their jobs and, in many cases, deported.
Patane had received an extortion letter, and refusing to pay up, he's shot, and dies from his wounds in hospital.
Police are left "without a clue, without a motive and without suspicion on any person or persons", despite multiple interviews with community members, according to a later article in the Daily Standard.A headline from an old newspaper about the killing of Alfio Patane.(Supplied: Daily Standard)none
The killer remains at large but threats to the Patane family follow his wife, Alfia, who, years later, remarries another cane farmer, Venerando Di Salvo.
In 1933, Di Salvo begins receiving extortion letters of his own:
"I think he received three in total, the last one was delivered manually by a man called Nicola Mamone," says Ned Di Salvo, Venerando's son from a later marriage.
Ned says the letter read:
"This is your last chance to become a friend of ours. If you fail this time, you know what to expect. You have to put the money under the lookout for train sign, and we advise you to take this seriously.

"Your friends, the Black Hand."
When Venerando Di Salvo refuses to meet the extortion demand, the Black Hand try to kill him. Shots ring out one night at his house, but the bullet goes in one side of his face and out the other.
Other attempts to kill him and Alfia, like blowing up their house, fail and he eventually realises Mamone is behind the attacks.
By this point, in the early 1930s, the Black Hand is also operating a little further south in Ingham, where D'Agostino is beginning to establish a network of his own.
But his path to the top of Far North Queensland's Black Hand began almost a decade earlier.
Journey to mafia boss
A rare photo of Vincenzo D'Agostino (second from right) and his right-hand man Francesco Femio (far right).(Supplied: The Australasian Post)none
D'Agostino's journey to Australia began much like many other Italian migrant stories. He left Italy at 21, and after arriving in Australia in 1924, he made his way north where he started work as a cane farm labourer.
In the years that follow, he's joined by his brother and several friends from his home town, Palmi.
At first, D'Agostino is on the straight and narrow. He saves enough money labouring to buy his own bakery.
It's a legitimate business that would house — and eventually hide — his darker work.
Like so many who start anew in a different country, D'Agostino faces a dilemma — what comes with him from the old country? And what does he leave behind?
A turning point comes in 1930:
D'Agostino is naturalised, bringing protection from deportation, and he begins holding backroom meetings in his bakery with some of his Calabrian friends.
Over the next six years, he'll extort, exploit, abduct and kill to gain, and retain, power — earning him a likening to Al Capone, and Ingham to Chicago.
It also earns him a long list of enemies and potentially seals his fate.
Culture of fear
Like other mafia bosses, D'Agostino was the brains behind the operation. He kept his hands clean and left the dirty work to his band of cronies.
But in Ingham, there was no doubt who was in charge.
The culture of fear D'Agostino created was enough to scare most into submission, and inflate his ego and belief that he was above the law.
Much like Mamone in Innisfail, D'Agostino's bread and butter was extorting cane farmers.In 1935, the Sunday Mail ran a piece calling for police to stamp out the Black Hand.(Supplied: Sunday Mail)none
But they weren't the only target of the Black Hand. D'Agostino and his men also saw opportunities to exploit sex workers from down south.
In one instance, he took a sex worker, Lola Brent, to a dance and jealous that she was receiving attention from other men, took out his revolver and fired a number of bullets into the wall of the building.
Despite a hall full of witnesses, no-one would speak to the police about what they saw and D'Agostino is let off.
They know crossing or involving yourself with the Black Hand is a risky move.
For sex worker Jean Morris, her meeting with the Black Hand ultimately led to her death.Jean Morris suffered a violent death in Ayr.(Supplied: Truth Newspaper)none
"To all accounts and the photographs she was exquisitely beautiful. Very personable, very good conversationalist, and obviously quite capable," historian Dr Bianka Vidonja Balanzategu says.
"She didn't want to be part of this bigger mess that D'Agostino is involved in, which involved so much more and was so much nastier."
D'Agostino goes so far as to threaten Morris at knife point, alongside his right-hand man Francesco Femio, in an attempt to make her work for him.
After refusing to give in to the threats, she leaves Ingham and moves to Ayr in search of safety away from the Black Hand.
But it was short lived.
"It seems to me that Jean was fearful of her life, and one night, something bad happened," says Nerida Campbell, curator at Sydney Living Museums.
"We're not sure who or why, but somebody came into the hut, and they stabbed her in a frenzied way so many times and left her on the bed, bleeding out.
"It's believed by the police that they actually used that stiletto that she had mounted on the wall."A newspaper headline about Jean Morris' murder.(Supplied: Truth newspaper)none
There was an extensive police investigation and an inquiry, but no-one was ever held responsible for the death of 'Stiletto Jean'.
Hampering the search for the killer were a number of suspicious roadblocks, like witnesses withdrawing their statements in court, and a key suspect being allowed to return to Italy because of a paperwork bungle.
While never charged for it, Morris' murder is one of the six linked to D'Agostino.
Ruthless kidnapping
For all of D'Agostino's crimes, the one considered perhaps his most ruthless was his involvement in the kidnapping of teen Elizabeth Rosati in December 1932.
The 13-year-old was on her way to pick up a dress when she was snatched by two of D'Agostino's associates and bundled into the back of a taxi.
The taxi was driven by Mario Strano, another local, who was reportedly forced by D'Agostino to drive him, and others, around when needed. Strano, so afraid of crossing the Black Hand, would reportedly check under his bonnet daily for bombs.Mario Strano's family say he was forced and threatened into helping the Black Hand.(Supplied: Cara Downes)none
On this day in mid-December, his taxi is used to take Elizabeth to a hotel in Townsville where she overhears one of the men say:
"Tell D'Agostino we got her, and there'll be some for him too."
D'Agostino claims Elizabeth's father owes him money, and this is retribution.
Word gets out that she's been taken — and where — and police arrive to arrest the two abductors and Strano.
Though Elizabeth is alive, one of the men is charged and found guilty of sexual abuse of an underage girl.
"On the surface, [D'Agostino] has nothing to do with it, but it becomes very apparent quite quickly through Strano … that D'Agostino is involved," historian David Brown says.
"This all comes to light because Strano does make a statement to the police. He's quite direct, he says that D'Agostino's involved."
Because of his assistance in the Rosati case, Strano is let off while the other two men are found guilty and deported.
It's not the first time Strano, despite the risk to his and his family's safety, tries to make the truth known about D'Agostino.
Escape from the law
Two months before Rosati's kidnapping, Strano had driven two of D'Agostino's associates to a property where they demanded 500 pounds from a farmer.
Strano's family argued he had no idea what he was part of, which they say was proven when he lodged and signed a police witness statement implicating the two other men.
By the time the matter goes to court the following year, Strano has recanted his statement, reportedly because of a death threat from D'Agostino, targeting him and his family.
Overwhelmed with feelings of guilt for lying in court, Strano goes back to the police and apologises, explaining why he changed his story.
D'Agostino is charged and stands trial for intimidating a witness.
Despite prosecutor John Quinn's determination to secure a guilty verdict, the jury lets D'Agostino off.
"He's clearly involved, everybody knows he's involved, but there's nothing that can be prosecuted against him," Mr Brown says.
While Strano avoids any major consequences for his role in the trial, Quinn's house is mysteriously bombed months later. He survives, but it only serves to deepen his desire to take down D'Agostino, and with him, the Black Hand.
Path cleared for D'Agostino
In Ingham, D'Agostino has been cementing his place as the head of the area's Black Hand, amassing wealth and power.
But soon, his reach extends further north.
Mamone is still running the show in Innisfail when he discovers another Italian migrant and farm labourer, Giovanni Iacona, has been handing out extortion letters of his own.
Mamone doesn't like it and decides to send a message to Iacona and whoever he's working for.
He gets his underlings to slice off Iacona's ears.
"To cut an Italian's ears off, you were then considered to be dishonourable," Adam Grossetti, who's researched the Black Hand in FNQ for decades, says.
"Back in the old country, it's a sign of cowardness, the humiliation," Ned Di Salvo adds.Giovanni Iacona was attacked and his ears cut by Mamone's men.(Supplied)none
Iacona, deciding to avenge himself, confronts Mamone in the street on a busy Saturday morning in 1934. He shoots him five times in the back and once in the head, before walking straight to the police station and turning himself in.
Mamone's death is a relief for families and cane farmers in Innisfail, but the Black Hand doesn't die with him. Instead, his death leaves a power vacuum.
"D'Agostino's kind of positioned himself, and he really emerged after Mamone's death as the top dog in the north," Grossetti says.
Powerful reign slips
After Mamone's death, D'Agostino moves from Ingham to Innisfail and begins travelling between the two communities, conducting his business in both towns.
But his growing influence is curtailed when, in 1935, a murder linked to a vendetta all the way back in Calabria begins weakening D'Agostino's grip on power.
Cane farmer Domenico Scarcella is shot and killed in what police believe is an act of revenge.Domenico Scarcella was killed in what is believed to be a vendetta.(Supplied)none
While the killer is never found and police are once again met with stony silence from those they question, a link appears between Scarcella and D'Agostino.
A distant relative of Scarcella murdered D'Agostino's brother-in-law and information police receive from Scarcella's family in Italy implicates D'Agostino as one of the architects of the killing.
He's interrogated by police and while they get nowhere, it serves to further define his role as the head of the Black Hand across a swathe of Far North Queensland.D'Agostino begins to lose his grip on power in the late 1930s.(Supplied: The Australasian Post)none
It also does something else.
The murder drags D'Agostino out of the shadows and puts him in the direct line of sight of the police.
D'Agostino's problems are compounded when, soon after, his right-hand man Francesco Femio is arrested.
"Femio was also fingered by the police, as having written one of the extortion letters [and] there's also speculation that Femio was the guy that may have shot Domenico Scarcella," Grossetti says.
Femio's arrest is the final straw for D'Agostino. In a bid to protect his own skin, he cuts ties with Femio and refuses to help him find work.
Months later, on the evening of December 12, 1936, Femio is shot and killed while asleep in barracks just outside Ingham. Police immediately suspect D'Agostino.
With his right-hand man dead and a number of his associates deported for their roles in the Rosati kidnapping, D'Agostino's power and protection is slipping away.
"In the mid 1930s, things aren't really working as well as they might have in the early 30s where D'Agostino [had] cemented his authority a little bit," Grossetti says.
D'Agostino retreats, moving back to Ingham in 1937, where he's kept under close watch by the police. They even begin intercepting and examining his mail.
The man who once ruled with fear disappears into the darkness.
Murder in the dark
Despite his move to a seemingly quieter life running his bakery, D'Agostino never fully rids himself of his old life — or the enemies he made along the way.
Mafia experts say it's a lifetime membership — there's only one way to ever leave for good.
In the early hours of January 14, 1938, a bomb goes off in the bakery D'Agostino is living in, while he's asleep in the back room. He's mortally injured — pieces of timber and fragments of pipe from the bomb pierce his body. He succumbs to his wounds the next day.The bombing and D'Agostino's death made newspaper headlines.(Supplied)none
Even on his deathbed, D'Agostino stays quiet. When a detective suggests suspects, he responds they're all "good friends".
After years of lawlessness under his watch, and the carnage left in its wake, the Far North Queensland community and authorities can only hypothesise as to who's behind his murder.
Other suspects emerge including two scorned lovers of women D'Agostino might have been seeing.
Both were investigated by police but, like so many Black Hand cases, went nowhere.
The truth of who killed D'Agostino — and the secrets he held — died with him, but the tales of his time in the north live on through the descendants of those who lived with, worked for, and feared the notorious Black Hand.
Editor says …Sterling Publishing & Media Service Agency is not responsible for the content of external site or from any reports, posts or links, and can also be found here on Telegram: https://t.me/acenewsdaily and thanks for following as always appreciate every like, reblog or retweet and comment thank you