#AceHealthReport – Aug.25: Ms Berejiklian said she was "deeply grateful" that NSW had reached the milestone of 6 million vaccinations….
#CoronavirusNewsDesk says that NSW records 753 #COVID19 cases, reaches 6 million vaccinations mark as woman in 30s dies at home while there were no fatalities recorded in the 24 hours to 8:00pm on Monday, NSW Health later announced a woman in her 30s who had died at her home in Emerton, Western Sydney….
The death is being investigated by the Western Sydney Local Health District and has been referred to the NSW Coroner: The woman is the 75th person to die since the current outbreak in NSW began in June.
"I look forward to making the announcement on Thursday or Friday this week as to what fully vaccinated people will be able to do from the month of September because of the target we have set," she said.
"Thank you to everybody who has stepped up and got the jab. That equates to 60 per cent of our population across the state with at least one dose."
However, she wouldn't be drawn on whether that new freedom would also apply to the 12 local government areas (LGAs) of concern.
The Premier pointed to ongoing suburbs of concern, warning residents to assume they have COVID-19 or those around them are infected with the virus.
"Suburbs of concern remain Auburn, Merrylands, Yagoona, Guildford, Punchbowl, Blacktown and surrounding areas."
Of the 753 locally acquired cases, 283 were from Western Sydney Local Health District (LHD), 233 were from South Western Sydney LHD, and 73 were from Sydney LHD.
The Premier praised suburbs with high vaccination rates, including Burwood, Fairfield, Canterbury and Bankstown, but she singled out Blacktown, which she said had gone from having the lowest rate to the highest.
"I called out Blacktown because it's the area doing the best in vaccination rates so obviously people are accessing the vaccine," she said.
"We've seen Blacktown go from one of the lowest rates of vaccination to the highest in the state. Thank you to the people from Blacktown for coming forward and getting the jab."
Chief health officer Kerry Chant warned people not to see the reduction in the number of cases as a trend.
Dr Chant said it may be mid-September before the increase in vaccinations would have an impact on numbers.
"We are here for the long haul. I'd love to believe that we are on the trend down. That would give me joy," she said.
"My public health contact tracers and public health units are working so hard so for them and the community and for everyone, I hope numbers are going to decline but one day is not a trend."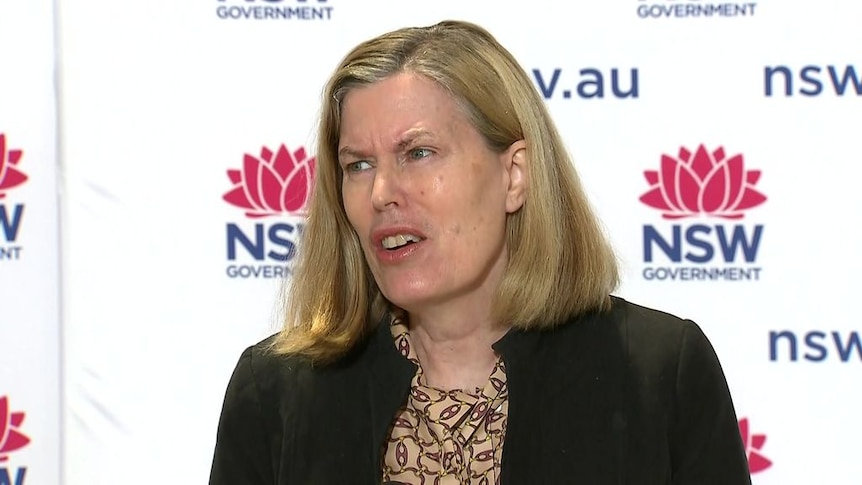 What do you want to know about COVID-19? How has the pandemic impacted you see below:
Dr Chant urged NSW residents to get their second does of the AstraZeneca vaccine as soon as possible and discuss with their GP the possibility of bringing it forward with a gap of four to six weeks.
She said the focus for high case numbers remains on South-Western Sydney and the Western NSW local health districts.
"The key message is we need to hold the course. Everyone is fatigued and tired," she said.
"But it is incredibly important that as we increase vaccine coverage, we do all we can about further transmission and that we continue to see those case numbers reduce."
Dr Chant pointed once again to the Doherty report, which has created modelling recommending that when communities reach 80 per cent vaccination levels, residents have more options and choices.
But she said there may still need to be restrictions.
Seventy-three cases were in isolation throughout their infectious period and 22 were in isolation for part of their infectious period.
Forty-nine cases were infectious in the community, and the isolation status of 609 cases remains under investigation.
There are currently 608 COVID-19 cases admitted to hospital, with 107 people in intensive care, 34 of whom require ventilation.
What do you want to know about COVID-19? How has the pandemic impacted you?
#COVID19 NSW records 753 cases, nearly half of all aged care workers now fully vaccinated — as it happened
In the wake of National Cabinet agreeing to make it mandatory for people working in the sector to get at least one dose by the middle of September, 49.3 per cent of workers have now received a second jab.
Here are some of the key COVID updates from Tuesday:
Catch up on Tuesday's COVID developments as they happened.
Live updates
Tuesday's case numbers
NSW: 753 new local cases, two overseas-acquired cases. Watch the press conference here
VIC: 50 new local cases, 11 were in quarantine during their infectious period. One overseas-acquired case. Watch the press conference here
ACT: 30 new local cases. 13 were in quarantine during their entire infectious period. Watch the press conference here
QLD: Two new local cases under investigation, four overseas-acquired cases. Watch the press conference here
WA: No new cases (but 20 cases linked to the Ken Hou cargo ship will be included in tomorrow's numbers)
NT: No new cases
SA: No new cases
TAS: No new cases
NZ: 41 new local cases, one case detected at the border
Don't forget to tune in for our live expert Q&A tomorrow
It's at 3pm AEST — Casey Briggs, Kathleen Calderwood, Professor Catherine Bennett and Dr Ahmad Alrubaie will join me to answer all your questions (the blog generally will be back in the morning though).
We'll catch you then — thanks for joining us on the blog today.
Do you have an update on NZ? The info is missing from your pinned today's case number info 😕

-Sophie
Sure do! Here's the quick version:
41 new cases were announced in NZ today
38 were in Auckland, and the other three were in Wellington
The whole country will remain in lockdown until at least Friday night
More than 15,741 contacts have been identified
1 million New Zealanders have now received two vaccine doses
Here's the not-as-quick version, and I'll pop today's case numbers at the top of the blog.
Are any other States/Territories considering a similar trial of home quarantine as South Australia currently has underway? It would free up valuable quarantine space if vaccinated residents were able to quarantine at home after returning from interstate – I am happy to be a guinea pig in Darwin 🙂-Greg
It's definitely on the radar — it was agreed that South Australia would be the test case to see how a pilot of the program went, and if it's successful, states, territories and the Commonwealth will work out how and where they can expand it to next.
If you missed yesterday's explainer on how SA's trial is going down, here it is.
Can you please provide the link to Barwon Health again? Not all the exposure sites for Corio and Lara are on DHHS site. It's important that people get tested ASAP.

-Frustrated in Lara
Sure can — here's the tweet from earlier with all the links in it:
What's the deal with the Sydney exposure sites being listed online? I heard they've stopped updating them?

-Ele
Yes — NSW Health recently confirmed they're not listing all metro exposure sites because they wanted to focus on the locations that were the biggest risk.
Report finds federal government failings likely contributed to Ruby Princess COVID-19 disaster
Failings by a federal government border agency likely contributed to the deadly Ruby Princess COVID-19 disaster, a major report has found.
The scathing audit has exposed further errors from when the virus-plagued ship returned to Sydney last March and passengers were allowed to disembark.
The ABC has uncovered the 200-page probe from an independent Commonwealth watchdog that examined the role of the agriculture department.
The Inspector-General of Biosecurity report details how the officer who inspected the Ruby Princess did not follow protocols, including the "crucial error" of not interviewing sick passengers.
But the report makes clear the disaster followed years of missed opportunities for change, including a 2018 internal audit of biosecurity for arriving ships that was largely not acted upon.
Dan Conifer has the exclusive story here.
Only urgent ambulance arrivals to be accepted at Royal Melbourne Hospital
The Royal Melbourne Hospital will only accept the most urgent ambulance arrivals as it scales down operations due to a COVID-19 outbreak.
Four of the 50 new cases recorded in Victoria today are linked to the hospital, where more than 450 staff have been furloughed due to possible exposure.
A hospital spokesperson says ambulances carrying patients with non-life-threatening injuries will be diverted to nearby hospitals.
We still don't have any exposure sites from Queensland
I'm not super sure what that means… authorities said in this morning's press conference that there would be some exposure locations after two truck drivers tested positive (and then negative) through routine screens, but nothing appears to have been uploaded to the Queensland Health website at this stage.
Jeepers! Socially-distanced high-five to all these people
We're looking forward to the Tokyo Paralympics starting today. Will there be a blog?How's Japan going with Covid this week?-Oi Oi Oi
Not COVID related but with so many still in lockdown, will there be a paralympic blog like there was an Olympic one? It was very enjoyable

-Paralympic Blog?
Hi Kelsie
Will there be a Paralympic's blog and will you be on there? You did a superb job with the Olympics blog!

-Olympic-withdrawals
If you're looking for a bit of a brighter blog tonight, we absolutely are blogging the Paralympics opening ceremony — well, not me, but everyone's friend Mick Doyle is and you can join him at this link here.
We will have ongoing live coverage of the Paralympics. Fingers crossed I'll be able to make a sneaky appearance on one of the blogs (blogging the Olympics was the best two weeks of my career so far I reckon).
On Japan — according to Reuters' COVID tracking, the average number of new infections reported in Japan has been increasing for the last week or so.
Johns Hopkins data reports that a total of 16,943 new cases were reported around the country (so that's not just Tokyo, of course) in the last day, with 32 deaths. Just over 40 per cent of the country is fully vaccinated at this stage.
Organisers admitted last week that the Paralympics will be held under"very difficult" circumstances — Japan's health situation has worsened since the Olympic Games ended on August 8 and hospitals in the host city are filled to capacity.
Great that there are so many mental health resources, but can they please extend their access to stranded Australian overseas who have been struggling for 18 months? Hard to find local psychologists who speak English in some countries. Perhaps people in lockdowns in Australia can imagine the strain of being locked out for so long.

-Help for stranded Australians
Head to Health has finders that can help you look for digital mental health resources and BeyondBlue also has some dedicated stuff for Australians who are overseas and seeking mental health support — I have no doubt the help doesn't stop there but those are two that I know of!
Also, a kind commenter just shared a couple of Melbourne-specificresources (phone numbers and more details within the links!):
A handy essential worker Q&A from the ACT
I've never seen so many of my friends and family struggling with their mental health all at once. We're really struggling here in Victoria. Sending love to anyone who may be having a rough time at the moment, you're not alone and there are so many wonderful mental health resources out there that can really, really help.

CUE: ABC sharing mental health numbers/links! 🙂

-Sending love
Oop that cue is for me. Here we go:
Lifeline – 13 11 14
Kids Helpline – 1800 551 800
MensLine Australia – 1300 789 978
Suicide Call Back Service – 1300 659 467
Beyond Blue – 1300 22 46 36
Headspace – 1800 650 890
QLife – 1800 184 527
#AceHealthDesk report …….Published: Aug.25: 2021:
Editor says …Sterling Publishing & Media Service Agency is not responsible for the content of external site or from any reports, posts or links, and can also be found here on Telegram: https://t.me/acenewsdaily all of our posts fromTwitter can be found here: https://acetwitternews.wordpress.com/ and all wordpress and live posts and links here: https://acenewsroom.wordpress.com/and thanks for following as always appreciate every like, reblog or retweet and free help and guidance tips on your PC software or need help & guidance from our experts AcePCHelp.WordPress.Com