#CoronavirusNewsDesk – The misinformation bubble threatening Brazil's indigenous people: A helicopter loaded with health workers and coronavirus vaccine doses took off from Labrea, in the southern part of the Amazon, heading to a village some 50km away: The Anti-Vax Files: A new series from BBC Trending, on the World Service from 05:30 GMT Saturday. Download the podcast or listen online
9 hours ago
BBC Trending
In-depth reporting on social media
But the villagers, part of the indigenous Jamamadi group, greeted the chopper armed with bows and arrows – and demanded that it leave.
They'd been hearing false rumours about vaccines and wanted reassurances from a religious missionary – not doctors – before getting jabbed. The helicopter left without administering any of the doses.
Fragile relationship
The incident in early February was described to BBC News Brasil by several sources who asked not to be identified for fear of upsetting the fragile relationship between health teams and indigenous people.
The people we spoke to say that armed welcoming parties are very rare, but they are worried about vaccine rumours being spread to indigenous people through mobile phones.
REUTERS/Bruno KellyIndigenous people are a priority group for vaccination in Brazil
Many mobile phone operators in Brazil include free use of Facebook and Facebook-owned Instagram and WhatsApp in their payment plans, whereas use of other networks and websites incurs a cost.
WhatsApp – a common source of community and family news – presents a particular problem, experts say.
Information on chat apps tends to come from people closer to us, who we instinctively trust – but data packages discourage people, particularly the cash-strapped, from double-checking health information.
Indigenous journalist Anapuaka Tupinamba says WhatsApp enabled "a leap" for indigenous people in the areas of politics and education, but calls technology "a double-edged sword".
"What we have today is a 'fake' internet. When you see fake news, you can't check it," Anapuaka says. "So it feels like I'm on the internet, but not really. I'm almost on the intranet of a large company."
Anapuaka cites one recent example circulated on the app – a story about 900 indigenous Xingu people dying after receiving a vaccine. It was false.
Sources of info
Much of the bad vaccine information circulating on WhatsApp originates not from the villagers themselves but from politicians and religious leaders.
Andyara Machado Rodrigues/DivulgaçãoIndigenous nurse Indianara Machado is worried about the influence of false rumours
This includes Brazil's President.
"Nobody can force me to get the vaccine," Jair Bolsonaro said in September. The following month, he declared: "The Brazilian people will not be anyone's guinea pig". He wasn't going to get the vaccine, he said, "and that's it."
He appeared to echo bizarre and false claims, common in anti-vaccine groups online, about Covid vaccines altering people's DNA.
"If you become an alligator, it's your problem … if a woman grows a beard or a man starts to speak with a thin voice, they [pharmaceutical companies] will have nothing to do with it."
It was those kinds of statements that resonated most with indigenous communities, says Indianara Machado, a nurse from Brazil's Central-West region.
"People in the village ask themselves: 'If the president didn't take it [the vaccine], how are we going to take it?'" she says.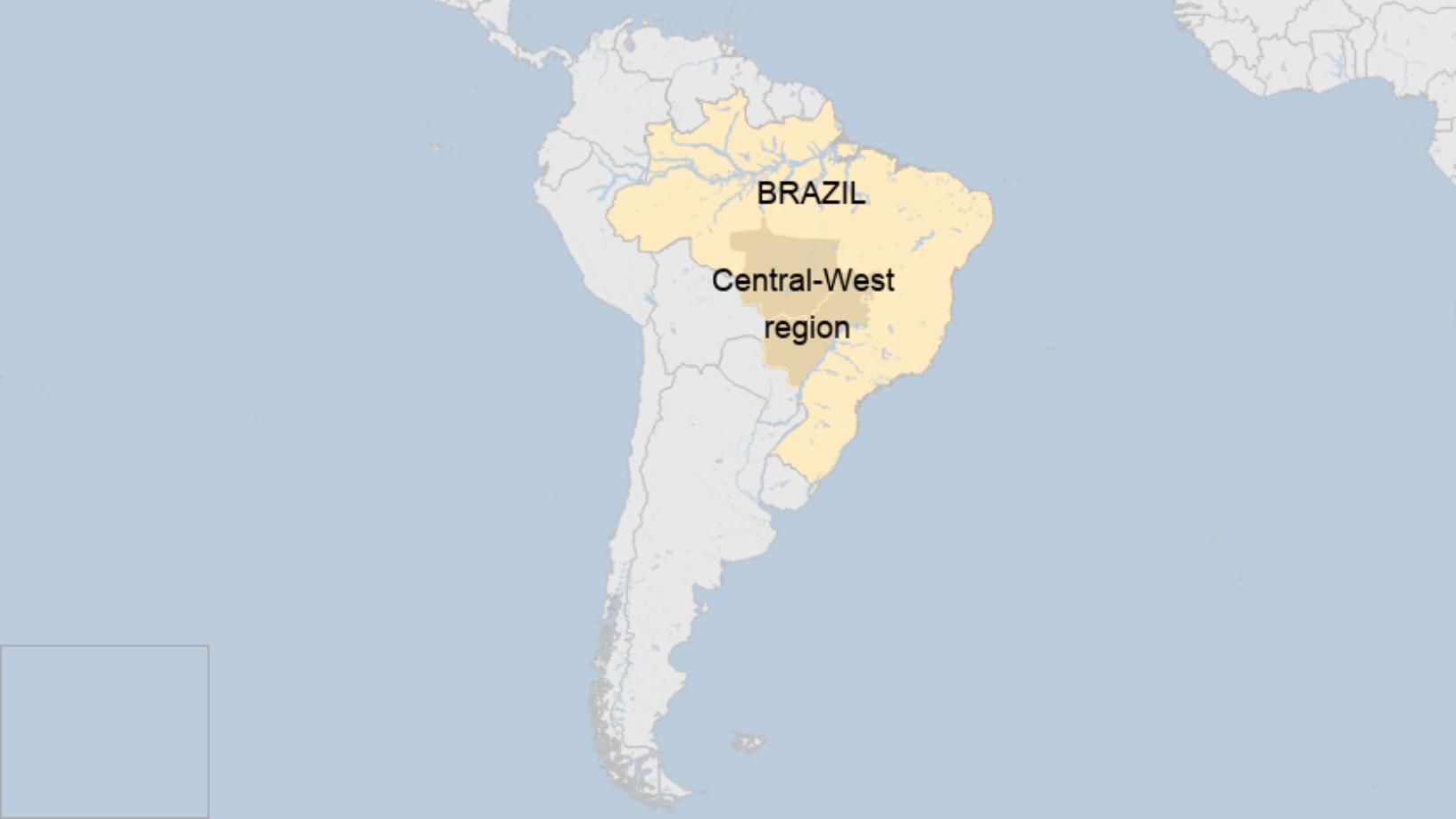 'The beast's chip'
Religious missionaries and evangelical churches have influence in indigenous territories, and some – though certainly not all – have also spread vaccine falsehoods.
Indianara Machado says that many of the videos that went viral were of indigenous pastors holding services telling people not to get the vaccine, declaring it was "the beast's microchip" – calling to mind fake rumours that vaccines include chips that can track and enslave people.
Pastor Henrique Terena, president of the National Council of Evangelical Indigenous Pastors and Leaders, admits that in the Central-West region there is "a neo-Pentecostal segment that says that vaccines are not good, that they are from the devil, and they tell their members they shouldn't get the jab."
But he says his members are by and large not the problem, and he says anti-vaccine pastors only "claim" to be evangelical.
The Anti-Vax Files
Video disinformation
Online misinformation convinced Joel Paumari's parents that Covid vaccines were unsafe. He's a teaching coordinator in the Amazon region, and his concern for his parents grew as he saw a rise in the number of deaths of indigenous people.
According to official figures, more than 650 indigenous people living in villages have died due to Covid-19 out of a total population of 517,000. Across Brazil, around 400,000 people have died. In raw numbers, the country's death toll is second only to the United States.
Joel PaumariJoel Paumari was afraid of losing his parents, who did not want to get the vaccine
Joel says that his parents saw videos that included false claims about drugs, about vaccines "distancing" people from God, and those rumours about DNA and genetic codes. All of them were untrue.
It took three days of pleading WhatsApp voice notes to convince his parents to take the jab – and while they did in the end, Joel's brother did not.
Adriano Gambarini/OPANFalse claims by politicians, missionaries and pastors has hindered the work of health workers, experts say
Limited forwarding
Audio, text and videos with disinformation have spread across Brazilian WhatsApp groups for years, and played a part in the 2018 elections.
Since then, the company has limited message sharing to five times and inserted a tag that shows when a message has been forwarded multiple times.
WhatsApp told BBC News Brasil that since it's encrypted, the company doesn't have access to the content of the messages. And the company says it has acted to combat misinformation, for instance by launching free services with information about Covid-19 within the app.
Vaccine hesitation
Still, disinformation appears to be having an impact on vaccine uptake in indigenous villages.
The villagers are a priority group when it comes to Covid vaccination, and statistics indicate that 75% have received at least one vaccine dose.
But that lags behind other recent vaccine drives.
BBC News Brasil obtained, via Brazil's Access to Information law, data on the immunisation of indigenous people in Brazil since 2011. We found that virtually all previous vaccines drives had a 90% take-up rate.
After a decade-long campaign to build trust, take-up of the flu vaccine reached 90% in 2019. What's more, that level was reached within a month. By contrast, the current Covid-19 campaign began in mid-January – more than three months ago.
The government remains optimistic, however. The office of Brazil's Special Secretary for Indigenous Health noted that it has a workforce of 14,000 indigenous health professionals.
"Indigenous vaccination continues at a favourable pace," it said.
Adriano Gambarini/OPANThe Jamamdi greeted vaccines with bows and arrows – but some later changed their minds
Missionaries
The Jamamadi – who met the helicopter armed with bows and arrows – are one group who've been strongly influenced by missionaries from the United States in recent decades.
By contrast, according to anthropologist Miguel Aparicio, the Banawa people, who are neighbours to the Jamamadi, have been fully vaccinated.
The difference? "The missionary presence within the Banawa is not strong," he says.
But a few days after the rejection of the jabs, a Jamamadi chief made contact with health officials saying he wanted to get the vaccine.
The team returned and vaccinated some villagers. But that's not quite the end of the story – most of the Jamamadi have not yet had a jab.
Listen to The Anti-Vax Files from BBC Trending, on the World Service. Download the podcast or listen online.
#AceNewsDesk report ……….Published: May.08: 2021:
Editor says #AceNewsDesk reports by https://t.me/acenewsdaily and all our posts, also links can be found at here for Twitter and Live Feeds https://acenewsroom.wordpress.com/ and thanks for following as always appreciate every like, reblog or retweet and free help and guidance tips on your PC software or need help & guidance from our experts AcePCHelp.WordPress.Com